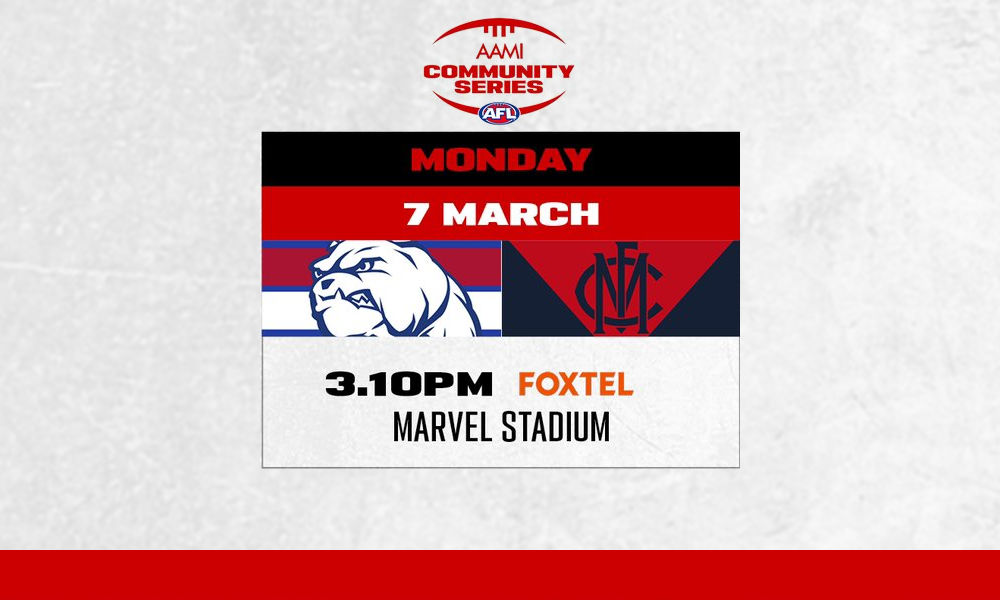 There is one standout trend from the limited pre-season action we have seen. Handball receivers should thrive in 2021. Selecting players from high scoring fantasy teams is important and the Bulldogs looked amazing. While Melbourne were looking to go long at almost every opportunity, the Doggies were looking for their elite ball users while playing a high disposal brand of footy. Keep that in mind when selecting your final squads. Here's what I took away from the game…
Who's missing? How Adam Treloar (MID, $812,000) fits into this midfield mix is going to be fascinating. The word is that he's "on track" for Round 1 so keep that in mind. His absence makes it very hard to get a good read on the Bulldogs midfield rotation, don't take everything we saw today as gospel.
The Bulldogs midfield mix was a key factor for fantasy coaches, and it was Bontempelli, Liberatore and Macrae attending the first bounce alongside English. They ran a tight ship at centre bounces, with only 4 players getting a CBA in the first half. Josh Dunkley rotated through the middle while one of the other three sat on the bench, and that was it. Treloar will have some sort of impact, but the mix and match game they've played in midfield seems to be a thing of the past.
Jackson Macrae (MID, $860,000) – It was hard to watch Macrae's game and not find a way to squeeze him into your team. If games continue to be this open come the real stuff, Macrae could absolutely dominate 2021. His role was perfect, clearly playing as a full time inside midfielder. Having averaged nearly 130 in the back half of 2019, Macrae should be set for a monster season. The only minor concern is if Treloar eats into his pure midfield time, having attended 26 centre bounces in this game. The Bevo factor is of course a worry, but it seemed clear to me they had a definite midfield pecking order and Macrae was at the top. He's earned a spot in my team.
Caleb Daniel (DEF, $676,000) – The Bulldogs fed Daniel at every opportunity. He took kick ins (playing on of course) and he's one of the best ball users in the entire competition. That half back role should be fantasy gold this year and Caleb Daniel ticked all the boxes today. Having averaged 94 (adjusted) in the back half of 2020 and 111 in his last 5, the only thing I can see stopping Daniel this season is tags. He owns the 'Jake Lloyd' role. Serious option and under-priced.
Marcus Bontempelli (MID, $801,000) – Wow. Brownlow watch. Put those fears of him sitting forward to rest, he was 80% in the midfield and absolutely dominant. Having averaged 124 in the back half of 2020, Bontempelli is likely being underrated heading into this season. I hadn't properly considered him, but there's no reason he can't push an average of 120 this year. He's priced at just 105… Can you really tag a guy when he has 3 or 4 other midfield teammates capable of getting off the chain? If you're in the market for a premium midfielder, seriously consider the Bont.
Josh Dunkley (FWD/MID, $741,000) – The score was amazing, and he got plenty of midfield clock. However I am here to temper expectations. My biggest focus was role today and Dunkley was playing almost exactly the same role he did in 2020, minus the rucking of course. He was clearly fourth in the pecking order and that's without Treloar in the side. I can't see him reaching that epic ceiling of his on this team. Dunks needs to be used as a pure midfielder, and I would say he was a 60/40 mid. Maybe 65/35. Not enough. He should still average three figures because he's a fantasy gun, and of course he's still a tackling machine. But his score is inflated by those tackle numbers today. He has never averaged more than 6 tackles per game, so there's 20 bonus points already. He got 21 touches in the second half but they won't come as easy as that when not playing witches hats in pre-season. I am opting to pass on him for Round 1 with Treloar still to return, there's just too much doubt. He's going to be must own at some point, but I think you'll survive keeping him as an upgrade target. Keep him high on your draft boards, but don't overrate him.
Tom Liberatore (MID, $675,000) – A lock in the Doggies midfield and he feasted like every other Bulldog today. I would suggest he will average in the mid to high 90's this season making him a great late draft pick. Not enough upside to select him in Fantasy though.
Bailey Smith (MID, $663,000) – Bailey Smith was definitely the man to miss out of the Bulldogs midfielders. He's still a jet and will push up the ground to win plenty of footy, he was even stationed on the wing for a fair chunk of the game. As a midfield only selection however, the upside isn't there with such a log jam in the middle. He had just one clearance and three contested disposals. He may not do enough for forward DPP either, so it's a pass for me. Still a gun.
Tim English (RUC, $698,000) – He shared the ruck duties with Stefan Martin (RUC, $570,000) which should temper further breakout expectations. The Dogs need Stef's big body to compete against the better ruckman, while English is still their ruck of the future. Splitting time between the middle and full forward, it will be tough for either to present big value this season. Similar to St Kilda's setup with Marshall and Ryder, Tim English is still capable of averaging 90+ and being a solid mid round draft pick. I just can't get behind it in Fantasy. Also make a note that the Bulldogs may not be such an easy pushover for opposition rucks with Stef involved. They will face off against Grundy in Round 1.
Lachie Hunter (MID, $882,000) – He may slip down some draft boards due to this score, however the new rules should suit his game. He played a little more forward than usual, but I still think he'll be a gun this year. Too expensive in Fantasy though. There's no doubt the 119 is inflated.
Rookies – McNeil (MID, $170,000) and Scott (MID/FWD, $170,000) both played forward and were barely sighted in the first half. Scott filled it up in the final term but I'm not hanging my hat on that. If named round 1 you have to consider them at basement price but I didn't see anything that screamed must have.
Who's missing? Jack Viney, Angus Brayshaw
James Harmes (DEF, $474,000) – The role was absolutely there, the scoring was definitely not. How Viney and Brayshaw affect his minutes will be interesting, but I still think he'll have the role we're after. We've already seen him average 80+ comfortably as a midfielder, so I am picking him with confidence even on the back of this performance. If he had scored 80 today we'd all be locking him in. Trust your eye.
James Jordon (MID, $170,000) – Looked solid today running through the mids but he's one I worry about when the Dees are at full strength. If he's named in the middle for round 1 as a basement price rookie, you almost have to do it. Just remain cautious.
Max Gawn (RUC, $944,000) – Just going through the motions. No panic here, big Max is going to dominate.
Christian Petracca (MID, $825,000) – Another player I wouldn't be bothered about. If he slips down draft boards due to this performance, be sure you snatch him up. Still in the guts.
Jayden Hunt (FWD, $370,000) – Very interesting pick. He has that awesome half back flank role and all the rule changes should suit him perfectly. He just isn't necessarily good at football. You'd have to think he will be frustratingly inconsistent, but there will be some big games too. I'd happily pass on him in Round 1 and if he dominates, bring him in then.