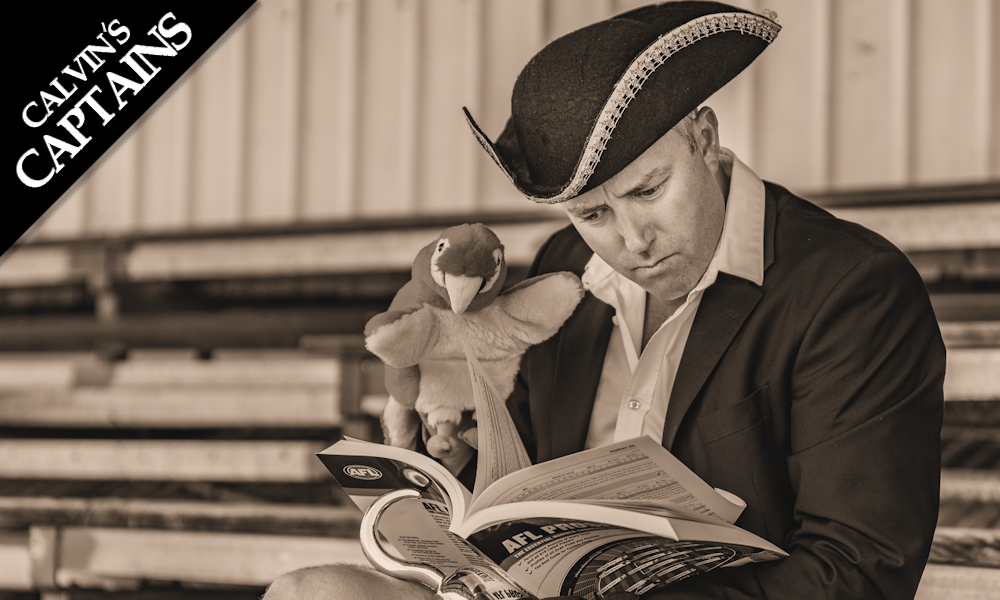 Once again – another quick turn around with the next round kicking off tonight at 7:10 when the Saints take on the Eagles…
Let's get going…
CALVIN'S TOP 10
#1 – Mitch Duncan v Richmond
Duncan has scored 80 or more  in his last eight games this year and meets the third easiest team to pump out points against. He scored 144 against Richmond last year and has hit 130+ against them in three of his last six. NUTS! Last week Freo's top three midfielders averaged 95 against the Tigers, and the week before that West Coast had a day out where Gaff, Shuey and Kelly averaged 100 between them. He will be my VC – and I'm confident!
VC OPTION: Plays Friday night
#2 – Max Gawn v GWS
He's back. 96 and 100 in the last two games, Max is on fire. The only issue is… does he play or do they put him on ice, It won't be an issue if he plays (even if Pruess) does as well, because his record against the Giants is nuts with previous scores of 132, 120 and 140. Reilly O'Brien posted 101 against them on Tuesday night and Max will be huge as well. With Melbourne out of the finals, surely their captain comes out swinging!
VC OPTION: Plays Saturday 7:40pm
#3 – Jack Macrae v Hawthorn (Sunday)
A great fall back option who scored 124, 116 and 126 against the Hawks in his last three. He has had tough opponents in recent weeks where he has scored 81 (Eagles) and 86 (Geelong)… this is much easier, so expect the J-Mac to pump out 95+. He will be my C – but I don't think I'll need him.
#4 – Lachie Hunter v Hawthorn (Sunday)
Hunter's 86 last week was his lowest score in his last six games this year. He is a Fantasy guru who has been awesome this year when he has played. Adding to this, he even posted 123 in this game in 2019. A huge unique captain for those lucky owners.
#5 – Jake Lloyd v Brisbane (Sunday)
He has a string of 90+ scores against the Lions (93, 90 & 99) and this year, Brisbane have been the second hardest to score against. That was…until the last five weeks where they have ranked as the second easiest – how things change! Lloyd has been so good this year and is coming off 78, 84, 120, 102, 108 and 100 in his last five. His 78 last week in the wet didn't suit (3 marks) and this week he is another great Sunday option.
#6 – Zach Merrett v Port Adelaide
His 68 last week was certainly disappointing, but let's remember his 106, 122 and 125 before that. Port are tough, but Zach hasn't struggled against them in the past with a career average of 121 against them from seven games with 116, 113, 121, 151 and 128 coming in his last five. THAT'S HUGE. North managed just 1×80+ against the Power last game which is a slight concern, because as we know… they do rank #2 hardest this year. He ticks plenty of boxes still based on form and history.
VC OPTION: Plays Saturday 5:05pm
#7 – Lachie Whitfield v Melbourne
His 122 last week reminded people that sometimes in Fantasy we need to – forgive and forget. He scored 120 against the Demons last year and last week, Mundy and Brayshaw took a handy seven marks each which is something that Whitfield excels in. Small flag: Melksham tagged Fyfe (72) last week, and is a small chance to run with someone like Whitfield here. This is why he sits lower than I would have liked.
VC OPTION: Plays Saturday 7:40pm
#8 – Tom Rockliff v Essendon
Menegola (115) topped scored last week as the Cats had 7×80+ scores and 2×100+ against the Bombers. This could get piggish. Especially for a bloke who is coming off 122, 78 and 100 in his last three games. When the Pig is hungry things can be amazing… with two weeks to go, now might be the time to give the Pig a go carrying the C.
VC OPTION: Plays Saturday 5:05pm
#9 – Matt Crouch v Carlton (Sunday)
For some reason, in their last five games, Carlton have really restricted opposition scoring, ranking them #1 hardest in the last five weeks. But with form of 125, 102, 122, 96 and 103 in his last five games, he is simply on fire and must make the list based on this alone.
#10 – Jack Steele v West Coast
Reliable. The Eagles have given up plenty of points at times this year and Steele even scored 90 on the last year and his form is good enough with 98, 90 and 110 coming in his last three. Just always a solid pick.
VC OPTION: Plays tonight, Thursday 7:10pm
WHY NOT?
Lachie Neale – The Swans are his worst team to score against in his career nine games against them. He scored 84, 95 and 32 in his last three against them.
Clayton Oliver – Old mate Matt de Boer will run with someone and it could easily be Oliver. Pass.