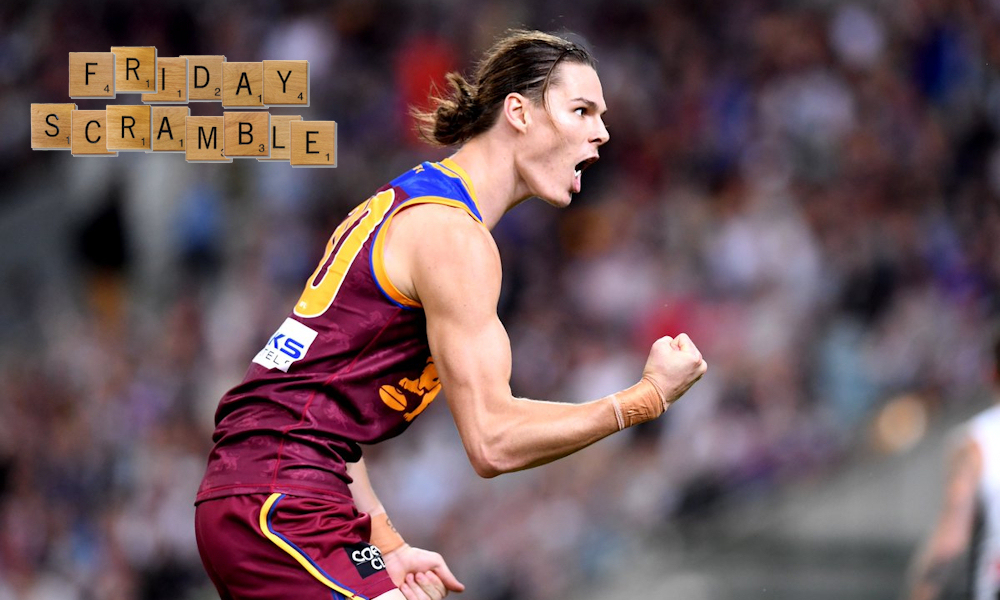 Happy Easter everyone!  Hope you are all enjoying your Good Friday and hopefully we will have a couple of good games to watch this afternoon. This is one of the longest rounds of footy we have (the other round is next week!) and it is one that we need to plan really well for as it can be tricky! Whilst there will be lots of eggs around this weekend, they aren't what will be Scrambling!
Reminder
Just a reminder as you settle back to watch the footy today.  Any trades you make in Supercoach and Real Dreamteam will stick. You won't be able to reverse them. Similarly any trades that you make in AFL Fantasy that use one of the locked out players as a position swap or if you did a trade involving one to make money to fund a subsequent trade then those trades will also be locked.
Basically what I am trying to say is be very careful when you are playing around with your side today.
BIG REMINDER: We will NOT know the squads for the Geelong / Hawthorn game on Easter Monday before the AF lockout tonight so just beware of this and don't take any risks with that game. The main player that I see as a risk is Jordan Clark. Make sure you have cover for him.
Thursday Night Loophole
Yet again we have had a chance to play the loophole option last night and we had a couple of prime candidates to choose from. Did you pick any of them to have a go at the VC loophole?
Whilst you can technically use this afternoon's game between Essendon and North Melbourne for the loophole there are no real options that we would be considering in that game so I will just focus on last night.
Adam Treloar – 120. Spot on the line! It is worth it if you don't have one of Cal's top 3 or if you prefer points in the bank.
Brodie Grundy – 78. A down game for Grundy, just as Calvin predicted!
Lachie Neale – 76. Not a great night for Lachie.
Dayne Zorko – 88. Nope, not a great one for him.
Dayne Beams – 95 wasn't the game that Beamer wanted against his old side but he would have been happy with the win.
As always we look for 120 as the line that we take, but we hate it when someone gets spot on the 120 mark. I am still up in the air as to whether I will be taking it or not, but at this stage I may not although I do like points in the bank. This was a pretty low scoring game with Treloar the only player that scored a 120. In fact there were only 4 players that hit 100+.
If you are a Supercoach player and VC'd Treloar, then take his 150 and don't look back!! No other VC options in Supercoach were worth taking.
When should we start culling the Rookies?
There has been a lot of talk in recent days about starting to dump some of our rookies that are underperforming. This is always a tricky time of the season as we want to start upgrading our teams and to do that we need cash. However many of our rookies haven't made much cash yet and this has many coaches hesitant to trade them out. So here are a few of my thoughts about trading these guys out this week.
Is the Rookie Will Setterfield?
In AF there is no hesitation for you. Trade him out. His BE isn't terrible at 28 but he is out for two weeks. He has made us just under $100k which isn't ideal but with our two trades per week we can afford to move him on. However, in SC and RDT you may want to save that trade and use him as a loophole option. In SC he has made just $48.7k and in RDT he has made $83.8k so in both of these formats so it isn't really enough. In these games you can use him to loop other players on and off the bench.
Is there anyone that is a Must Trade Out?
When looking at the rookies that you have in your team who do you feel is someone that you absolutely positively must trade out? To determine that your best bet is to review their Break Evens. For those new to Fantasy the Break Even is the score the player must get to retain their current value. What we want to do is have rookies that have low BE's. There are a few players whose BE's are getting a little higher and these are the ones that we need to target first.  Zak Butters, Jordan Clark and Matthew Parker are the main ones that we are concerned with as their BE's are over 35 in AF and some are even higher in the other forms. All of these guys have been named to play this week so really you don't have to trade them out as they should all rise in value this week, albeit not much in some cases.
What are your options to bring in?
Do you have anyone that you are desperate to bring in? I am sure that you are all read Fry's article from Wednesday and in that he spells out who are the key guys to bring in. To be honest there isn't anyone that is a bargain that is really screaming out to be selected in your sides at the moment. But if you do want to trade a rookie out this is an important consideration, what are you getting in? To make the change you need to be bringing someone in that is going to rise more in value than the person you had traded out still had to rise and most importantly if it is an on field player you need to be happy that they can score as much if not more than the player you have traded out. You don't want to trade someone out that is scoring well on field only to bring in less points on field. Whilst we need cash we also need points.
Selection Table
A big name in (or two) and a big name out am0ngst the changes this week!
Devon Smith is being MANAGED! Serously? It is round 5! I suspect he is being dropped. But seriously it may just mean that he has been carrying something which would account for his scoring start to the season.
Josh Rotham was on the bubble in RDT and SC and was a popular trade in for AF. However he has been omitted which confirms what a few thought about his job security.
Jackson Hately gets his chance with the Giants.  This kid can play and should score well. Job security is the concern but he has come in for Ward who is out for the season so that is a good sign.
Fyfe returns. Just beware though as he will probably be tagged and we know some players don't come back well after a concussion (hopefully I am wrong).
Dusty is back from suspension which will be great for owners that have held.
Kreuzer is back which will help those that drafted him early
Bryce Gibbs has been named in the squad for the Crows after his week in the SANFL.
Things To Remember
Geelong v Hawthorn Teams won't be known until tomorrow afternoon.
Lockout tonight isn't until the Power v Eagles game so we are still in partial lockout during the Dons v Roos game.
Don't panic on rookies there is plenty of time left.
We will only have ONE day between round 5 and round 6. Make sure you listen to the Traders pods and keep your eye on DTTalk twitter and site to keep you up to date with the latest.
Have a brilliant Easter folks!  I know I will be enjoying the rest over the weekend. Next week there will already have been two games by the time you hear from me again. So you will get another crack at the loophole. Until then enjoy plenty of chocky eggs and hot cross buns (I know I will be)!