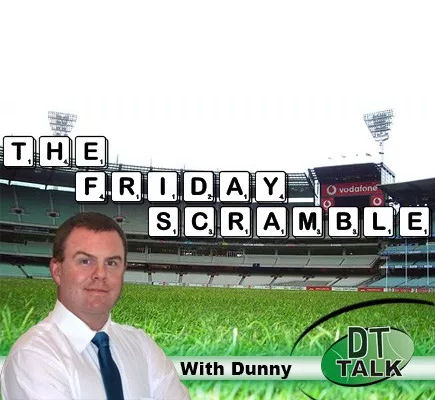 Here we are, the last week of the regular season for most Fantasy coaches. This is the one that will make or break things for some of us. For some it means the difference between finals or the bottom 8 play off, for others it is a chance to make the top four and get the double chance. Today we will have a look at strategy for this as well as other plans for the coming weeks. Unless you are sitting pretty in the top four with no chance of dropping down, you will need to be Scrambling!
Trading Strategy
From here on out trading is now a different game. From here on out it is a bit of a game of who blinks first! With most of the games it is now almost a knockout if you lose (almost). So there are a couple of different strategies that we use now to get us the win.
CopyCat Strategy. If you are in a knockout style game then you may look at your team and your opponents team and realise that one of your premiums isn't quite as good as the one that your opponent has. You may have a Buddy Franklin and your opponent may have a Devon Smith. Now we know that Buddy hasn't been scoring as well as Devon and you are really worried that this is the weak point that could cause you to lose the matchup. So here what you would be trying to do would be to trade out Buddy and bring in Devon to neutralise the situation. IF you are doing this then you are betting on your remaining uniques to give you the win.
Differential Equation Strategy. As you may have suspected this is the opposite situation. You are concerned that your uniques aren't strong enough to beat your opponent. This is when you may look at one of the similar players you have to them and swap them out. So in this case you might both have Dusty but you think he won't have a great game this week and you need an edge. Here you might consider swapping him to someone like Joel Selwood who plays the Lions at home and could just be the one to give you the edge over your opponent.
As with everything in this game there are some risks with both strategies. It is a gamble in both cases. But that is what this game is all about, you have to take some chances if you want to win the game.
Probably one of the biggest things you need to consider when you do this luxury trade is that if you do it then you need to be comfortable with the player you bring in to be in your side for the remainder of the season. We never know what is likely to come up next week and hence you could cop some injuries which mean you can't make that trade back to the one you traded out this week. So make sure that you are really sure about what you want to do.
How Many Trades Do We Need To Keep?
Clearly this section doesn't apply to the AFL Fantasy game with our two trades per week. But if you are a Real Dreamteam or Supercoach player then you will have the concern of how many trades you should have left at this stage and should you be using some up this week to get yourself a good finals spot.
In these forms there is no such thing as a luxury trade at this time of year. I have had a couple of people asking me if they should be using their last trade this week. I am not a huge fan of this because there is plenty that can happen from here. The only way that I would use that last trade now is if I had a player that was now out for the rest of the season. Other than this I would be looking to use my bench cover as much as I can.
I see the ideal situation in those forms as having a minimum of 2 trades left for the finals. We know that something will happen and we need to be ready for it. The situation becomes better if you are top four and can win that first final then you don't need to worry about week two of the finals.

Click here to subscribe on iTunes
Selection Table
Brayden Sier is out injured with an injured leg and is listed as a one week.
Jordan De Goey also has a leg injury and is listed as at least two weeks and at this time of the year it is seriously worth considering the trade.
David Armitage will upset the Draft owners that have him as he has been omitted this week along with team-mate Ed Phillips.
Tom Doedee is out with his concussion, he should be back next week. If you are using him on field then hold him and use a bench cover.
Jaeger O'Meara comes back into the side after one week out and Shaun Burgoyne also comes back in. Once again this is more than likely to be relevant to Draft players.
Marcus Bontempelli returns for the Dogs but we have seen the end of Dahlhaus and he is done for the season.
Paddy Ryder is listed for the Power but it is a squad and Billy Frampton is also listed as insurance. Hinkley has said they will give Paddy every opportunity but he is not a certainty.
Michael Hibberd is still not back and this is still a concern. The main problem with him is that he isn't really worth anything to us given the price drop. If you have a warne chest then you could look to upgrade him.
Things To Remember
It's all or nothing if you aren't quite in the 8 at the moment. Go for it!
If you are all about leagues then go for that and see if you can exploit any weakness on your opponent.
Just watch those trades in RDT and SC. We don't have many weeks left but doesn't mean you need to can blow those last couple.
We are down to the final stages now and don't take your eye off the ball. Have a great weekend of fantasy footy, hopefully we have some more great scoring and you all make yourself right at home in the finals! Catch you all next week.