The Milkmen Discuss – Round 17
Get across the cows for this week with Miles and Peter.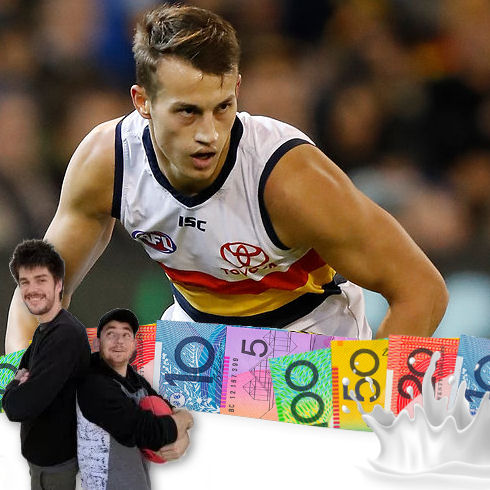 Hopefully our sides are all filled up with premiums at this point in the season. A one-week injury to Heeney and a late omission to Simpson proved the importance of having adequate bench cover. It also makes us Milkmen still somewhat relevant. Similar to last week, we will start off by commenting on some notable performances from our cash cows, and then switch our attention to who is coming through the twos.
Those That Played
Quinton Narkle ($232,000 MID BE 4) – Unfortunately could not back up is very impressive debut last week. Narkle played predominately forward, collecting 12 possessions and finishing on 36 points. Job security is a massive concern with a few players returning from injury.
If you are one of the nine percent of coaches who still own Jack Higgins ($402,000 FWD/MID BE 38), then you should be so lucky. He is a big favourite of ours and he is now getting midfield time. Higgins had 25 touches and collected 84 points. If this midfield time continues, scores of 80+ should continue. Future fantasy gun.
'Upgrading' to Crisp this week has cost us dearly. This is because Tom Doedee ($493,000 DEF BE 46) is a gun. You would be a brave coach to move him on at this point. Doedee had 28 possessions and finished on 106 points.
Bayley Fritsch ($569,000 FWD/MID BE 105) returned to his half back role which saw his scoring shoot through the roof in the mid part of the season. Despite being on two points at quarter time. Fritsch finished on 25 touches 77 points. If Fritsch continues to play this fantasy friendly half-back role, then his high scoring should return.
Paul Ahern ($350,000 FWD/MID BE 14) is proving himself to be a very reliable bench option. He is playing a mid/forward role and he gets himself to lots of contests. A great emergency to have for the rest of the season. Ahern finished on 22 touches 88 points.
Similar to Narkle, Brayden Sier ($235,000 MID BE -3) had a big drop off from his debut last week. Sier just had the 14 touches and 51 points. Watching the game live, we barely noticed him. On closer inspection though, he only had 66% game time. This makes his score much more respectable.
Keep An Eye On
Not much has changed from last week in this section, so just to recap who was mentioned last week…
Harley Bennell ($249,000 FWD)
Aaron Francis($259,000 DEF/FWD)
Ryan Abbott($170,000 RUC)
Sam Simpson ($236,000 FWD)
Fergus Greene($170,000 FWD)
Callum Porter ($170,000 MID) and of course
Oskar Baker ($176,000 FWD)
None of these players were a stand out in any of their games, although some key injuries at the Dons could pave the way for Francis. Another name that could reap the benefits is the ever reliable VFL player, Dylan Clarke (181,000 MID). Clarke did little damage to his current VFL average of 121 by only scoring 103 from his 27 touches. It's kind of at the point with Clarke where we would rather him not play so we can have a top option for the class of 2019 cash cows.
Other names to bring into the mix include…
Nathan Freeman ($170,000 MID) – Is it finally time? It would be such a good story if he was able to get his chance this weekend. At $170,000, he isn't a bad option either. Freeman had 25 touches in the VFL on the weekend.
Colin O'Riordan ($170,000 DEF) – Been reliable down back all year for the Swans Reserves. Helped himself to 37 touches and two goals on the weekend. Has been averaging 28 disposals in the NEAFL and the injuries to Hannebery, Jack and McVeigh surely path the way for him to make his debut. We have always have been huge fans of the Irish lad.
Lewis Pierce ($170,000 RUC) – Has been running around at Frankston this year instead of the Saints normal VFL affiliate Sandringham, to give himself more opportunities. Has been taking all of them lately and another nice game against quality opposition in Zac Smith on the weekend may have pathed the way for him to at least get a shot at St Kilda. A good option to downgrade the Big O to if he is named.
Patrick Wilson ($185,000 MID/FWD) – We got to see him once and here's hoping that the Crows opt to put more time into some young players as the season slowly slips away. Had another 31 touches for 134 dreamteam points on the weekend.
Corey Lyons ($170,000 MID) – In a similar vein to Clarke, here's hoping he actually doesn't end up getting a run this year so we can add him to the serious watchlist for 2019. Keeps getting it done for Brisbane Lions in the NEAFL and this week was no different. Just a lazy 124 points this week to bring the year average up to 97.
Once teams drop on Thursday, we will post our top 5 on Twitter.
FOLLOW US ON TWITTER:@TheMilkmenDT specialising in cash cow selections but still here to talk all things AFL fantasy.