Scale of Hardness – Ep. 212
PODCAST: Everyone is talking about LeBron to LA, but we're more concerned with our Fantasy issues this week.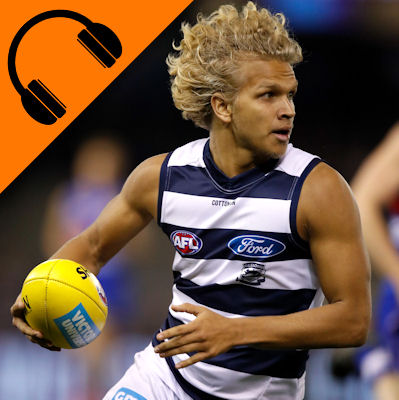 Click here to subscribe on iTunes. (Please leave a rating and review to help us move up the charts).
With only eight rounds remaining in the home-and-away season, many factors need to be considered when trading throughout the final weeks.
Fantasy Classic sides are getting close to being complete, that is, they are full of premium players. Although there is no such thing as a perfect 22 – never in the history of Fantasy has someone nailed the 22 best possible scorers in a single round – we can aim to get the best 22 possible.
Quite simple, you could be looking across the top scorers of the year and aiming to bring in the best performers thus far.
At this stage of the season, Calvin likes to look at the upcoming fixture to help him make decisions.
His fixture analysis takes into account Fantasy scores teams given up to their opponents across the season – with some weighting given to recent form – as well as 100 plus scores.
Gold Coast have been the easiest team to score against this season. Points also flow against the Dockers, Saints, Blues and Bulldogs. The Crows also feature in the teams that leak the most points to their opposition.
Port Adelaide have been the most restrictive, followed by West Coast, Hawthorn and Sydney Swans.
Calvin concludes that Carlton have the best run home with five of their last eight opponents being in the easiest group of teams to score against. Three of these games are in the Fantasy finals. Hawthorn, Melbourne and Port Adelaide have a friendly fixture over the next few weeks. Players from the aforementioned sides could help you make the finals.
On the flipside, players from Fremantle and the Western Bulldogs could find it tough in the next month.
The Traders chat about which players are worth considering based on their fixture and how much weight coaches should place on upcoming opponents when making their trades.