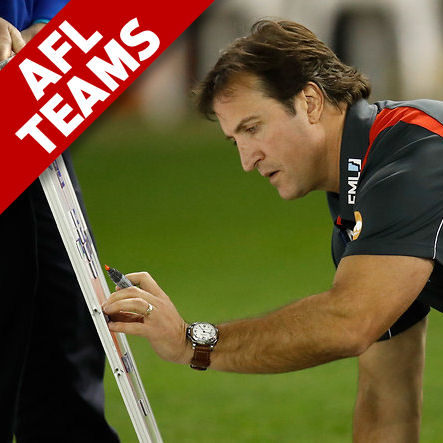 Welcome back for another week of AFL Team Sheets, where we discuss all the relevant INs and OUTs for the week of footy ahead of us. We're heading into bye rounds soon, so now's the time to grab the intelligent bye round option and catch the lead through smart moves. The best coaches every year are those who manage their byes well and this is the last week any of us has the chance to do so. Let's get stuck into the team sheets.
Who's IN?
I'll be trying to go game by game this week and we'll catch as many of the relevant IN's as we can. For the Swans we see the return of Gary Rohan and Nic Newman, neither of which have been stand out options this season and don't make a lot of sense to bring in now. Carlton brings back Jack Silvagni to no real surprise, he's also not a major fantasy player and isn't going to have a huge impact. For the Dogs we've been told Mitch Honeychurch and Dale Morris are set for a return, Morris is a potential downgrade target, however, with expected and historical scores in the 40's and a $284,000 price tag he's a poor option at this stage for me. Honeychurch is a good name back for the Dogs but not such a huge pick up for fantasy. The Hawks have named Tim O'Brien and Daniel Howe in their side who have again been disappointing in fantasy this season. Gold Coast have announced the return of Jesse Joyce, Jack Martin, Tom J. Lynch, Sam Day and Will Brodie. The relevant options for us are: Day who still presents as an interesting option up forward, he has made money this season and looks likely to continue to do so, Brodie who we haven't seen all season and who could potentially shape up to be a better ball magnet this season and Martin who has been having a great season up forward and looks to be a solid pick up but isn't likely to be in the best 6 come the end of the year. The Cats announced three IN's for their team this week Wylie Buzza, Lachie Fogarty and Lincoln McCarthy. Buzza makes for an interesting Ruck/Forward DPP but isn't likely to make the scores you want, a serious luxury trade. Fogarty has had an outstanding season for anyone who picked him up early, he's got a BE of 51 this week and appears likely to crack it so if you're looking for easy cash generation he's a good pick up. McCarthy is making his first appearance since round 3 of 2017 and could be worth watching as a future option. The Eagles have renamed Luke Shuey and Jack Nelson, Shuey has been haemhorraging cash for any owners this season and should be avoided until we see consistent scores out of him. Nelson is a low scoring defender and there are better pickups even with lots of names in defense still out this week. The Saints have announced the return of Rowan Marshall and Maverick Weller, both players have high BE's this week and aren't good trade in targets. The Bombers have returned Michael Hurley who is/was shaping up as a potential premium choice but for now has massive BE's before going into his bye and looks likely to leach cash until he can even his BE out. The Tigers have said Dylan Grimes is their IN to replace the injured Houli, Grimes is another classic low scoring defender that is unlikely to move into Houli's role and is not worth the trade. Now we hit the Sunday games with the extended bench lists and things get trickier. The KAngaroos have announced Majak Daw, Nathan Hrovat, Paul Ahern, Tom Murphy, Cameron Zurhaar as their IN's this week. Daw hs been uninspiring this season and is unlikely to bring the Majak for any coach this week. Two debutants have been named here in Paul Ahern (FWD/MID $170,000) and Tom Murphy (DEF/MID $170,000). Plenty was said about Ahern early this year and he could be an excellent downgrade target, though the likelihood of them playing and the job security on both of these boys is totally unknown at this stage. The Lions announced Ben Keays, Tom Bell, Josh Walker, Sam Mayes and  Ryan Lester as their IN's for the week. Unless you're a Lions supporter none of these names should be particularly exciting to you. The Pies this week have said Brayden Maynard, Brody Mihocek, Daniel Wells, Jarryd Blair, Ben Crocker, Sam Murray and Adam Oxley are IN's for the extended bench this week. We know that three Magpies need to be replaced due to injury this week and I'm excited to see Brody Mihocek (DEF $170,000) make his debut, he looks like a low scoring mid but as the lowest priced DEF rookie likely playing this round he could be the perfect downgrade target for some teams. The Dockers have named seven IN's this week and true to Ross's word he's playing plenty of the young blood on the team: Taylin Duman, Michael Apeness, Scott Jones, Mitchell Crowden, Stefan Giro, Shane Kersten and Tommy Sheridan have all been named as part of the extended Sunday bench. Duman and Apeness are both players to watch this week as potential pickups they've played in only a handful of games for Freo between them and this Apeness's first AFL game back in 2018 after injury. Jones (RUC $170,000) and Giro (MID $170,000) are debutants who could come in and be outstanding players. Better still is Fremantle's round 14 bye which makes these downgrade cash generators all the easier to pick up and drop as they reach their byes, unfortunately of course we still don't know who's actually flying out to Melbourne and who gets to stay in Perth. The Crows have said Paul Seedsman, Andy Otten, Reilly O'Brien and Lachlan Murphy are all back in the side, they've also made no omissions which is of some concern. Seedsman is by far the most interesting option here as a DPP DEF/MID, he's shaping up as a premium defender this season and looks like a good option, I'm happy to see his return. O'Brien is a Ruck option if you're looking for it and he is predicted to make cash, but he's only a serious luxury trade this week. Murphy has been an interesting player this season who has done well for cash generation but is unlikely to make the side given the extended bench and has virtually no job security. Finally the Giants have said Sam Taylor, Sam J. Reid, Dawson Simpson, Phil Davis and Brent Daniels are named for this game. They've announced two debutants in Sam Taylor (DEF $216,000) and Brent Daniels (FWD/MID $218,000) who are both good rookie pickups provided they end up actually playing. Neither has great job security and they're part of the extended bench which always fills me with concern. Once again your basic total crapshoot that is the Fantasy game we all know.
OUT's
I'm going to breeze through the OUTs here for us. The Swans have dropped Tom Papley (Managed) and Tom McCartin (Omitted). Harry McKay (Omitted) is Carlton's one out. The dogs dropped Zaine Cordy (Injured) and Bailey Dale (Injured). None of these previous drops are that surprising or really at all relevant to fantasy. The Hawks lose Mitch Lewis (Omitted) and David Mirra (Omitted), Lewis will hurt any new owners who had higher expectations for the rookie while Mirra appears to simply be a tactical decision by the Hawks he's got excellent BE's and is worth looking to if you're looking for simple guaranteed cash generation on his return. Meanwhile the Suns after bringing IN an onslought of players drop the same in Jarryd Lyons (Omitted), Jack Leslie (Omitted), Brad Scheer (Omitted), Brayden Crossley (Omitted), Matt Rosa (Injured). Lyons is a huge name to be omitting this week and is an absolute shock, he's been a huge scorer for teams in certain games this year and has made for a great POD player. Owners of Scheer and Crossley will be disappointed in their being dropped but it's unsurprising given the big IN's at the Suns this week. The Cats swap Esava Ratugolea (Injured) and omitted duo Cory Gregson and Stewart Crameri. The Eagles have, in a massive shock, dropped Dom Sheed this week alongside Chris Masten (Injured). Sheed has been playing good football for the Eagles but hasn't been setting the world on fire in fantasy. The Saints lose Luke Dunstan (Injured) and Jake Carlisle (Suspension) who may have been on your fantasy radar given some massive scores in recent rounds. Essendon's single out is Patrick Ambrose (Injured). While the Tigers, as I said before have been forced to dop Bachar Houli with the groin injury. The Kangas have dropped Ryan Clarke  (Omitted) while the Lions have done the same with Matt Eagles (Omitted). The Magpies lose three in Travis Varcoe, Ben Reid and Jeremy Howe all to various injuries. Fremantle loses three as well in Danyle Pearce (Omitted), Stephen Hill (Injured) and Aaron Sandilands (Injured). The Giants have dropped the one from their list in Tim Mohr (Injured) which will disappoint many who recently picked him up.
Apologies again for the lateness of this one, sometimes work schedules ruin the better things in life, I'm hoping this one is still timely enough. This concludes our wrap up for this week's fantasy INs and OUTs, kick off any questions you have in the forum below, or alternatively you can catch me on twitter over at JelmsDT. May you be kissed by the fantasy gods this week.