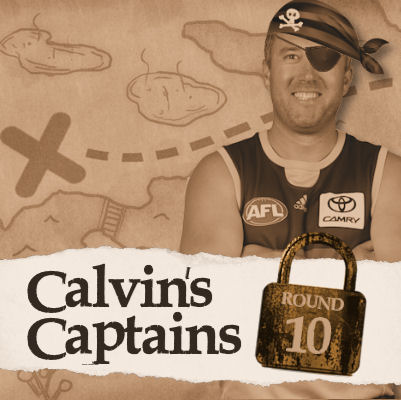 HIP HIP MACRAE
He did it again. Another monster score of 144 last week saw Jack Marcae's run continue, backing up his other big scores of 155, 151 and 145. What an amazing last four weeks.
This week… it will continue as he meets the Pies on Friday night. Firstly, as we know, Collingwood are the easiest team for midfielders to score against. Adding to this, over his career against Collingwood, they are his favourite team to score points against with 116, 139, 116 and 117 coming in his last four runs against them.
Add to this again, he's under the Etihad roof, a place he has averaged 136 at this year from five games.
Macrae ticks every box imaginable here and is set to score another 140+.
PIG AGAINST THE HARDEST
The Eagles have only conceded 5×120+ scores to opposition midfielders this year, but I'm tipping that Tom Mitchell will change that this week on Sunday afternoon. In fact, they are the hardest team for people to score on in general over the last three weeks, giving up just 3×100+ scores with not one Tiger clocking over 100 last week.
Mitchell scored 122 against them last year and a tag seems out of the question. Hutchings and Yeo might have a crack but I'd bet against it.
Now, Titch has only played once at Etihad this year (83)… but the thing here is, HE'S BACK! A nice 149 last week was just what we needed to see after his dirty 58 the week before.
Best time of the week. Join me for a 🍺 and an #AFLFantasy chat to hear my thoughts on Greenwood tagging Macrae. 😳 https://t.co/aOLiPLBFGJ

— Calvin (@CalvinDT) May 23, 2018
TAGGER ALERT
Sydney's Hewett has been tagging the guts out of our premiums in recent weeks and last week, he went to Nat Fyfe for his 97. Unlucky for Fyfe, cause this week he now will have to battle Ben Jacobs.
Fyfe did have 114 and 87 on the Roos last year but will have his work cut out for him against the best tagger in the game.
So who will Hewett tag? Bad luck Dayne Zorko, it's your turn. Zorko has been in ripping form too averaging 143 in his last three games. He scored 97 and 148 in his last two on the Swans, but this time it will be different for the man who is currently the second most inform guy in the game.
CATS RETURN HOME
After getting smacked down by the Bombers, Geelong return home angry ready to load up on the struggling Blues who are the third easiest to score on in the last three weeks.
Gary Ablett managed just 47 last week but had 91 and 118 on Carlton last year when he was with Gold Coast Suns. Patrick Dangerfield has been very consistent in recent weeks without being huge. He only managed 88 against them last year, his worst score for the 2017 season.
Mitch Duncan however scored 117 and 113 last year and has been averaging 108 in the last three games. He's the type of player to slaughter the Blues this week so expect him to be big.
After averaging 110 in his last three games, Joel Selwood will most likely be tagged in this one. Carlton have targeted him in their last two encounters using Curnow and Kerridge, holding him to 59 and 86.
Speaking of Ed Curnow, he'll return this week after savagely bashing an umpire and is carrying some hot form of 142 and 137 in his last games. He scored 132 way back in 2016 on the Cats which is much better than Matthew Kreuzer's history where he has only had 1×100+ score on Geelong in his career 7 games. Although they are his worst team to play against, Geelong do concede the most points to ruckman in the game.
BUDDY HUGE?
I'm calling it… Lance Franklin will be massive this week against the Lions after he returned to the game with 112 last week. He scored 133 against them last year and last week, Gunston (85) slotted four majors against them and did it with ease.
The Lion's defence can be very bloody dodgey on their day and I'm tipping Buddy to cash in big time.
QUICK AS YOU CAN CALVIN….
Brodie Grundy v Bulldogs @ Etihad Stadium: Sits with scores of 135 and 128 in his last two and posted 94 on the Dogs last year. Sam Jacobs had 54 hit outs against the Boyd/Roughead combo last week and I'm pretty confident that Grundy will get his 9th straight 100+ score on Friday night.
Bryce Gibbs v Melbourne @ TIO Traeger Park: 117, 93 and 119 are his last few against the Demons.
Lachie Neale v Kangaroos @ Optus Stadium: Had 100 on the Roos last year, his second favourite team to play behind the GWS.
Josh Kennedy v Brisbane @ the GABBA: 90 and 62 over the last two weeks. Nah.
Stephen Coniglio v Essendon @ SPO: Slowing down with an average of 98 in the last three weeks but had 120 on the Bombers in his last game in 2016.
David Zaharakis v GWS @ SPO: 133 and 113 are his last two efforts, 0x100+ on GWS in his last three.
Adam Treloar v Bulldogs @ Etihad Stadium: Etihad Stadium: Has wicked history on the Dogs with scores of 125, 128 and 119. Coming off 96 last week, he'll be great in this one.
Dusty Martin v St Kilda @ the MCG: Dusty has been stinking averaging just 71 in his last three but the Saints are the #1 easiest team in the game to score on giving up 5.3×100+ scores a game in the last three weeks. Scored 117 on them last year, his first ton ever on them in a career 11 games.
Steele Sidebottom v Bulldogs @ Etihad Stadium: 124 on the Dogs last year.
Zach Merrett v GWS @ SPO: No tag again for Zach in this one. Had 106 and 105 in his last two against the Giants who are the 2nd easiest team to score on in the last three weeks.
Jack Darling v Hawthorn @ Etihad Stadium: Mega form here with an average of 129 in his last three. But nah.
Lachie Hunter v Collingwood @ Etihad Stadium: Averages 110 in his last 4 against the Pies and is averaging 109 in his last three. Should dominte.
Andrew Gaff v Hawthorn @ Etihad Stadium: 88 on the Hawks last year, 107 last week.
Max Gawn v Adelaide @ TIO Traeger Park: Only Ryder and Grundy have scored over 100 against Sam Jacobs this year and Max only managed 79 against him last year.