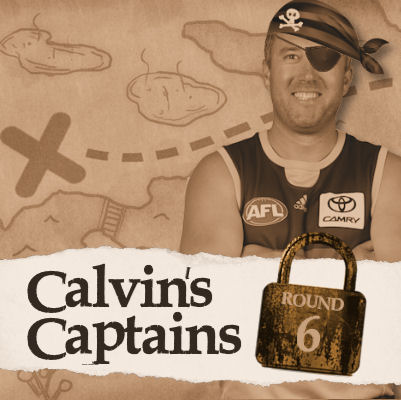 With a limited turn-around this week, I've adjusted Calvin's Captains slightly and made sure I've crunched the numbers for you harder than ever before. Focusing more on the BIG guns.
With Mitchell being tagged to back2back scores of 83… I felt I needed too.
Basically this week, I've crunched the numbers hard on our MAIN options. Yes, some people like to be a little left field and I don't blame them, but this is a week of uncertainty after what has been happening… so that's how I'm looking at it.
THE TABLES
The tables for each of the gun midfielders I've selected are the top 10 scores, that their opposition has given up to MIDs only since the year began. Please note that Collingwood's only contains four games due to time constraints.
This should paint a picture to what we can hopefully expect along with some research on grounds and history as usual.
PIG v ST KILDA @ UTAS STADIUM
"Mitchell is my captain every week and I'm never going to change…" I hear this more than you'd ever know and I can totally understand why.
St Kilda will tag him again after his two lowest scores since joining the Hawks… and it's happened in back2back weeks.
Who with is the question? I'm tipping Dunstan, Ross or even Koby Stevens if he is named. They MUST tag. Alan Richardson would look like the biggest knob in Australia if he doesn't try to contain the pig after he has been contained in his last two games of19 and 24 touches.
If he comes out and has 55 touches and the Saints lose… Boy, would Richardson come under the hammer and cop it. He at least needs to try to tag him off the back of what has been going on.
The pig loves playing down in Tassie and scored 125 against the Saints there last year. He averaged 129.5 from four games in 2017 with a top score of 143. He wasn't tagged that day but as I said, it's a 95% chance it will happen this time and as I pointed out last week, this buggers up his uncontested marks.
Confidence is down and his scores are down and he is a frustrated pig. Hence his elbow bump on Goldy.
Some big guns have played the Saints this year, in fact… some of the biggest in the game with only one of them registering a worthy captain's score.
Still… it's the pig. He will be great, but I think we have a few better options here after what he has given us in recent weeks with the attention he has been copping.
DUSTY v COLLINGWOOD @ MCG
You see the number Collingwood give up?
NUTS… and that's only from a sample of four games compared to the others who have five games next to them.
His last scores against the Pies are nuts.
He had 86 (no tag) on them last year in round 2, but prior to that he clocked up 110, 114, 126, 109 and 107.
Collingwood are the easiest team to score against for midfielders and my snazzy table shows that perfectly.
The issue here is… Dusty can score 60's and 70's. Just like he did on Tuesday. Adding to that, he's only had one score over 120 this year. This is a real concern.
However, I'm tipping him to be huge here and if you are a Dusty owner… get excited about what he will do when these teams meet next Sunday afternoon.
Perth – Thursday 26 April, 2018
Paddington Alehouse
141 Scarborough Beach Rd, Mt Hawthorn, WA
Click to buy tickets
COGS v BRISBANE @ SPO
Coniglio returns home here and meets a team that can be witches hats on the day. They have been giving up a nice numbers as you can see … and Cogs himself is coming off a solid 112 from last week, which happens to be his lowest score for the year.
The man is now averaging MORE than Tom Mitchell and currently sits as the best player in the game right now.
He scored 127 against them when he met in 2016, because he didn't get to play them last year.
The talk of a tag will come up as it always does with Brisbane… but Mitch Robinson hasn't been doing any jobs recently. I highly doubt he'll start this tagging this week and if he did… maybe he'll have others on the radar ahead of Cogs.
The table to the side shows that Brisbane have played weaker opponents than the others listed in other tables. Richmond, Port Adelaide/Melbourne the hardest. But still… even the bunnies from these teams so far are clocking up great numbers.
Form = tick. Opponent = tick. At Home = Tick.
Everything looks good for the man this week.
DANGER v SYDNEY @ GMHBA
Danger returns home this week and although he only had 97 there earlier this year (sat out a chunk of the final term), I'll remind you that he averaged 132 there last year from a total of 6 games.
Now, he only posted 109 last week and that was with a truck load of time up forward. This is concerning. However, he still scored that 109 from 28 touches.
Where will he play this week? I'm tipping back in the guts but I'm still very 50/50 on that.
He scored 140 and 139 in his last two against the Swans which is amazing, but as I said… this time forward is a concern… and could he cop the same tag as Gibbs got last week when Hewett held him convincingly to 65.
Danger is high on my list and could be anything from 110 to 140.
QUICK AS YOU CAN CALVIN….
Jack Macrae v Carlton @ Etihad Stadium: 123, 101, 109 and 113 are his last scores against the Blues who are his FAV team to score against. WCE only managed 1×100+ score on the Blues last week, but Jack will be back here after being tagged a little for his 99 last week.
Zach Merrett v Melbourne @ Etihad Stadium: 108 and 136 are his last two against the Demons. Nath Jones tag? Unlikely.
Mitch Duncan v Sydney @ GHMBA Stadium: Loves the Swans with scores of 160 and 120 last year.
Robbie Gray v Kangaroos @ Etihad Stadium: Best-on-ground for Port last week and might therefore cop the Ben Jacobs tag this week. 83 last year against the Roos.
Patricks Cripps v Bulldogs @ Etihad Stadium: No tag here this week and he scored 107 on them in his last run back in 2016.
Adam Treloar v Richmond @ the MCG: 127 on the Tigers last year and even had 115 before that. Which Treloar will turn up though… too risky to give him the big C although I do think he'll be good.
Bryce Gibbs v Gold Coast @ Adelaide Oval: 194 last year on the Suns but he should be tagged by Miller here who defeated Zorko last week and made him look like he was from the NEAFL. Should be fine at home, but still a slight concern.
Stefan Martin v GWS @ SPO: Against Dawson Simpson, Hickey (94) and Sandi (97) have both gone quite well. Could be a huge smokie option in this one as Stef has only gone against Mumford in his last four games for great scores of 104, 111, 116 and 100. Still great and now easier.
Max Gawn v Essendon @ Etihad Stadium: Didn't play the Bombers last year but posted 61 and 146 in his last two against them.
Steele Sidebottom v Richmond @ the MCG: Been great but only had 64 on the Tigers last year.
Nat Fyfe v West Coast @ Optus Stadium: Loves this game and has scored 100+ in seven of the last eight of them.
PLEASE NOTE: This was written on Tuesday arvo (updated Wednesday morning). Due to us flying to Perth for our show on Thursday. If anything changes from what I have above… I will tweet it out. Good luck – we'll need it.