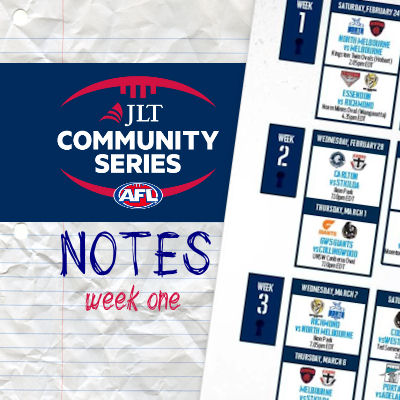 The DT Talk team will update each game of the weekend with our notes from them.

Click here to subscribe on iTunes. (Please leave a rating and review to help us move up the charts).
North Melbourne v Melbourne – Kingston Twin Ovals
Saturday 24 February – By Sparksy
Click here for DT Live stats/scores.
I went down to my local footy ground today to watch the 2018 pre-season officially kick off and I can honestly say it was extremely underwhelming. An almost complete Melbourne side demolished an unpolished and not very talented North Melbourne side. Fantasy-wise the game was even worse, with not many relevant players firing and no North Melbourne going above 75, with only one above 70.
Starting with the Dees, and the two standouts for me were definitely 2017 mid-priced gun Alex Neal-Bullen (FWD $571,000 BE 81) and the new #4 James Harmes (MID/FWD $485,000 BE 69). The two highest scorers for the game were prominent in every quarter with 84 points (80% TOG) and 83 points (73% TOG) respectively. Both players needed 2 goals each to get to their scores which won't happen every week, but ANB was particularly impressive, popping up everywhere and notching himself 6 clearances as well as 4 inside 50's.
Earning his spot in almost 42% of teams so far, Max Gawn (RUC $605,000 BE 86) started the first quarter so badly I had almost traded him out for nobody. North Melbourne then decided it was a good idea to throw Ben McKay into the ruck to start the second quarter and that was all the confidence boost big Maxy needed to kick off. He managed 77 points from 86% TOG, including 39 hit outs, and was reprieved by Tom McDonald and Cam Pederson when he needed a break. Not insanely good, but he did have a very quiet first term.
Popular D2 option Michael Hibberd (DEF $652,000 BE 93) was also pretty good throughout the day and did enough to warrant your selection. He played solely off half-back and managed 77 (82% TOG), amassing 27 disposals but only 3 marks. Considering how bad North Melbourne were, the disposal count is actually a pretty good effort as the Melbourne defenders didn't see much of the ball. If you've decided on Hibberd you can rest easy.
Another option I've been considering in Defence, Angus Brayshaw (DEF/MID $462,000 BE 66) was extremely disappointing. He looked like he hadn't played the game in a while, struggling to pick up the ball and read the play. He played mostly in defence, only pushing up to keep the ball in the forward line, and managed a measly 41 points from 71% TOG. Popular team mate Christian Petracca (MID/FWD $500,000 BE 71) was also quite disappointing. Whilst this may seem like a harsh assessment of a guy who scored 71 points from 79% TOG, he was extremely unpolished going at just under 58% disposal efficiency and he looked averaging out there, hitting up white and blue shirts as if they were team mates. Should get better as the season begins though, and he was very prominent throughout the day, well worth considering if he can hit a target.
Other eye-catchers include Clayton Oliver (MID $715,000 BE 102) with 83 (78% TOG), Jake Melksham (FWD $506,000 BE 72) with 77 (73% TOG) and Jesse Hogan (FWD $499,000 BE 71) with 74 (81% TOG) however, the last two aren't all that relevant, maybe in draft. Lastly, rookie option Bayley Fritsch (FWD $210,000 BE 30) was extremely impressive and may even get a game, although Dom Tyson does need to replace someone. Fritsch had 69 from 78% TOG which wasn't bad, although he did need 3 goals 2 points to get there. He seemed to have a good sense of the game though, being where he needed to be which is what impressed me. One to watch for sure, but job security will be an issue.
Melbourne @AFLFantasy grades:
Gawn ??‍♂️?
Hibberd ?
Neal-Bullen ?,⚠️
Melksham ?,⚠️
Petracca ?
Oliver ?‍♂️?, ?
Lever ?, ??‍♂️
Salem ?
Lewis ?,⏱
Hogan ?
Fritsch ?, 2️⃣2️⃣?
Brayshaw ?,?,?

— Tbetta (@Tbetta9) February 24, 2018
As mentioned previously, North Melbourne were the epitome of disappointment today and their Fantasy scores didn't stray from that trend either.
The biggest factor to note is that popular rookie option Paul Ahern (FWD/MID $170,000 BE 24) didn't make the team after being named in the squad. Here I was thinking he was a safe option. Other first year rookie Luke Davies-Uniacke (MID $264,000 BE 37) was a huge disappointment in his first real taste of AFL Fantasy football. Whilst he stood up in a few tackles and looked AFL ready, he didn't see much of the ball and didn't seem all that hungry for the ball either, with 9 disposals and 1 tackle for 31 Fantasy points (78% TOG). If he plays the season like that I don't like his chances of being Fantasy relevant and would keep an eye on him for the rest of the pre-season before locking him into your squads.
Other rookie options Mitchell Hibberd (DEF $235,000 BE 33) and Cameron Zurhaar (FWD $234,000 BE 33) both impressed me, coming on in the second half and scoring 28 (41% TOG) and 33 (42% TOG) respectively. They looked good however, it's easy to forget that most other players have already played a half of footy by the time they got out there, so those scores may be skewed.
Mid-pricer Ryan Clarke (DEF $484,000 BE 69) roamed from half-back to half-forward and should have been exciting, but wasn't. He managed just 46 from 75% TOG and didn't seem all that prominent, especially in the first half.
North's ruckman Todd Goldstein (RUC $610,000 BE 87) was comfortably second best in the ruck battle. Goldy was pretty average in the ruck contest, albeit against one of the best ruckman in the league in Maxy Gawn, however he was also pretty average around the ground, not doing a lot to get the ball and ending with 8 disposals and no marks. He ended up with just 47 Fantasy points from 86% TOG so, if he's currently sitting in one of your Ruck spots, I would be fairly concerned.
Jack Ziebell (MID $662,000 BE 94) was the only Roo with a semi-decent Fantasy score that's not a rookie, and even he wasn't that impressive. With only 10 disposals, Jack tackled his way to 74 Fantasy points from 82% TOG, which is pretty disappointing as the best scorer on your team.
There's genuinely nobody else worth mentioning that is even draft relevant as it was just a horrible day in Fantasy for the Roos and I'm quite concerned that this might be the way the season goes, with low scores across the board purely because they just get dominated. A strong buyer-beware on all North Melbourne players at this point of the pre-season.
North Melbourne @AFLFantasy grades:
Goldstein ?
Jacobs ?,?©️?
Ziebell ✅
Cunnington ✅
Waite ??
Hartung ⚡️,?,2️⃣2️⃣❓
McDonald ?‍♀️
Daw ?,?
Clarke ?
LDU ✅?
Ahern ?⏱

— Tbetta (@Tbetta9) February 24, 2018
Essendon v Richmond – Wangaratta
Saturday 24 February – By Warnie
Click here for DT Live stats/scores.
Sitting down to watch my Bombers, it was a good thing I was actually viewing it with Fantasy in mind… not cheering on the Dons.
Despite that promising start with the epic running goal from new recruit Adam Saad and fellow newbie Devon Smith (more on him later), it was the Richmond show. They had 19 of their premiership 22 playing. Only the suspended Broad and injured duo Prestia and Rioli were missing from the grand final side.
Let's start with the best player from last year, Dustin Martin (MID, $800,000). He was leading all scorers on 77 at 3QT and finished there, racking up those points from a team high 24 disposals in just 61% TOG (time on ground). The Brownlow Medallist is in 19% of teams at the moment, which is decent ownership figure, but he is possibly being disrespected as a starting option by a few coaches – myself included. Yes it was a pre-season game and yes his side smoked their opposition, but the reports are saying that he is going to another level this year and I believe it. 115+. Besides, he spent his off-season learning from the best… Sir Oinkington, Dane Swan.
Calvin will love that Josh Caddy (MID/FWD, $525,000) had the top score of the game. It took him two goals, but he was popping up everywhere. Even with that performance, I couldn't even pick him if I hacked into Calvin's team. We saw some great stuff from Jack Graham (MID, $450,000) late last year, and he played a great game in the midfield laying eight tackles. While he has a discount on his price, he isn't a realistic option for your squad in my opinion as he would need to go 90-95 at least to be worthwhile.
Bachar Houli (DEF, $637,000) was great early and did what he needed to earn a spell. 34 from 40% TOG. On the other (Richmond defender) hand, Brandon Ellis (DEF, $596,000) played 80% of the game for 52 points. It may have to do with the fact he couldn't get the cheap kicks in the back half due to the 14 and a half goal drubbing.
We had our eyes on Jack Higgins (MID/FWD, $238K) but he wasn't sighted until the second half, scoring 25 from 44% TOG. Dimma Hardwick said last week that he expects him to be putting his hand up for selection mid-year. A few tweets came through asking about Ryan Garthwaite (DEF, $170K). While he was serviceable and played his role, we're not going to see big scores from the key defender. As a few tweeted, he may get a chance in round one with Broad out but geez… could this be one of those round one picks we regret because the Tigers play the opening game?
INJURIES: Concussion shut down Toby Nankervis' (RUC, $612,000) game for the day in the first quarter while David Astbury (DEF, $454,000) was put on ice in the first half after receiving a knock to the back of his head.
Richmond @AFLFantasy grades:
Dusty ??
Caddy ?,⚠️
Houli ✅
Cotchin ?, ???
Graham ⬆️?
B. Ellis ??‍♂️
Lambert ?
Conca ?
Garthwaite ??‍♂️,?2️⃣2️⃣
Nankervis ?⛑
Higgins ?

— Tbetta (@Tbetta9) February 24, 2018
How about Devon Smith (FWD, $575,000)? I've been banging on about him all pre-season. He's at the Bombers to play midfield. There is no doubt about it. All of the quotes from the club has been 70/30 MID/FWD split and it was very much that. With 14 CBAs, the second most for the team, he was in and under at times and then you'd see him getting it on the outside. A number 5 will be going on the back of my jumper again… again (Hird, Stanton…). Smith ended up as the leading disposal winner and had equal team high Fantasy points with 93 from 81% TOG. I think he's an easy selection and will be 90+ (safe figure) and a top six forward. Get on board!
The Bombers did lose Zach Merrett (MID, $825,000) early after copping an elbow to his jaw. He sat out just about the whole game after a frenetic start that saw him rack up four touches, two marks and a tackle (20 points) in less than 10 mins. Also in the first quarter, Jake Stringer (FWD, $403,000) copped one high and split his head open. Not that he needed any more attention drawn to his peroxide blonde hair which looked like a pineapple on top of his head, but blood was streaming from the top of his scone. He attended 13 centre bounces, the third most of all Bombers yet played just 46% TOG for a miniscule 14 points. While we may have mentioned that he racked up in the intra-club and that he is playing some midfield time (both true), Stringer isn't and option and you should cross him off any form of watch-list you have.
The bloke with the most CBAs for the Dons (15) was Darcy Parish (MID/FWD, $551,000) who could have a nice breakout with added midfield responsibility. He had 62 points in a solid game playing inside.
We will have to monitor the role of Brendon Goddard (MID, $716,000). He looks as though he will play behind the ball and if this game was anything to go by, he could end up with DPP at some point in the season. Maybe we should consider this in Draft? He will be left on the board for a long time… but as a DEF, he'll be in the top two on field positions across the teams in your league!
We spoke to Andrew McGrath (DEF, $496,000) on the podcast last week and he said he would be playing more midfield clock this year. He was definitely in there but it took him a while to get going. Just 17 points in the first half, he added 14 and 29 in the third and fourth quarters to finish with 60 points from 18 disposals. We'd need to see more, but as a few tweeted, he could be the Mills type second-year player trap.
INJURIES: Hopefully Merrett's concussion is 'just' that.
Essendon @AFLFantasy grades:
Z. Merrett ?,?⛑
Zaharakis ✅
Heppell ?‍♂️
D. Smith ??
Stringer ?, ?, ?
McGrath ???, ?
Parish ??
Saad ?
Goddard ??
Leuenberger ??‍♂️, #️⃣2️⃣?
Begley ?2️⃣2️⃣
Long ?

— Tbetta (@Tbetta9) February 24, 2018
Adelaide v Fremantle – Strathalbyn Oval
Sunday 25 February – By Warnie
Click here for DT Live stats/scores.
It was a beautiful arvo outside, but I'm quite happy I spent the time to watch this match. Not only was it a decent contest, but there was a plethora of Fantasy relevance running around.
Racking up 13 touches in the first quarter and 36 for the game, Matt Crouch (MID, $752,000) was outstanding for the Crows. Obviously he was handball happy (12 kicks, 24 handballs) but he can find the ball with a third of his possessions contested, while the other two-thirds collected in pig-like fashion. A ball-magnet that is going at 110+ this year, backing up from his 115 average in the second half of 2017. Today he only had 1 mark and 2 tackles, so if he can add to that during the season proper, he's going to be a beast
It's probably worth noting here that regular midfielders Rory Sloane and Brad Crouch weren't playing.
I was worried about the return we might see from Bryce Gibbs (MID, $790,000) and was keen to stay away – including dropping him a lot lower than his average suggests in Draft. I can probably change some of those thoughts after seeing him finish with 94 thanks to 27 disposals and a goal in 75% TOG. Still, I won't touch in Classic at that price. But my old mate The Wiz is keen. Get a load of these stats he sent through via text:
averaged 124 last year in Carlton's wins
Crows averaged 392 disposals per game compared to the Blues' 347
Blues kicked 232 goals compared to 354 for the Crows (H&A)
The Wiz is keen as he's a goal kicking midfielder and will receive little or no attention with Sloane in the team. Even if he does go to half-back, he will rack it up.
All of us that have Rory Laird (DEF, $707,000) in our backlines – which is pretty much everyone as he is the most selected player at the moment – have nothing to worry about with that selection. He was in the backline, doing what he does best. Interestingly he had a high handball count (19 of his 26 disposals). Also down back we were all watching Tom Doedee (DEF, $170,000). He scored 67 (70% TOG) and has to be at a short price to start in round one. With 5 marks, 4 tackles and 16 dispsoals (14 handballs – what is it with these Crows?), he will be a decent cash cow and possibly worthy of starting on your field. Let's cross our fingers and toes for the next month.
Other notes:
Sam Jacobs (RUC, $700,000) shared ruck duties with Riley O'Brien. This won't happen in the season… however, 211 did look good against Sauce.
Tom Lynch (FWD, $640,000) had one of those games where he had it on a string up the ground, taking 8 marks.
Paul Seedsman (DEF/MID, $460,000) played on the wing and is firmly on the watchlist as I could be looking at a few underpriced players down back. Need to see a lot more – and to be perfectly honest, I need to really look out for him more! His 57 from 73% TOG is promising.
Harry Dear (DEF/FWD, $170,000) kicked the first goal of the game, but he's going to be a fair way off the 22.
Lachlan Murphy (DEF, $170,000) looked great kicking 3 goals, but that equated to 58 points… and he'll only be scoring in SANFL Fantasy this year.
Adelaide @AFLFantasy grades:
Gibbs ?
Crouch ???
Lynch ⛓, ?
Gibson ?
Ellis-Yolmen ?
Doedee ?,?
Dear ?, 2️⃣2️⃣❓
Jacobs ⚰️, ⏱
Poholke ??‍♂️2️⃣2️⃣, ?
Fogarty ??‍♂️2️⃣2️⃣, ?
Murphy ??‍♂️2️⃣2️⃣, ?

— Tbetta (@Tbetta9) February 25, 2018
Wow! Nat Fyfe ($686,000) is a beast! Of course we all knew that, but he was brilliant in this game. Starting at half-forward, he spent the first quarter there before heading into the guts doing Nat Fyfe things. He had 27 touches, 6 marks and 4 tackles… while kicking two goals. As a clearance machine, he racked up 8 – the most of any player on the ground. Priced at under 100, I think he goes 105+ this year… back to his Brownlow best. Is that enough? I think you'd need 110.
Fyfe won't spend enough time forward to gain DPP, but as Freako tweeted about David Mundy (MID/FWD, $593,000), Ross Lyon really took his new FWD status literally. He was pretty much up in the forward line for the whole game playing 87% for a score of 84. Don't write him off in your Draft league. Should go high 80s at least.
Lachie Neale (MID, $706,000) dropped his average by 11 points last year. He showed all signs that he could be up to that 110 mark again – and if Fyfe does spend a bit more time forward, then that can only benefit him. He scored 95 from just 76% TOG thanks to 25 disposals, 3 marks and 5 tackles. Also in the middle was Michael Walters (MID/FWD, $560,000). He was at a heap of contests,. He didn't find a heap of it (13 touches) but had 7 tackles. A genuine option up forward if he can increase his time in the middle.
"The Role" as Roy calls it was another thing to be looking for today. Freo defenders playing that fantasy friendly role off half-back shared it around a bit. Nathan Wilson (DEF, $499,000), Luke Ryan (DEF, $530,000) and Connor Blakely (MID, $646,000) spent some time collecting off the back flank. I'll need to see some more to consider these guys – especially Blakely who Roy seems very hot on at the moment as he's out of the middle in "The Role". I may wait for him to gain that DPP if this is what his year is going to be about.
No. 2 draft pick Andrew Brayshaw (MID, $268,000) is probably the premium-priced rookie we will want to select this year. He looked at home playing in the midfield and is a lock to be playing in round one in my opinion. 66 from 66% TOG is a massive win laying 6 tackles to go with his 14 disposals. Bailey Banfield (MID, $170,000) is worth keeping an eye on. The rookie listed 20 year old averaged 24.5 dispsoals, 4 marks and 5.7 tackles in the WAFL last year. Today he scored 65 from just 39% TOG turning it on in the second half. 2 goals helped boost is score, but as a mature-aged rookie, he could he half a chance. Keep an eye on him.
It was awesome to see Alex Pearce (DEF, $197,000) make his return to the senior team. Now, he has never been a fantasy player – and probably won't be… but if desperate times call for desperate measures, he's cheap enough for a slow burning cash cow option (more like a bench heart beat) down back. The Tasmanian scored 51 points, taking 6 marks. Just remember, he has only scored 50+ in 6 of his 21 games and has had 9 games with scores below 35 (thanks Morts for those numbers).
Other notes:
Aaron Sandilands (RUC, $539,000) could be an option. I think we may see Sean Darcy, who didn't play today, line up alongside him… but if he doesn't, Sandi is a bargain. Handcuffing that duo with a couple of late picks in Draft could be a great move… albeit risky.
Matt Taberner (FWD, $423,000) does this every now and then. Pass.
Cam McCarthy (FWD, $408,000) somehow finds a trash haircut each year. I don't have too many options with mine, but I wouldn't be choosing that if I did have the choice!
Fremantle @AFLFantasy grades:
Fyfe ?,?
Neale ?
Sandilands ✅?
Blakely ?, ?
Mundy ?, ?
Walters ✅, ?
Wilson ?‍♂️, ?
Brayshaw ?, ?, ⏱
A. Pearce ?,?
Banfield ⚡️, ?
Meek ?
Giro ?
Cerra ?⏱

— Tbetta (@Tbetta9) February 25, 2018
West Coast v Port Adelaide – Leederville Oval
Sunday 25 February – By Anthony
Click here for DT Live stats/scores.
With West Coast only really missing Nic Nat and Josh Kennedy out of their best 22 and Port missing Tom Rockliff, Chad Wingard and Jared Polec these were two relatively strong sides for a JLT preseason game.
The result ending up with a bit of heat in this one. Not just in terms of the weather but in regards to game play too. Both teams came out firing, particularly Powell-Pepper who doesn't seem to know how to tone it down with West Coast coming out on top after Jetta kicked the winning goal from 65m out on the run with a minute left.
West Coast are looking like they could be very Fantasy relevant this year.
New recruit Brandon Ah Chee (MID/FWD $392,000) finished with 44 points from 58% TOG. He split his time 80/20 between playing as a lead up half forward and in the middle. Had his ankle looked at during third quarter with it eventually being iced up and ending his afternoon. Did some good things but struggled to really impact the contest.
Dom Sheed (MID $606,000) Played majority midfield switching between inside mid and out on the wing. Also got involved in the kick to kick defensive switches throughout the game finishing with 72 points from 88% TOG.
Luke Shuey (MID $696,000) scored 103 from 84% TOG and Andrew Gaff (MID $709,000) scored 125 from 89% TOG. Both carrying on their form from last year leading the West Coast midfield from the front. Keep in mind that being JLT they spent the game with little to no attention from opposition players.
Jack Redden (MID $588,000) however needs to be closely considered. Spent the majority of his game playing inside midfield and looks to have made the 'Priddis role' his own. Certainly helped that the game was very contested so he was in his element with clearances and cuddles! Finished with 26 disposals including game high stats of 12 contested possessions and 7 tackles to score 118 points from 80% TOG.
Last year Liam Ryan (FWD $220,000) took 4 of the top 5 marks in the WAFL mark of the year comp. He seems to have come out this year hell bent on doing it on the big stage! However he's gone from the number 1 target for Subiaco to a number 3 target in the West Coast forward line. It'll take time for him to adjust to this role and not 'get in the way' as much. Not sure he'll get enough of it to take his scores on the field but should be a decent cash generator/emergency on your bench. Finished with 43 points from 80% TOG, including 2 goals.
Another forward rookie we've been looking at is Daniel Venables (FWD $170,000) but unfortunately he didn't seem to do enough to impress today. I've been a pretty big wrap for this kid as his ability to take the ball from inside clearances to outside is elite. However he didn't seem to get any opportunity to attend ruck contests and just gets lost around the ground. Can't see him debuting too soon based on today.
Currently in 27.38% of teams, Elliot Yeo (DEF $692,000) probably did enough to hold his place in those sides. With 70 points from 85% TOG he started each quarter strongly but faded as they went on. This could just be a result of his limited preseason.
West Coast @AFLFantasy grades:
Gaff ?, ?
Shuey ✅
Redden ?, ?, ?
Yeo ?, ✅
Ah Chee ?
LeCras ??
McGovern ?⛑
Ryan ?, ?
Waterman ?, 2️⃣2️⃣❓
Watson ?, ?
Ainsworth ?, ?2️⃣2️⃣
Venables ?, ?2️⃣2️⃣

— Tbetta (@Tbetta9) February 25, 2018
Port Adelaide played very team orientated football today, sharing the stats around with no clear stand outs. Unfortunately the numbers for some midfielders could be more than we can expect in the season with Wingard, Rockliff and Polec all still to come back.
The biggest concern with Dom Barry (MID $170,000) was whether he is in Port's best 22. Even with a poor 55% disposal efficiency he was still easily their best on ground! He was absolutely everywhere finishing with 84 points from 82% TOG. Rocky could displace him in that midfield unfortunately but if he keeps up that scoring rate then he isn't just a lock as a cash cow, he could be a bloody handy M8!
Riley Bonner (MID $423,000) took full advantage of his opportunities today. This kid takes on the game any chance he gets and finished with 49 points from 69% TOG. Like Barry, disposal efficiency let him down at times and he'll be bumped back down the pecking order once Port is at full strength.
Rocking a disturbing freshly shaved head, Sam Powell-Pepper (MID $492,000) certainly hasn't lost his ferocity for the contest. Came into the game seriously fired up and gave away a few sloppy free kicks as a result. Appears to have hurt his shoulder in a contest and sat off the last quarter. Finished the game with 38 points from 74% TOG.
Robbie Gray (FWD $572,000) didn't leave the forward line all game. Scored 25 points from 66% TOG and could be in trouble with head high contact to McGovern in the first quarter who didn't come back on. No idea how the MRP will look at it but not sure what else Gray could have done except brace for contact?
Impressed with Karl Amon's (MID $501,000) game and also slightly tempted. Provided plenty of run on the wing including a team high 5 inside 50's. Unfortunately he may not be given as much opportunity once Polec returns from his hamstring tear. Finished with an awesome 77 points from 60% TOG and could be worth taking a punt on late in draft.
With premium options down back limited this year, Jasper Pittard (DEF $541,000) is someone who could work his way into a few sides. Finishing with 89 points from only 67% game time he was back at his best today leading his team in marks and defensive rebounds.
After his impressive finals series last year, Steven Motlop (FWD/MID $489,000) has been on a few watch lists of coaches hoping he'll be back at his 80 point average. Today unfortunately didn't do anything to convince them of that with 23 points from 52% game time at a disgusting 37.5% disposal efficiency. Sat off the last quarter icing his leg which could be shin splints or calf issues. Keep watching if you're still keen.
Port Adelaide @AFLFantasy grades:
Wines ?
Ryder ✅?
Gray ??‍♂️‼️
Amon ⬆️?
Pittard ✅
Jack Trengove ?, ⏱
Motlop ?
Watts ?
Barry ?, ?

— Tbetta (@Tbetta9) February 25, 2018