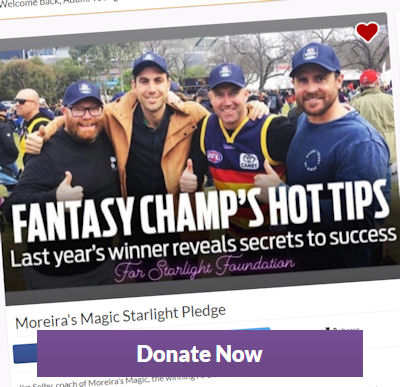 I'm Selby, coach of Moreira's Magic, the winning AFL Fantasy team in 2017.
I've decided to release my research and analysis to fellow fantasy coaches, or anyone of interest, to make some good of my success. The car is great, but I'll feel even better knowing that my win will help brighten up the lives of seriously ill children, young people and their families across Australia, not to mention helping a few battling fantasy coaches along the way!
My research for the 2018 season is finished and I've put together a file that rates every player in the comp (all 759 of them!) in the categories I consider most fantasy relevant. I used these numbers last year and, as I've had my success, I want to share them with legends like you.
100% of the proceeds generated from this will be donated to the Starlight Foundation.
So to get the goods, you need to:
Thanks for your support and good luck in your quest for fantasy glory in 2018!