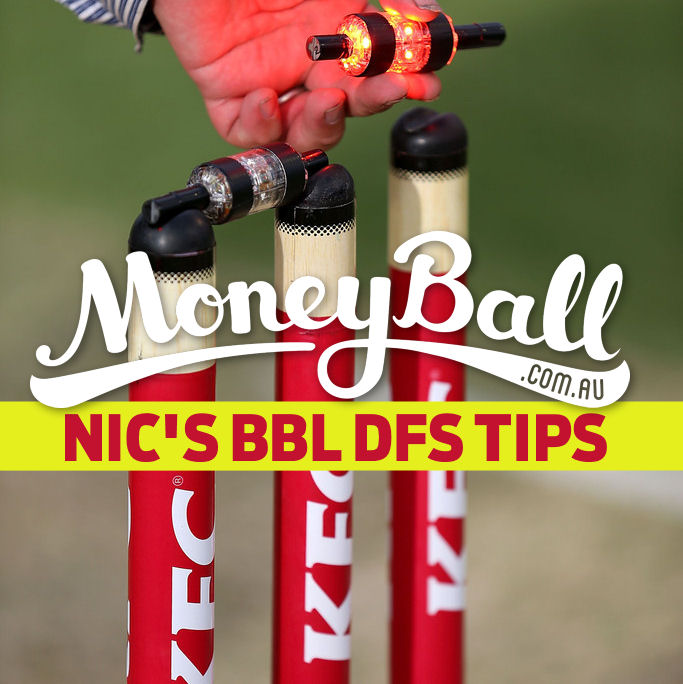 Happy New Year's Eve! Celebrate it the right way by watching the bash brothers take on a packed Adelaide Oval crowd and winning some cash to start your 2018 off right.
Let's break down the best options for your Moneyball line-up from tonight's match between the Adelaide Strikers and the Brisbane Heat.
BATSMEN
The big money options
When you're talking about the premium batsmen in this match-up, you're obviously talking about Brisbane duo Chris Lynn ($10,500) and Brendon McCullum ($10,000). Lynn looked in scary form in his first game back and if it wasn't for a shot smashed to a deep fielder, he could've made some serious runs. Lynn seems like he might be a bit hit or miss given he tends to start blasting as soon as he gets to the crease, but you have to decide whether you're willing to risk NOT having him. McCullum's form has been inconsistent so far and Lynn would be the one to pick out of the two. McCullum scored 42 from 38 balls the last time these two teams played while Lynn scored 29 from 25.
The value for money options
This Brisbane Heat bowling attack doesn't look too threatening and so it's definitely worth looking to some of these Adelaide batsmen who might score some big runs. Jake Weatherald ($4,200) probably has one more chance to prove he belongs at the top of the order as his start to the tournament has been poor. However, he made 52 runs the last time these teams played and he could be THE value for money option if he can repeat that performance. The Heat's secondary combo of Joe Burns ($5,400) and Alex Ross ($4,800) have also been in electric form so far in the tournament and it'd be hard to put your team together without at least one of them. Ross in particular has probably been Brisbane's most important batsman so far in the tournament and that's saying something! Ross made 64 the last time these teams played, while Burns made an unbeaten 10 batting deeper in the order than he will tonight.
The best of the rest
Colin Ingram ($7,100) hasn't quite shown the form he's capable of just yet, but this Heat bowling attack is there for the taking and while there are better value options, he is someone certainly worth considering. It'd be remiss not to mention New Year's Eve hero Jake Lehmann ($3,000) whose first ever ball in the BBL was a six to win the game for the Strikers. Lehmann hasn't quite had the opportunities yet, but provides excellent value for money at that price if he gets a decent stint at the crease.
WICKETKEEPERS
Jimmy Peirson versus Alex Carey
You only have two options for this match and they're both very similar in a lot of ways. Price doesn't really matter for either of them as Peirson is the more expensive of the two, coming in at a whopping $3,500. Both batsmen are in form as well – Carey coming off a massive 83 a few days ago and Peirson a 43 against the Thunder. Both will open the batting as well and that makes this incredibly even. You're probably just as likely to pick the right one flipping a coin as you are anything else, but Carey is coming off a massive score and a new role at the top of the order so he seems the go-to option. However, Peirson made 46 the last time these two teams played while Carey didn't play. Good luck choosing!
ALL-ROUNDERS
You only have three options here so let's break them down individually.
Travis Head ($7,600)
Head isn't really an all-rounder, but then again none of your three options here are. With Michael Neser back in the team, Head will likely only bowl one or two overs as a change up if required. However, Head's value as a batsman is more than enough to make up for it. Head is the best of the Strikers' batsmen and the one who is most likely to take advantage of this weaker Heat bowling attack. The Strikers captain is the most expensive of your three options, but he's also the best of them.
Ben Cutting ($7,000)
Unfortunately, Cutting just doesn't offer enough with the ball to warrant this price-tag. Yes, he's good for some late-order hitting, but there's no guarantee he even gets a chance to do that, especially with the depth of his side's batting. Cutting is the third best option here, but he did take two wickets the last time these teams met.
Michael Neser ($4,400)
Neser is a smoky option you should really only consider if you want to go for something different. He'll save you some money and should bowl at least three overs, but it's very unlikely he gets a chance with the bat. As an all-rounder, he's the least likely to bat and could give up one of his overs to Head. His price makes him a better option that Cutting though.
Bowlers
The big money options
Mark Steketee ($9,100) is the big dog in this match. He took three wickets the last time these two teams met and will no doubt lead the Heat's bowling attack again in this game. He's quite expensive for your "standard" fast bowler, but he has the previous form to show that he can score well. Mitchell Swepson ($7,600) is the next most expensive bowler and he could get some decent spin on this Adelaide pitch. He took one wicket at a decent economy rate last season against the Strikers. Finally, there's Billy Stanlake ($7,000) who really offers much of the same qualities as Steketee and will be the Strikers' number one fast bowling option.
The value for money options
As far as the BBL goes, Ben Laughin ($6,000) is always a quality option in your bowling ranks and you should definitely consider him. Laughlin has proven over the years that he's among the best handful of T20 bowlers in the country. He had a poor game against the Strikers last season, but you can never write him off. Rashid Khan ($6,800) has looked incredibly dangerous so far in the tournament and is also a pretty safe option. You're better off looking for guys in this category than the more expensive players as there really isn't much difference in quality or what you can expect.
The best of the rest
You should definitely consider Josh Lalor ($4,200), mainly because he'll get his four overs and he's a proven commodity at BBL level. He's been serviceable so far this season, but the Strikers could go after him later in the innings. Peter Siddle ($5,900) isn't a bowler whose style really suits T20 cricket, but he is unquestionably an elite bowler who has done a solid job so far for Adelaide. They don't seem to want to give him the ball late in the innings though and this could restrict him to three overs.