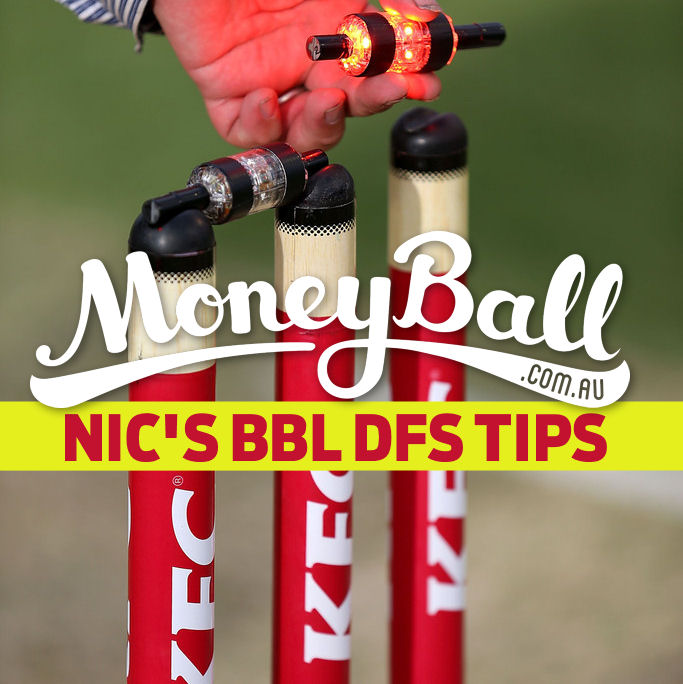 The Big Bash League continues on Saturday night with a match up between two of the favourites to win it all, the Renegades and the Heat.
Both teams are coming off convincing wins in round one and boast some of the best batsmen in the BBL.
Position by position, let's go through the best options in the BBL|07 opener and remember, you don't want too many players from one side as there's only so many runs/wickets available in a T20 match.
Click here to play BBL DFS with Moneyball.
BATSMEN
Aaron Finch ($10,400)
Finch got a bit impatient in game one trying to blast Clive Rose out of the attack in the first over and you can bet he'll be extra focused going into the team's first home game of the season. The Renegades skipper has a fantastic record at Etihad Stadium and while he's the second most expensive player available, he should be worth every penny. If you don't have him and he dominates, you'll kick yourself. Finch blasted 71 off 35 balls the last time these two teams played.
Brendon McCullum ($10,000)
McCullum showed he was a class above the standard BBL player in game one and there's no reason for that to change in game two. Again he comes at a hefty price, but he's as close to a sure thing as you'll get. McCullum also dominated the last time these two teams met, scoring 64 from 40 balls.
Alex Ross ($4,800)
Ross looked quite good in game one, scoring 51 from 36 balls and carrying the Heat's innings. With Joe Burns out injured, expect Ross to get elevated up a spot in the batting order too which should lead to more opportunities for him to score. He made 16 from 20 balls the last time these two teams played.
Now you might be wondering about Chris Lynn ($10,500). It still feels unlikely that he's going to play and it could be a decision made at the absolute last second. You'll have to keep track throughout the day. Obviously, if he does play, then he picks himself, but it'd be risky to lock him in before the final teams are announced.
Avoid: No one – You could avoid Tom Cooper because he bats deep in the order or Sam Heazlett because he's not as proven at this level, but there's no legitimate reason to avoid anyone in this game. Cooper's bowling gives him a chance to score more points and Heazlett bats at three which is always tempting. No batsmen are off the table here.
Smokey: Marcus Harris ($3,200) – Any time an opening batsman is this cheap, he becomes a very tempting option. Harris controlled the Renegades' innings in game one, scoring 50 from 34 balls. He could be a very productive (and cheap) flex option.
ALL-ROUNDERS
Dwayne Bravo ($9,000)
The beauty of Bravo is he is a true all-rounder. He didn't bat in game one, but dominated with the ball and scored more than enough without needing to head to the middle. There are some great all-rounder options in this game, but it would be very hard to go passed Bravo here.
Ben Cutting ($7,000)
Cutting is less of an all-rounder and more of a bowler who can blast a few at the end of an innings. This makes him a more risky option as you don't have any assurances that he can make up the points with the bat if he fails with the ball. Cutting could be a very hit or miss option, but he is capable of a massive score. The last time these two teams played he made 35 from 18 balls and took a wicket.
Shadab Khan ($7,000)
It's almost a shame Khan isn't available as a bowler because he really isn't an all-rounder. He came in at eight against the Stars which is not what you want from your all-rounders. However, Khan is more than good enough as a bowler to warrant selecting. The spinner is usually good for at least two wickets and is a master of T20 bowling. He makes perfect sense as a flex option with Bravo or Cutting in the all-rounder slot.
WICKETKEEPERS
Tim Ludeman ($5,500)

or 
Jimmy Peirson ($3,500)
You only have two options here so who should you go with? This one seems pretty simple. Peirson opens the batting and this gives him a far better look than Ludeman who didn't bat in game one and probably would've come in at seven because of the Renegades' batting depth. Peirson is cheaper and has far more potential to score. Lock in the Brisbane keeper.
BOWLERS
Brad Hogg ($7,200)
Hogg still hasn't slowed down. The veteran spin bowler looked just as good as ever against the Hurricanes, taking the big wicket of D'Arcy Short. He was a little more expensive than you'd expect, but he should be able to control things at Etihad Stadium. The Etihad pitch was once a spinner's worst nightmare though so that's one thing to consider. The last time these two teams played, he took one wicket and conceded a measly 4.5 runs per over.
Kane Richardson ($6,500)
When he wasn't tripping over the crease, Richardson looked pretty effective in his first game as a Renegade. He took one wicket and only conceded nine runs per over. Considering the lack of decent bowling options available to you here, he seems like a pretty safe option to score some decent points. Richardson took one wicket as a Striker the last time he faced the Heat.
Joshua Lalor ($4,200)
You might as well try and save some money in the bowling options as there really aren't many decent players to go with. Lalor was decent in game one as the Heat's strike bowler, taking a wicket and only conceding 8.5 runs per over. Lalor isn't a great option, but considering the pricey players available in other positions, he will save you some money, while still being a decent chance to score some points.
Avoid: Mark Steketee ($9,100) – There's no way Steketee brings enough to the table to warrant paying that much money for him. He's a decent bowler, but with Lalor at half the price and money to be spent elsewhere, it's probably best to stay away.
Smokey: Brendan Doggett ($3,000) – Going with the same idea as picking Lalor, Doggett was impressive for the Heat in game one, taking the wicket of Kevin Pietersen and only conceding nine runs per over. He saves you a lot of money and has shown he can compete at this level.