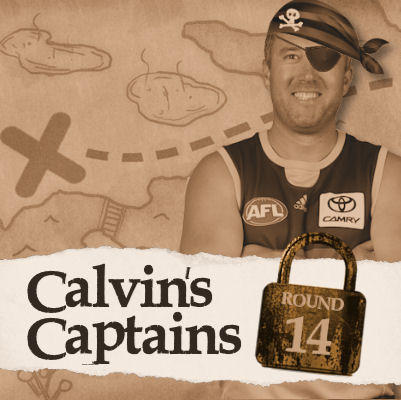 VICE CAPTAIN… RORY OR TOM?
This is a two horse race and Rory Sloane and Tom Mitchell should be the ONLY two people you seriously consider as your Vice Captain for the Thursday night loop hole option.
Tom Mitchell (29% ownership) scored 125 against the Crows in round 2 and as the best Fantasy player in the game, but as a VC, Sloane's ability to hit 150 has been much more impressive this year.  Mitchell has scored 141 and 118 in his last two games this year and that 118 was against Port at Adelaide Oval a few weeks back when he had a quiet second half.
Sloane (11% ownership) on the other hand, his highs are very high and his lows are… very low, but he'll be unique for you here.
Sloane has recorded 6×130+ scores this year. With 3 over 150. That's two more 130+ and two more 150+ scores than Tom but as we know… he can go 60 and if Shiels tags him (which I think he will), then anything could happen.
The thing is… a VC is a gamble. It's a free hit. Mitchell should score anything between 110-140, but Sloane could be 60-170, especially when I tell you that Hawthorn are ranked at #1 when giving up scores to opposition midfielders this year. That's huge and a huge play in Sloane's favour. BUT… if he's tagged, he's buggered.
LOOP HOLE EXPLAINED: This one kicks off at 7:50pm and at this time, all your players from the Crows and Hawks are locked into you teams. To use the captains loop hole, place the VC on a player in this game (Sloane/Mitchell). If you like his score (must be 115+), place a non-playing player on the field from the games coming up. Also make sure you have an emergency selected in the same line. The non-playing player will score a 0, and your VC score will double and your emergency will replace the 0. If you don't like the VC score, select a captain as you normal would.
Got the winner last week, so how will my $23 roughie run tonight? Oh and I'm talking #AFLFantany Captains and more.… https://t.co/7d2il3YWq1

— Calvin (@CalvinDT) June 21, 2017
WHAT'S THE LINE THIS WEEK?
At this stage the line is back up towards the 115/120 marks for round 14. With many premium guns back after their bye, I think we can gamble that little bit more.
With that said, be sure to tune in to Facebook LIVE (from the DT Talk account) at 5:30pm Friday night before lock-out to get my final line, and my final decision around this, plus, my final trades and to get some answers to any last minute questions you might have.

Click here to subscribe on iTunes.
OH NO FREO!
Oh no Freo… but for us coaches it's "OH YEAH". Over the last three weeks, Fremantle have given up SHITLOADS of Fantasy points to their opposition. In fact, they have given up 1905pts per game over this time (played Bris, Coll,Adel), ahead of the Bulldogs who have given up 1825 and amazingly, the Pies are the hardest to score against at the moment (1418pts).
Therefore, put your calculator away, because this means that the Dockers are giving up 487pts a game more than Collingwood, that's an extra 22pts per player. This week the Dockers play Geelong…. At Skilled (ew).
Patrick Dangerfield has scored 131, 125 ad 156 on his home ground this year, which now gives him a lowest score of 107 there in his last 11 games.
He scored 118 against the Dockers earlier this year (@DS) and even posted 130 and 147 before that. His form has been great coming off scores of 116 and 131, and against Fremantle, expect something big here.
I don't want to keep harping on about it, but in the last three weeks, the Dockers have given up 22×100+ scores to their opposition and 9 over 120. Compare that to 12 other teams in league who have given up only 3×120+ during this time and you can see the angle I'm working here.
Joel Selwood will bounce back from his 48 last week as in his last five against Freo he has scored 99, 128, 107, 130 and 138. Mitch Duncan is in the same boat. He scored 128 and 110 on the Dockers in his last two and will cash in here guaranteed.
ZORKO AND ZACHO TO FIRE
Before his bye, Zach Merrett scored a massive 151 and this week he heads to the SCG to battle the Swans, a team he had 117 against last year in round 7, in an 80pt loss. It shouldn't be a blow out like that and that's why Zach is a top option this week, considering he scored a very solid 123 coming off his bye round last year.
Dayne Zorko is currently ranked at the #3 man in the game over the last three week with an average of 137. Boosted by a ridiculous 157 on the weekend, Zorko just keeps getting the job done. In his last game against the Giants, he even managed to rack up 131. GWS can be quiet restrictive on their day though and this year, they rank at #1 when it comes to restricting the scoring of opposition midfielders.
I'll be backing Zorko in though as he ticks lots of the right boxes here when he takes on the Giants from his home ground.
WOUNDED/SICK PIG
Sir Tom Rockliff is struggling. Last week he managed just 74, and sat a long time forward for huge parts of the game. Rocky was apparently sick. The week before he had just 95 with a sore shoulder.
He did score 128 against GWS last year, but coming off illness and a sore shoulder, we now must wait on the pig to show us he is back to his very piggish self before he carries the big responsibility as our captain.
Get well soon Rocky and we hope your back smashing it for us this week. As for non-owners, you enjoy the price drop, and jump back on as soon as you see a positive sign that he's back to full fitness.
SHOP NOW: Tom Mitchell beanie | Tom Rockliff beanie
GAZ & DUSTY TAGGED?
St Kilda tagged Gary Ablett in 2015 with the use of Geary for just 70, and when he met them last year, even though he wasn't tagged, he managed just 78.
The Saints are one of the biggest 'tagging teams' at the moment and have used a variety of players such as Seb Ross and Koby Stevens and the writing is on the wall that it will happen again this week.
Gaz was tagged by Curnow last week (91) and this week, it might be Dusty Martin's turn to battle him. Dusty scored 139 against the Blues earlier this year and surely, after St Kilda have kept Dusty under 100 in their last 13 encounters leading into that, he'll be targeted this week. He won't be let off again.
Carlton can be tough to score against on their day and with Ed Curnow sitting on your tail… it is going to be even harder and making Dusty captain could collect you another 139, or a 75. But as we always say, high risk… high reward.
JUST QUICKLY…
Steele Sidebottom v Port Adelaide @ the MCG – Ranked #4 on form coming off scores of 133 and 127. Only had 89 in his last game V the Power, but his form suggests he'll be fine at the MCG.
Josh Kennedy v Essendon @ the SCG – 115 against the Bombers last year and his form has been rock solid.
Scott Pendlebury v Port Adelaide @ the MCG – Pendles score 133 and 112 against Port in his last two and has averaged 127 in his last four this year. Boom!
Bryce Gibbs v Richmond @ the MCG – 194 last week and he scored 127 on the Tigers last year. Still misses my top 5 and should be very dirty on the fact I couldn't squeeze him in.
Taylor Adams v Port Adelaide @ the MCG – Adams played Port last back in 2015 and that day went bananas with 139. Only had 81 in his last game but should be back better after the break.
Dan Hannebery v Essendon @ the SCG – Scored 108 and 115 in his last two at the SCG, and 102 on Essendon last year.
Adam Treloar v Port Adelaide @ the MCG – Awesome form of 116, 117, 109 and 127. Posted 100 on Port last year and only just missed my top 5 this week.
Ollie Wines v Collingwood @ the MCG – Surprisingly, the Pies are the toughest to score against at the moment and Wines only had 85 against them last year. Is averaging 112 in his last three though.
Matthew Kreuzer v Richmond @ the MCG – Scoring like a midfielder, Special K has averaged 131 over his last three games and as we know, Nankervis gives up plenty of points. If he plays as Nank apparently copped a hard cork. Kruz had 120 against them in round 1 and will be about that mark again you'd think.
Dayne Beams v GWS @ the GABBA – He was in smoking form before a 60 last week. He loves playing the Giants though and over his career 3 games against them he has scored 123, 130 and 113.
Brad Ebert v Collingwood @ the MCG – In great form averaging 119 in his last 3 and that's with a 99 last week. Only managed 87 and 75 in his last two against Collingwood though, so I'll pass.
Sam Docherty v Richmond @ the MCG – 143 and 149 are his last two efforts that now rank him as the #2 player in the game based on form. Scored 90 against the Tigers in round 1 but if defender Nic Newman (112pts) can top score for the Swans against the Tigers, surely Doch will be huge once again.
ODDS: For those who would like to see the odds for my top 5 for Calvin's Captains for round 14, please follow the link provided right HERE.