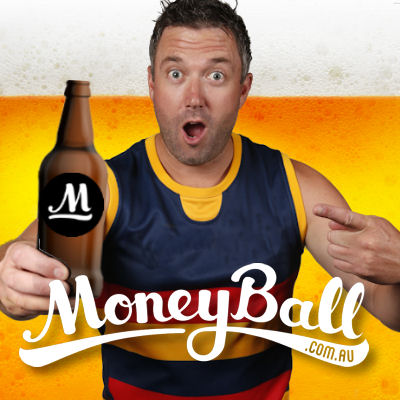 Welcome to the Slamming $5,000 Saturday Slam.
Once again I have my top 6 picks heading into this big Moneyball contest and as always I've shopped around for a little value (and one premium) and therefore that should allow you to select your own premiums with some coin to spare.
$5,000 kitty with the winner taking $650 and its pays $34.18 right down to 89th

Bulldogs v Brisbane – 1:45pm
Gold Coast v Adelaide
Sydney v GWS
Fremantle v Kangaroos – 7:40pm
Tom Rockliff (MID, $10,600)
After his 157 last week, Rocky will be a very popular pick heading into the first game for the Saturday Slam against the Bulldogs.
Last year against the Dogs he scored  just 88, but did have 149 before that.
The pig loves playing under the Etihad roof where he has scored 106, 127, 179 and 184 in his last four games.
For only $500 less, his team mate Dayne Zorko (MID, $10,600) is another great option and loves playing at Etihad as well. He goes for his 6th straight 100+ score there so if you wanted to roll with someone a little unique, then Zorko is your man.
Isaac Heeney (FWD, $6,500)
Targeted as the break-out player of 2017 until illness struck the man down. However, the good new is he's back. The better news is… he's cheap and his price hasn't moved one bit.
Heeney is at home against the Giants who are very tough to score on at the moment, but in the last two finals last year, he scored 89 and 116. He scored 95 and 127 in his last two games at the SCG and should be keen as mustard to get back out there today.
Jy Simpkin (FWD, $4,000)
If you're buying Rocky, then you'll need a few guys like this to fill your team.
At $4,000, Simpkin started the season very poorly but bounced back last week with a solid 70. Over in the west, he should find space agaimnst the Dockers and rack up another solid score… hopefully.
Riley Knight (FWD, $5,000)
Alright, here's another one. Riley Knight is named on the forward flank for the Crows who head up to the sunny coast to play the Suns.
With scores of 74 and 80 in his last two games, Knight has been getting the job done, with a lowest score of 69 this year. Anything in the 70+ region will be a huge bonus if he can keep the ball rolling here.
Todd Goldstein (RUC, $8,400)
With Pruess on the sidelines 'resting' Goldy will resume his #1 ruck role at the club and he will remind everyone why he is a bargain priced under $9k.
Enjoy it while it lasts because this is a rarity. He had 112 last week and although he's up against the mighty Sandilands this week he should be fine. In his last two games on the Dockers he has scored 96 and 111 and this week. Finally, Goldy will need to be good… or otherwise, Pruess will be back in to assist again with his rucking duties, and Goldy for one doesn't want that.
Robert Murphy (DEF, $7,600)
When veterans play their huge milestone games, their team mates like to make it memorable.
Expect all Bob Murphy's team mates today to be finding him at every chance they can get. The Geelong boys used to do it and in Bob's 300th game today, so be ready for him to have inflated numbers.
He scored 90 and 87 in his last two games on the Lions but 100+ here is a lock for me today.
When I picked him in my team I was thinking big as I believe they will win, he'll have 25d, 12m. He'll be checking his Fantasy score as he is chaired off after the game, smiling because he can see he has crack triple figures and all the fans will know the same as they cheer him like the champion he is.