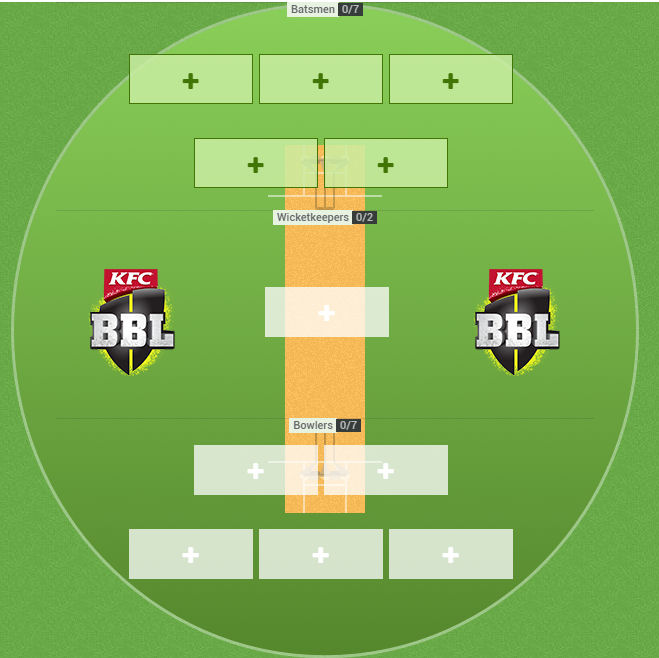 With a little under a month to go until the tournament begins, BBL Fantasy is open and that means it's time to pick your team. This article will be for those who are familiar with fantasy games, but haven't given the BBL version a go. BBL Fantasy is very different from other versions, particularly in its scoring, so this article will also be a handy refresher for those who've played before.
Click here to to join the dreamteamtalk.com group.
Positioning
Your team is broken up into five batsmen, five bowlers and a wicketkeeper. You are also given two bench players for the batsman/bowler positions and one for your keeper. Dual positioning exists in BBL Fantasy with players eligible to be batsmen and bowlers… unfortunately there are no wicketkeeper/bowlers.
Scoring
This is where it gets tricky.
All players get one point for every run they score and 20 points for every wicket they take… okay maybe it's not tricky yet.  Keepers get 15 points for a stumping and all players get 12 points for a catch. This means bowlers can score points for batting and vice versa. Run-outs also garner the most influential player to the run-out 15 points. A new rule for the 2016/17 season is that bowlers will receive one point for every dot ball they bowl.
Take two… this is where it gets tricky.
Batsmen are awarded bonus points depending on how high their strike rate is. Once a player is dismissed or an innings is concluded, the strike rate bonus will be added:
20 points if the strike rate is 150+
16 points if the strike rate is between 140 and 149.99
12 points if the strike rate is between 130 and 139.99
8 points if the strike rate is between 120 and 129.99
Note: Strike rate bonuses are only added if a batsman has scored 20 runs or more.
Bowlers get bonus points for keeping their economy rates low:
20 points if the economy rate is below 5
16 points if the economy rate is between 5.01 and 6
12 points if the economy rate is between 6.01 and 7
8 points if the economy rate is between 7.01 and 8
You'll quickly get the hang of this system and Channel Ten are usually pretty good with showing strike and economy rates so you'll be able to calculate your score.
Moneyball will be hosting BBL daily fantasy contests. Click here to sign up.
Byes and Double Rounds
Yes ladies and gentlemen, a competition with eight teams features byes. These work like any other bye rounds, just get the players off your field because they will not score. Double rounds are where it gets interesting. For example, the Sydney Thunder play twice in round one and that means their scores from both games combine, giving them a massive advantage for that week.
To summarize, make sure you have a good spread of players so you don't end up devastated during bye rounds and take full advantage of sides playing twice.
Player Selection
This will be a pretty broad section, but the essence of it is always being careful picking international players. Scheduling could mean they only play half of the season. Pay attention to squads and make sure you know when you're players are leaving because oftentimes you won't see final XI's for a game until it's too late. Avoid any players in the test squad. They will not play. It's as simple as that. One final tip is to pick players on form and not necessarily because of their price. You'll see some very strange pricing in this competition and always do some research to see how that player is performing before finalising your team.
General Tips
Pick batsmen who bat higher up the order as they're more likely to score consistently. Players who bat at five or six mightn't even get a bat some games. This is especially important when deciding your wicketkeepers. Bowlers that can pinch hit as batsmen like Ben Cutting and Nathan Coulter-Nile usually score better and in general you should fill your team with as many dual position all-rounders as is reasonable.
Use your bench strategically. Pick one cheap batsman and bowler you think can be a cash cow and pick another player who should play every game for cover because late omissions are released far later in the BBL and you sometimes won't catch them in time.
Watch the weather channel like a pensioner whose Foxtel remote is broken. You don't want players on your field with a match being rained out, you will get zeroes galore. There's not actually much you can do in these situations, but it's better to know than not.
If you follow these principles you should do well in BBL Fantasy this year… assuming you pick a good team… but of course you will!
In the meantime, if you have any further questions feel free to hit me up on Twitter: @NicNegrepontis
Good luck!