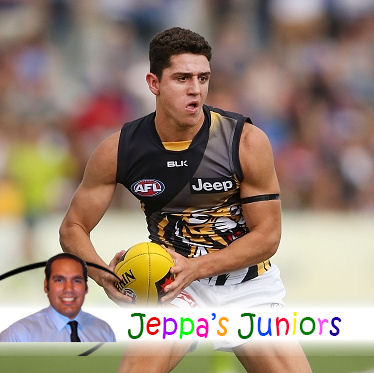 We're back to nine games a weekend and Fantasy scores we're up and down in Round 16. Steven, Danger and Neale went big but Heater, Vince and Buddy failed to fire. Naturally, Ablett's season ending shoulder injury is the talking point of the week. Please keep it simple and trade GAJ out for one of this seasons Top 8 mids (Danger, Neale, Steven, Hunter, Treloar, Hanners, Parker & Rocky) that you're yet to own.
Some with a bare chest may need to generate some cash with their other trade so here's the new wave of rooks coming through…
THOSE THAT MATTER
Clay Smith (Fwd/Mid. $224,000, -12 be AF. $233,800, -31 be DT) – Smith didn't disappoint after I hyped him up last week. His hunger for the contest is awesome to watch and he's exceeded expectations thus far. Smith's tackling numbers allow him to score well in Fantasy…he had 8 against the Tigers along with 18 touches, 4 marks and 1 goal for 96 Fantasy points. Don't expect this sort of Fantasy score each week but you can lock in 60+ especially with the Dogs cushy run home. If Smith continues to play his role and play well, he'll have no job security issues.
Daniel Lloyd (Fwd. $125,000, 25 be AF. $105,800 DT) – Lloyd is a cheap forward you should take an interest in. The mature ager has been a force in the NEAFL for a while now and last weekend he had 35 possessions (7 clearances), 10 marks, 3 tackles, 1 goal and 139 Fantasy points. He's an ideal replacement for Rhys Palmer who had a shocker against the Pies. With Palmer and fellow 'junior' Sam Reid lurking, job security is far from guaranteed for Lloyd but I reckon he can make his mark. Consider him but it's probably wise to wait a week to see what he does on debut.
Jack Silvagni (Fwd. $166,000, 2 be AF. $121,300, -47 be DT) – After a promising debut, Silvagni reminded us what young key forwards typically produce. The Crows dominated the game and unfortunately, 40 Fantasy points is all 'Son of Jo' could conjure up. There was always an element of risk picking Silvagni but hopefully he bounces back this week against the Eagles. A few new kids on the block means Jack slips down the pecking order too!
Sam Michael (Ruc. $156,000, 2 be AF. $128,200 DT) – In his first senior game since 2013, Michael looked comfortable and he was far from disgraced. The big fella was strong in the contest and he finished with a respectable 67 Fantasy points from 9 possessions, 4 marks, 16 hitouts and 5 tackles. Even though he gave us a good first up performance, Michael did over achieve from a Fantasy point of view in my opinion. Scores in the 40's is what I expect and they'll be forthcoming.
Sam Naismith (Ruc/Fwd. $135,000, 8 be AF. $128,200 DT) – Top knots aside, Naismith is a man's man and he gave the Swans a clear centre square advantage against Geelong last Friday night. He was lacking on the possession front though with only 1 kick and 3 handballs contributing to his 50 Fantasy points but I'm forecasting immediate improvement. After a good look at both ruckmen, long term Naismith is a better pick than Sam Michael partly due to his dual position status but he'll score better as he gains confidence.
Oleg Markov (Mid. $186,000, -9 be AF. $121,300 DT) – Markov had an instant impact for the Tigers on debut. His speed and confidence saw him deliver the ball beautifully from half back and he finished with 18 touches, 9 marks, 4 tackles and 95 Fantasy points. Markov's efforts saw him named in the bests for his team so you'd think he'd be good for the next few games at least, especially with Richmond out of the finals race. His Fantasy potential is appealing and if it wasn't for Ablett's injury I probably would have taken the punt. Trade him in if you don't mind spending the extra.
Ryan Clarke (Mid. $175,000, 15 be AF. $121,300 DT) – An illness to Nicky Dal saw an opportunity given to the highly rated Clarke at the eleventh hour and he didn't waste it. A natural ball magnet, Clarke runs hard both ways and against West Coast he racked up 21 touches, 2 marks and 60 Fantasy points from just 68% time on ground. It's unlike Clarke not to lay a tackle so expect a bigger score from his this week. It's a case of high risk, high reward with Clarke and if it wasn't for his job security concerns, his selection would be automatic.
Rhys Mathieson (Mid. $256,000, 6 be AF. $241,500, -28 be DT) – The beast keeps on contributing for the Lions and he was one of their better players against the Suns in Round 16. Job security, role and scoring potential is as good as it for a rookie like Mathieson so if you want to pay the extra, you'll have a decent back up mid for the weeks ahead.
Jason Castagna (Def. $177,000, -17 be AF. $171,000, -37 be DT) – Castagna is the pick of the 'juniors' this week. Playing a high forward role, his energy and work rate was where it needs to be and he has a role at Richmond till seasons end. Like most youngsters, Castanga's Fantasy scores will fluctuate but playing Essendon this week should be another confidence boost for him. He doesn't come cheap but it's about job security and I'm a big advocate for team depth in AFL Fantasy. A safe bet.
Reuben William (Def. $135,000, 8 be AF. $105,800 DT) – William showed plenty of dash from half back and sure he made mistakes but his development will only be fast tracked if the Lions get games into him. Scores are likely to be substandard but he comes cheap. William is too raw for me, I'd much rather spend the extra on Castagna.
TOP 5 LISTS
Considering price, scoring potential and job security, here's my Top 5 rookie downgrade options for Round 16:
Fantasy
Clay Smith
Jason Castagna
Oleg Markov
Ryan Clarke
Sam Naismith
Dreamteam
Jason Castagna
Clay Smith
Oleg Markov
Rhys Mathieson
Jack Silvagni
Twitter Q&A
Trade Kerridge before Davis, Dea & Blakely if it menas i can get Hall?

— Inactive (@JakePizzuto) July 12, 2016
Yep. Cash in on Kerridge, he's done his job and he's losing valuable cash.
@JeppaDT What do you think is the better trade, Byrne -> R. William and Ruggles -> Laird or Byrne -> Castanaga and Ruggles -> JJ

— Jordan McWilliams (@Thejaman95) July 12, 2016
Option 2. Johannisen is just warming up and Castagna gives you stability on the bench.
hey Jeppa, I am looking for a 125k ruck who just might get a game. Thoughts?

— Colleen (@wetdt) July 12, 2016
Archie Smith.
GAJ replacement: Neale, Hodge or Treloar?

— Sam Jeremic (@SamMFJ) July 12, 2016
Neale.
do i go mcarthy for clay smith/markov or tucker to castagna?

— Harry Thredgold (@Harry_Thredgold) July 12, 2016
I much prefer McCarthy to Clay Smith.
if you had to play one player on your field out of Mathieson or silvagni, who would it be?

— Timothy davies (@Timmydav1992) July 12, 2016
Mathieson hands down.
is it too risky trading Currie for Sam Michael for R3 if I've already got Naismith as R4. The cash helps me upgrade other rookies

— ⚓️ Chris Read ⚓️ (@Ready1976) July 12, 2016
Do it! Currie is out for another 3 weeks minimum.
https://twitter.com/GowerJoel/status/752728897150545922
Get those points on the board and double upgrade.
Feel free to ask me a question below and don't forget to add me on Twitter @JeppaDT for all things Fantasy and more. Happy trading!