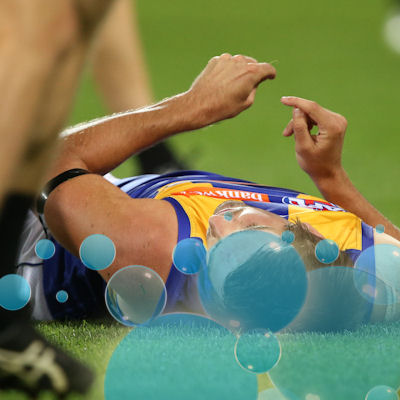 There will be two categories of people this week. You either had Heath Shaw or Jarrad McVeigh. Goldstein or Gawn. Dea or Mills. McPherson or Petracca. You get the point… Some people will be absolutely laughing, others will be finding a shovel. I'm here to help you find that shovel. Hang on. *Give you a reason to put away that shovel*. It's time for the weekend wash-up!
Legends
Tippett (129) – There was sound logic behind selecting Tippett this season, and those 9% who have need a round of applause! That's a brave pick, but he continues to dominate in the ruck and up forward. Considering the struggles of our other popular rucking options, this form can't go unnoticed! He's proved me wrong this season, gun.
Sidebottom (131) – Sidey is all class with his disposal, and Collingwood know it! They get the ball in his hands as much as possible which is exactly what you want from a Fantasy perspective. He has a 6 round average of 117, yet is still owned by under 5% of teams. Come on people! Top 8 midfielder for sure.
Duncan (122) – I've had my reservations for Mitch, but this was clearly his best performance this season. Not only did he collect plenty of outside ball, he laid 8 tackles! I saw him in plenty of centre bounces and he seemed to be getting amongst the stoppages, which is great news for his owners going forward. Dunc has 6 tons in 9 games this season, an awesome strike rate, yet he's still priced under $500k! Value for sure. Having said that I'd be targeting top 8 midfielders at this stage of the season, and there's a few names that would come ahead of Duncan in my long term trade plans.
Currie (90) – At what point do we just decide that Currie is as good as most rucks this season and spend the cash elsewhere? If you're a Leuenberger owner like me you make that call this week! I'm downgrading Leuey and playing Currie, he looks capable of comfortably averaging 70+. He's doing more than enough to hold his spot in the side.
Gray (111) – Even though Gray still has a high B.E, I'd be looking at jumping on board in the next week or two. Under $500k for a forward easily capable of averaging 100+ through the midfield. No brainer. He looked fantastic for his 111 this week, he's back to his best.
Lycett (136) – Boom! I'm still kicking myself for not picking him in Fantasy, but picking him up in my draft league this week made up for that. The ship has well and truly sailed by now, but the Eagles backup ruckman has now averaged 102 in his past 5. More than filling Sinclair's shoes!
Goldstein (138) – If it wasn't for a thousand forced trades I would've got Goldy in this week. He was always going to monster Carlton's depleted rucks this week, but that 100 point final half was a thing of beauty. Definitely your number 1 ruck option and good value at $544k. Plus he has a handy Round 15 bye! Legend.
Kerridge (104) – This score cannot be underestimated, it was vital for us! With numerous problems surfacing across our teams (especially Wells) having Kerridge holding up a forward spot will be required until at least the byes. This ton should ensure he keeps making money while he does it. Legend!
Byrne (87) – Sometimes, things just go your way… If he was on your field I couldn't look at you straight in the eye this week. But hey, you make your own luck! What a fantastic score in a time of need. Legend.
Blakely (91) – Here's another rookie who stepped up when many of his owners would have been relying on him. I'm sure a score of 60 would have been acceptable, so this is a massive bonus!
Neale (149) – Massive. Neale has added the consistency that his game needed this season, we already knew he had a ridiculous ceiling. Now averaging 113 with a 5 round average of 120, he looks likely to become a top 8 midfielder this season and step into the uber premium category. Well done to those who backed him in! No doubt Fyfe going down, Barlow dropping out and Mundy playing down back has helped him take the next step, he's now Freo's main ball winner! Gun.
Cotchin (127) – We tend to wrongfully kick him when he's down, so it's only right we give him praise when it's due. Cotch had 39 disposals and 7 tackles in Richmond's win over Freo, and his stats shocked me when I looked at his season history. He now has 5 tons in his past 6 games, including 2 scores of over 125! Of course the 57 against Port was less than ideal, but at $519k you could do a lot worse. Consider.
Bugg (108) – I wouldn't touch him in Fantasy, but Bugg was another inspired draft pickup for me this week! I suspect he's taken in most leagues, we haven't gone too deep into the pool. Congratulations if you snagged him late! He looks capable of averaging 80+ this season, which is handy as a defender…
Petracca (106) – Sigh. We all knew he was a beast, but I couldn't swallow paying over $280k for a 'first' year player. Those who did are being rewarded handsomely, he will make a solid F6 until the byes. Great pick! If only he could kick straight…
Steven (138) – I mentioned Steven as a trade target last week and he didn't disappoint, racking up 40 disposals against the Bombers. He's now priced at $527k and is an absolute BARGAIN. Steven now has 6 tons this season, incredibly bettered by only Dangerfield and Riewoldt. He does have a 57, but we can write that off thanks to Ben Jacobs. Without that score he is averaging 112… Get on board.
Ross (137) – Seb Ross just continues to get better, now averaging 114 in his past 5 games! To think he started the year at UNDER $400k, we have missed an absolute gem… Well done to the 3% who own him!
Kelly (137) – James kelly delivered in spades for his owners this week, pumping out a huge 137. He has a low score of 82 and is averaging over 100 as a defender, as a McVeigh owner I can tell you I'd love figures like this!!! Jet.
Dea (122) – I feel physically ill. On the back of 48 and 38, Dea looked like he had to go. Somehow he has since averaged 94, do not scratch your eyes. Ninety-Four… That is a joke. He might even make it to $400k, I don't want to think about it any longer. A salty well done to those who held…
Riewoldt (112) – I have an unhealthy obsession with this bloke… His pure gut running and willingness to get me +12's (C) every week brings a tear to my eye. 6 tons on the trot and he doesn't look like slowing down. He's out of reach at almost $600k, if you're a non-owner you're waiting for an injury! He just doesn't look like having a down day. LEGEND.
GWS – Start making room, because the GWS train is picking up steam with pace. The Bulldogs are no Fantasy pushovers, but they still managed 1895 points with 2 blokes injured for under 10! Where to begin… Their captain Ward (139) is an inspiration, and also great Fantasy value at $530k. Unfortunately he's unlikely to be a top 8 mid. However Coniglio (136) might be! The similarities between this season and last scared me off, but you can't argue with his form now. 6 tons on the trot and a 5 round average of 121 is hard to argue with, what a beast. Shiel (122) is also pumping out some huge numbers lately, he just doesn't quite have the same scoring ceiling as the other blokes. Williams (113) looks brilliant off half back, I reckon he's still reasonable value at $412k. He is vulnerable to the odd shocker however. Lastly Greene (108) continues to reward his owners faith, returning from injury to post another ton and take his price above $500k. Get some Giants into your team ASAP!
SHAW (176) – Oh. My. God. Wow… It's rare that I'm at a loss for words, however I think Heath Shaw has just become the perfect Fantasy player. It still doesn't sound right, but you bet your ass it's true! I honestly couldn't imagine being able to watch the Giants without owning Shaw in your team, you'd feel sick. Every single time he drops off for the easy +6. EVERY kick out is taken to himself. And the junk time. My lord the junk time… He added 27 points in the final 3 minutes of the game, because why not? Not to mention he kicked the ball 36 times (Most since 1981) at 100%. I'm scared a tag is coming, but until then let's enjoy the ride… he should be owned by 100% of players, but paying over $600k for him is simply not an option. LEGEND!
Losers
S.Mitchell (53) – Who would've thought that tagging Hawthorn's best midfielder and clearance player might hurt them?! The difference between Mitchell and blokes like Dangerfield around the stoppages is clear. Mitchell relies on his smarts to win the ball, and when he's allowed time and space he'll hurt you. However if tagged he doesn't have the power in his 33 year old legs to break through it. Good luck tagging a bloke in his physical prime such as Danger. Mitch will be great value in a few weeks, if he's ever allowed to run free again…
Lewis (73) – If Mitchell and the Hawks are to bounce back, they seriously need a lift out of Jordan Lewis. He's so far out of form he probably wouldn't get a game in a few AFL sides, it's hard to fathom. Surely he will bounce back, but in Footy there's no guarantees. I'm waiting for a vintage 35+ disposal game before considering bringing him in. Not good enough.
McVeigh (58) – Lord give me strength. First half Longmire decided to play McVeigh as a forward. Seriously? He's not quick, he's not strong… If anything he's a great organiser, surely suited to a half back role! He then filled in down back after Ted Richards was concussed, and even that didn't help. I don't get it. It's not like he's too old. McVeigh is usually reliable for a 95+ average. Now he's suddenly pumping out 50's?! Joke. Current owners have to stick with him, I've learnt my lesson with Bartel. The rest of the competition will pick up a bargain (If he ever remembers how to find the footy).
T.Mitchell (87) – This could go one of two ways. If you haven't already heard, Mitchell supposedly played the 'best' game of his 48 game career on Friday. Unfortunately for us it was tagging. Does this mean Longmire will start to have faith in him and throw him in the guts? Or will Tom become a permanent tagger for the season… I couldn't see his talents being wasted in that role for long, but we need him winning the footy again NOW! At $517k you have to hold, let's just hope he's released from Longmire's shackles…
Selwood (70) – Have to say I saw this coming, he does it every year! Death, Taxes and Joel Selwood getting tagged out of a game. He'll be back to his best soon enough, enjoy the rollercoaster…
J.Smith (46) – I still like Smith's role, however those first 2 scores look to have been massive outliers. I've had him on my field for the past 3 weeks for an average of 56. Hardly worth $200k! Heading to the bench for me this week.
MacPherson (42) – It's just not fair. MacPherson was on 42 and heading for another solid 70+ score. NOPE. Gone for the season with a knee injury. Awesome. I do love a good forced trade though so cheers Fantasy Gods, there's no shortage of them. At least he made $25k? Yeah, it doesn't help the pain at all.
Gaff (44) – Riddle me this. One bloke runs back with the flight of the ball, demonstrating tremendous courage and taking a mark. Another bloke then throws a wild elbow into his face and knocks him out. One team if left a man down and the other has an advantage. Plot twist, the guy who's stretchered off is the team with a man down. It's seriously a no brainer, suck up the old footy traditions and get red cards into footy. It should be the easiest decision the AFL make going into next season. You simply can't argue against it. Reserved for only the worst case scenarios of course. Anyway… Gaff will be a bargain in 2-3 weeks time so get him on your watchlist immediately!
Byrne-Jones (49) – That knee injury looked horrible, but somehow DBJ managed to get back out on the ground on continue to play! Kudos to him for playing on, but unfortunately he's now leaking cash and should be traded anyway… He's been great if you snagged him for under $150k!
Menadue (42) – Getting real sick and tired of saying Menadue is 'due'… Last words I'm writing about him. See ya later.
Walters (61) – If I'm to gamble on a bloke based on a role change, I like to see them play live first. I haven't watched much of Freo lately, has Walters been a pure mid? Did his role change on the weekend or was it just a bad day? There was merit to trading him, just not at nearly $500k… Not much value in him.
Gawn (47) – Wow, part of me is thankful I missed this clash of the potatoes, another wishes I had seen what happened! Gawn now has three scores under 61 and two over 138. Go figure that… He comes up against Jackson Trengrove next week, surely he can go big again. He owes it! Simply have to get to 80 Maxy…
S.Martin (58) – I usually write these scores down next to a players name, funniliy enough I almost always have to re-check which Martin spudded in that particular week. This week it was Stefan. Do I blame Trent West for this? Sure it's not ideal, but Stef played with Leuey last season. Is that an excuse to score 16 in the first half? I'll give you a hint. It's bloody well not! So far this season he has tonned up against ONE team, Port Adelaide without a ruckman. Disgusting. I'm stuck with him and I'm not happy about it. To think we paid $640k for him… Ugh.
Mohr (10) – If you traded him in, here's your D8 for the rest of the season… I guess you could have hoped for "Mohr". *Fist pumps*
Fantasia (40) – If you reckon that was lame, this was lamer. That word doesn't look right written down but I'll roll with it, because it fits Fantasia perfectly. The worst thing about this score is that it was recovered late on thanks to him moving back onto a wing! As a proud Hunt/Fantasia double owner, I'm happy to say I recovered some credibility by trading him 2 weeks ago… To McVeigh. F**k it.
Nominations for this weeks stubby can be seen below.
H – H for Headache.
S – S for Seagull.
H – H for Hero.
A – A for Arousing.
W – W for WINNING!
What does that spell?
This Game Sh*ts Me
What could have been. That's all I seem to ever be saying when it comes to my Fantasy team. Would've. Could've. Should've. Didn't. I had about 5 trade options last week, most of which involved bringing in Petracca. Of course I ended up picking the worst alternative of the lot and upgraded to Montagna (Now apparently a defender). I had Shaw, huge! BUT didn't captain him. I chose MacPherson over Mathieson. A few weeks back I traded Dea instead of Mills. WHAT?! Every week I seem to figure out a perfectly logical way of me scoring an extra 200 points, but it never happens. It's all in the thrill of the chase though, right? And that's why this game sh*ts me.
The Other Bits and Pieces
*When you have 10 forced trades*
2028. Not bad, but not good. Story of my year. It's going to be vital that we have a clean slate of injuries this week, I'm not sure our squads could survive another week of carnage. As for those players expected to return this week, I'm being careful with my expectations… We could be in for a Thursday of disappointment. There were positives though. Many of the top form players are proving to be the real deal with guys like Conoglio, Riewoldt, Gibbs, Neale and Treloar continuously pumping out huge scores. We may have a very different looking best 22 come finals time! I'm all for change… Good luck rage trading this week, there are a few statements that need to be made.