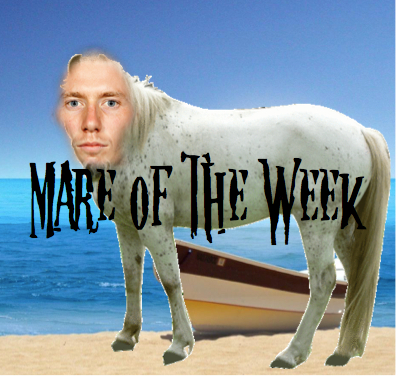 Round 5 was a welcome return to mediocrity for many, there were a few good scores, a whole lot of 90's and we had our fair share of mares too. Before we find out this weeks nominations, let's look back at last weeks winner (loser?).
Last Week's Mare
Ryan Davis 14% of votes
Sam Gray 24% of votes
Tom Mitchell 38% of votes
Clearing those that traded in the most expensive player last round were not happy with an output of 60, and are probably equally disappointed following a mediocre 92 in a big win over the Eagles.
No one is yet to overtake Tom Rockliff's 62% votes, so he unluckily still leads "Mare of the Year"
Round 5 Nominations
It was a pretty calm week on the mare front, but I still have managed to select 8 of the worst performances from the past few days for you to vote on.
Fremantle (0) Enough said
Connor Menadue (35) Although never a high scorer, he has shown over the opening rounds he can work his way to 55+ with ease, and many would have hoped for more than this against an inconsistent demons lineup. 35 points halts cash generation entirely, and would have looked appalling on the field
Jacob Weitering (41) Looked so promising a few weeks ago, however over the last two he just hasn't looked like a fantasy player. 41 points in what is likely to be one of carlton's only wins of the season is inexcusable. He is topping out this week, which undoubtedly means I'll trade him and he'll get back to 100's.
Tom Ruggles (43) Many would have backed the unproven cat on the field this week against the DT-leaking Power. Only thing leaking around Ruggles is cash. He only recorded 1 mark, which is disappointing considering how against the Lions he looked like he would rack up the +6's from intercept marks and when the cats were switching.
Tom Sheridan (52) Preseason hype. Would have gone alright if the Dockers were winning games, but they're not. If they can't beat Carlton at home they are going to seriously struggle to win a game this year. Move Sheridan on as soon as possible.
Bachar Houli (56) It's all part of owning Houli. He is capable of winning the Golden Stubby one week, then Mare of the Week the next. Ride it out, and you'll be rewarded with the same 85-90 average that he gets every year. You would have hoped that a game against the Demons would be one of his 100+ scores though…
Nat Fyfe (59) If you traded in Fyfe this week, then you have defined the word "Mare". Nat was on track for a nice 100, but in the eyes of his owners that's irrelevant; he scored 59. News has come in that he might be out for a while, and the meantime Barlow should continue to rack them up.
Zach Merrett (66) Similar to Titch last week, you could only vote for him if you traded him in this round, or gave him the (C). He just looked uninterested against the Pies, collecting only 2 marks and laying just a couple of tackles. If you had him from the start, you would be a bit harsh voting for him considering his average still sits above 115.
Sam Gray (67) Gets my vote this week. Spends more time on the bench than Albert spends on DTtalk. He showed so much promise in the first round, and since then…. nothing. Another one that will score 120 the moment you trade him out. It's only a matter of time before he finds form, but I'm not sure i'm patient enough.
Umpires (uncountable mares)-It began a few weeks ago when the Hawks played the Dogs, but only became obvious on Friday night. The umpires are consistently inconsistent when the Hawks are playing. It's easy to say that they are only humans who make mistakes, however you have to remember they are humans that are paid to umpire this sport at the highest level. Mistakes should be rare, and this was not the case on Friday night, or this weekend in general.
The Poll