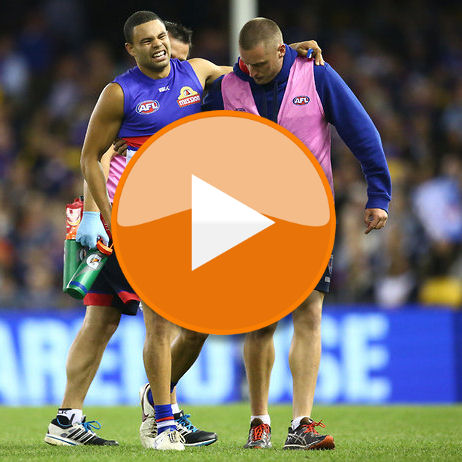 No Roy for this podcast as he has gone AWOL. Where is he?! Calvin and Warnie look over some stats you need to hear from thanks to the Fantasy Freako and Pete from aflratings.com.au. All of the news, what the best moves are for this weekend and the answers to your Fantasy questions here on the official AFL Fantasy podcast ahead of round five.
Click here to subscribe on iTunes. (Please leave a rating and review to help us move up the charts).
Interesting stats from the Fantasy Freako.
Competition average for tackles per game is 67.4 – 2nd most ever recorded in any season to date.
Interchanges (95.4) per game are the lowest since 2009.
Stoppages (throw in and ball ups only) are at 58.5 per game – fewest since 2008.
Throw ins (34.6) are at their lowest since 2010.
Top 10 centre bounce midfielders in the AFL are;
| | |
| --- | --- |
| Player | CBI |
| G. Ablett (GCFC) | 101 |
| J. Viney (MFC) | 101 |
| J. Kennedy (SYFC) | 101 |
| J. Steven (SKFC) | 100 |
| S. Thompson (AFC) | 100 |
| O. Wines (PAFC) | 100 |
| T. Cotchin (RFC) | 91 |
| S. Mitchell (HFC) | 89 |
| L. Parker (SYFC) | 89 |
| P. Cripps (CFC) | 89 |
In terms of improvement based on disposals per game; below are the top 5 this season;
| | | | | |
| --- | --- | --- | --- | --- |
| Player | 2015 | 2016 | All | Diff. |
| A. Hall (GCFC) | 19.3 | 33.5 | 22.3 | 14.2 |
| D. Zaharakis (EFC) | 18.8 | 32.0 | 21.4 | 13.2 |
| M. Jones (MFC) | 10.3 | 20.0 | 13.3 | 9.7 |
| J. Gibson (HFC) | 21.5 | 29.3 | 22.5 | 7.8 |
| Z. Merrett (EFC) | 22.4 | 30.0 | 23.9 | 7.6 |
Fantasy form watch: round four https://t.co/IvZMtBbrq9 via @AFL #AFLFantasy

— Adam 'Warnie' Child (@WarnieDT) April 17, 2016
CLUB
PTS
FOR
>100
FOR
>120
FOR
PTS
AG
>100
AG
>120
AG
ADE
1599.75
2.5
0.5
1529.5
2.5
1.75
BL
1378.5
2
0.25
1585.75
4
1
CAR
1474.75
2.5
0.5
1623.75
3.25
1.25
COLL
1515.5
3.5
0.5
1748.5
4.75
1.75
ESS
1677.25
5.25
1.5
1549
2.25
0.75
FRE
1446.25
2
1
1731
5.25
1.25
GC
1597.25
3.75
1.75
1511.5
3
0.5
GEE
1541.75
2.25
0.5
1514.75
3
1.25
GWS
1579
3.25
0.25
1459.25
2
0.25
HAW
1636.5
3.75
1.25
1564.75
2.25
1
MELB
1513.5
2
0.25
1648.25
4.75
1.5
NM
1596.5
3.25
1.5
1418
1.75
0.5
PA
1525.5
3
1
1703
4.5
1.25
RICH
1528
3.5
1
1551.75
2.25
0.75
STK
1688.75
3.5
1.75
1652.75
4.25
1
SYD
1610.25
3.75
1.25
1500.75
2.75
0
WB
1804
4.5
1.25
1519.75
2
0
WC
1607.5
3.75
1
1529.5
3.5
1