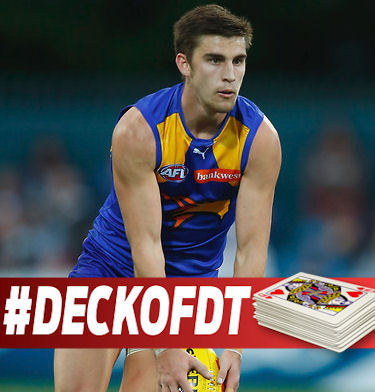 Name: Elliot Yeo
Club: West Coast Eagles
Position:  DEF/MID
AFL Fantasy: $436,000
AFL Dream Team: $456,300
Bye Round: 14
2015 Average: 78.7
2015 Games Played: 21
Predicted Average: 86
Click here for DT Live profile. 
Why should I pick him?
After a couple of years showing brief flashes of potential, 2015 was the year that Yeo finally confirmed his fantasy chops. At his best, the former Lion was a rare mark-heavy inside midfielder with a talent for playing the Beau Waters role went sent back as the +1 in a constantly evolving West Coast backline. This was Yeo's modus operandi throughout the middle part of the season, averaging 96.7 points over a 12-game span, courtesy of 21 touches, 6 marks and 4 tackles a game in that capacity.
Unfortunately for last year's owners, the defence crisis at the Eagles – sparked by Mackenzie and Brown ACLs initially, and then Schofield niggles later – sent Yeo into Band-Aid mode. His size, speed and strength made him an ideal all-purpose unit and Adam Simpson sealed his fantasy fate by utilising him in lockdown roles, resulting in average-deflating scores of 31, 33, 47, 47.
Of course, in fantasy, one season's trash is the next year's treasure. Instead of tossing up whether to overpay for a $520k+ MID-only Yeo (hint: no way), we now have the option of snapping up the same bloke for a 78-point equivalent in the backline. Given that Mackenzie and Brown are tracking beautifully for Round 1, common sense says that Yeo moves back into his ideal role further away from the defensive sticks.
With a resume that boasts 9 scores over 90 last season (in spite of his role variety) including a huge 150-point monster, a healthy statistical diversity with solid mark/tackle figures and the ability to hit the scoreboard (kicked 3+ goals on three occasions last year) – what more do you want from your D3/D4 slot?!
Why shouldn't I pick him?
As it so often happens in life, Yeo's strengths can be a double-edged sword. His status as an all-purpose tool in Adam Simpson's kit means that any injury or worrisome match-up could result in Yeo being sucked out of his fruitful midfield bruiser role and into a fantasy prison. The fact that it took two or three really key injuries to affect his role in 2015 is encouraging; yet his excellence in the Mr Fix-It mantle could mean the Eagles opt to send him back to plug up the leaky boat early, before trying to save the Titanic.
From a fantasy perspective, there's only so much space in our backlines and Yeo is in a fiddly price range alongside some similarly interesting prospects. Taking too many of these types can have season-derailing consequences because if they tank, you've got nowhere to go but sideways without a whole lot of cash – realistically a double trade. As someone who had to manoeuvre out of Lumumba and Early Kolo disasters last year, I can suggest that it might be worth limiting your exposure in the typically frustrating defensive line.
Deck of DT Rating.
QUEEN – I really like Yeo's prospects this year and if all goes to plan, he's one of the few defenders that I can see real value in. You can always pick the full price, safe-as-houses 80-point regulars (Houli, Mackie, Birchall, Simpson) – but no one has ever won their league paying full-price across their whole team. Yeo is a risk worth taking, and we always have the NAB Cup to help us diagnose his likely role for 2016.
Personally, he's in a group of Premium Lites that include Kolodjashni, Rosa, Brodie Smith, Savage, etc, of which I'll look to whittle down to two over the pre-season. Is Yeo on your radar?
Loading ...
FOLLOW ME ON TWITTER: @Tbetta9 for a largely sarcastic view of fantasy AFL. Want to slam my latest addition to the deck? Use the hashtag… #DeckofDT.