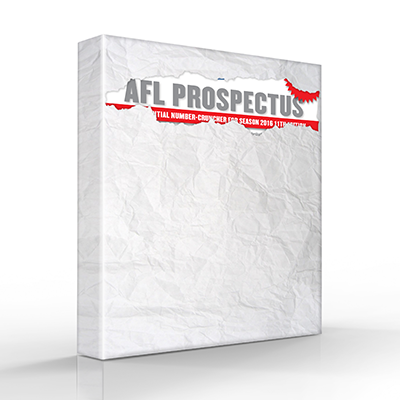 The AFL PROSPECTUS 2016, our 11th Edition is the first of our next series and begins a new and exciting decade for the Prospectus. The AFL Prospectus remains the Coaches bible and the essential number cruncher for players, fans and fantasy coaches for the 2016 season.
This year we bring you a fresh new look to start the next series, as well as an improved format.
We hope you love it as much as we do, as we strive each year to bring to you the Stats that Matter…
THE 11th EDITION WILL INCLUDE:

The AFL Prospectus Team of the Year
Performance analysis of every team and all listed players
In depth analysis of every team's 2016 player list
Player stats profiles for the last five seasons
Profiles of all draft picks and rookies
Plus much more
Pre-order NOW online at www.championdata.com.au for delivery mid-January!
Also available from January at selected newsagencies.
The 2015 Tablet App versions are now available for a short time for FREE!