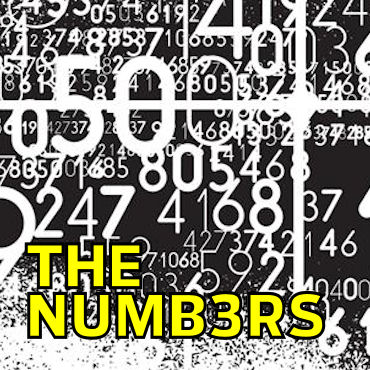 Reflecting on another week were 2000 was a good score, i'm disappointed that Round 10 was meant to be the last of the easy weeks! With the pre-bye giving us an insight into the carnage to follow, once again the safest place to turn is towards the Numbers.
0- Total points by Tom Clurey in his two first quarters so far this year. Thanks to "Lachie Neale" for this stat. Congratulations Lachie for a solid 91 points yourself on the weekend, despite no one from Fremantle managing the Ton.
3- IQ of Jack Fitzpatrick when he decided it would be a good idea to throw the ball over the line for a point, when the game was very much still open. Down by only 2 goals and with momentum on their side, Melbourne would have been furious when Fitzpatrick tunnel-balled the ball over the line, giving away a free kick in the goal square for a throw in the process.
4- Number of players for
GWS that were on at least 70 points at half time. Callan Ward was on 83, Shane Mumford 79, Adam Treloar 73 and Stephen Coniglio 72. Going on to score 149, 121, 120 and 95 respectively, only 3 of these players continued their form on the other side of the halftime break.
5- Red Vests this week that went to Fantasy relevant players. Lachie Neale obvisouly doesn't spend enough time at training, as he had time to send in some ripper numbers. If anyone had all, or even 4, of the popular red vest players on their field then 2000 would have been a near impossibility. Bellchambers (29), CEY (46), Amon (53), Greene (38), Vandenberg (47) would have been on plenty of fields, including mine.
6- Number of players for Melbourne Demons that have pun worthy names the commentators used during the Queen's Birthday match. Watts it going to take for these Riley bad puns to be Dunn? Howe do they manage to make me Cross b
y slipping them into every second sentence? I'm Gawn…
8- Number of Mark-Kick combinations from Travis Cloke that occurred before he registered a disposal not from a mark . Finishing with 12 kicks, 8 marks, 4 Tackles, 7 Goals and 115 Fantasy points, he was an absolute monster, and a deserving winner of the Neale Daniher Medal.
17- Disposals gathered by both Dan Hannerbery and Jarred McVeigh in the first quarter against Gold Coast on Saturday. Hannerbery was on 48 at QT, whilst McVeigh smashed out 60 Fantasy points in just one quarter. Finishing on 133 and 131 dream team points respectively, they led the swans in a solid 52 point win over Gold Coast.
18- The magic number this week. If you can get 18 scores on your field this week, then you've positioned yourself well for a climb in the rankings. Personally, I'm hoping for timely selection of Josh Glenn and Mitch Clark, which along with Aaron Vandenberg and Tom Bellchambers playing, as accounting for my 2 trades this would get me up to 20 players. If you're a bit confused by that sentence, basically it just means i won't field 18 players this week.
64- Points scored by Essendon rookie Elliot Kavanagh in the first half of the crushing loss to geelong. Finishing on only 83, I'm not sure what you can read into this. He has shown that he can score extremely well at times , but also that he can go missing for large periods. Perfect trade in for Rd 13 in RDT, however in fantasy he would have had two price rises by then, and may cost you over 200K.
108- Points difference between Adam Oxley (126) and Jake Kelly (18) this week. Jake Kelly was playing carlton, and was expected to junk it up in the back line as the crows breezed to an easy win, whilst Oxley was surely either not going to play, or at best, wear the vest. For this reason i fielded Kelly over Oxley, and cringed every time Melbourne bombed the ball forward and Oxley took an uncontested intercept mark. He ended up with a whopping 14 marks (which is 4 more than Naitanui has the entire season) to go with a lazy 24 kicks. Kelly on the other hand, couldn't even managed 24 Points.
122- The Fail-4 this week knocked up an average 122 points. Robbie Tarrant (39) would have been forced onto many fields this week due M.Clark and N.Krakour not playing, as would have Callum Sinclair (36). Both didn't manage 40, however in comparison to the next two players they were dominating! Bellchambers (29) is not an AFL quality footballer, and as much s it would ruin my bye structure to see him omitted, i can't see any other option. But Jake Kelly (18) takes the cake in this section. 18 Points in an entire match of football, 97% time on ground! And that included a stretch where he managed 15 points in 10 minutes. Taking that "junk" out, he managed 3 points in over 100 minutes of football! Adam Oxley, on the other hand, matched his 18 points in a 20 second stretch where he recorded three marks and three kicks! Very poor effort Jake Kelly, straight out of my team!
196- Total points scored by Jordan Lewis in the last 5 rounds, in comparison to the 674 he scored over the first 5 rounds. It seems very clear that trading lewis out when his suspension hit was the right call as he only played two of the last 5 weeks, for return of 116 and 80.
203- No one seems to find red time relevant except for a few of the FoxFooty commentators, however in last 10 minutes of the 4th quarter a few of our fantasy players decided to turn it up. 9 relevant players, Selwood (30), Dusty (20), Dangerfield (15), parker (20), Gray (24), Beams (27), Stefan (20), Rich (22) and Hodge (25) combined for a whopping 203 points from their combined 90 minutes. Special shoutout to Dayne Beams, whose 2 Cheeky Goals when the game was dead ensured that he finally broke the Even-Numbered round curse with an impressive score of 123.
279- Career Games played by one of the most dominant midfielders of the modern era, Chris Judd. Due to a torn ACL, he today confirmed his retirement from the game. Chris was never a massive Dream Team player, as he almost always copped the #1 Tag, however he averaged above the 100 mark in 2006, 2010 and 2011. In his massive Brownlow vote stretch in 2010, he averaged 116.7 over his first 7 games. Farewell to the champion.
1189- Points scored this year by season leader Jack Steven. This stat comes from "Kyle' who skilfully, or perhaps a little luckily, picked him up at the start of the year for only $491,000. Coming in at $640,000, he is now the second highest priced player behind Jordan Lewis. As Lewis has a BE of 163, and Steven's is only 108, he could find himself being the most expensive player in the competion over the next few weeks.
2353- This section will be of particular interest over the next three weeks, where the teams that set themselves for a particular bye round will be revealed. This week though, the highest weekly scorer was Stephen Shostak, and he's team "Shos". Uniques Laird (110), Rampe (126), Christensen (111) and Motlop (113) performed well, whilst his guns also brought in big hundreds, notably Steven (133), Beams (123), Titchell (131), Dusty (142) and Ebert (134). It wasn't all perfect however, as he copped the weak scores from Bellchambers (29) and Saad (45). However it wasn't a big performance from the bench, with his only playing bench player Leunberger (22). This one probably has to go down as a fluke, but well played anyway Stephen!
2,376,656- Dollars raised at the time of writing  from the "Big Freeze at the G" for research into Motor Neurone Disease. You can still donate for this great cause here: http://www.freezemnd.com
Well thats another week of numbers done. Not a horrible week, but very close to it. Hopefully the byes are nice to us this year, and remember this every time you have a FMDT moment over the coming weekend: In 3 weeks time you can trade in anyone you like regardless of their bye! Ah that is going to be good… If you'd like to feature in next weeks article, leave an interesting fantasy number as a comment below, or look out for the post in lockout chat next sunday here on DTtalk, and each week I'll pick a few of the best to include. Also feel free to ask for any advice for your team and I'll do my best to help you field the best team this week. Until then, good luck!