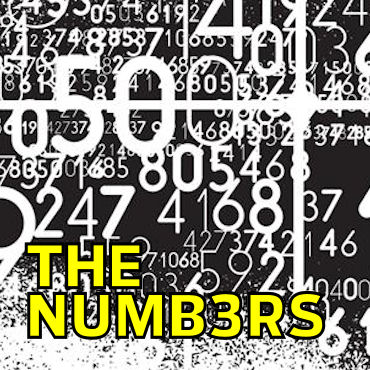 If you haven't read the numbers before, it's basically a combination of the two most important things to having a good Fantasy side, knowledge of AFL, and knowledge of numbers. Each Monday I'll be reviewing the weekend of footy, with a focus on the figures that matter. Fantasy is just a game of numbers, and as we look ahead to another week where 99 issues need to fit into 2 trades, we must first look back at some key numbers from the week that was.
4- As there was very few downgrade options this week, many coaches would have turned to J.Kelly, which was a great success, scoring 96 points. However, hopefully they traded in the Adelaide Defender (Jake Kelly), not the injured Cat (James Kelly), rookie Bulldog (Jordan Kelly) or low scoring Giant (Joshua Kelly). With all 4 Kellys in the AFL having the first initial J, someone would surely have unwillingly traded in the wrong one in a last minute scramble.
5- Hitouts by Jobe Watson. He could form a valuable DPP link between MID/RUC alongside Mark Blicavs. (Not really, but still 5 times more Hitouts than M.Clark… just saying…)
6- Number of hundreds scored in the first 7 rounds by Western Bulldog FWD/MID Luke Dahlhaus, after 110 against Fremantle on Sunday afternoon. This puts him in elite company, with the only other players with 6 tons this year being Armitage and Fyfe.
7- Goals kicked by $345,000 Western Bulldogs Forward Tory Dickson on his way to 102 fantasy points. Unfortunately for him the Bulldogs couldn't get over the line, and the fact that Dickson needed 7 goals to ton up is enough to prove he doesn't belong in anyone's fantasy team.
8- Trades left before the bye rounds. Make sure your getting closer to the 20-20-20 structure each week, or more realistically 19-18-19, as you lose a total of 4 players due to throwing away the R3 and R4 positions, unless you managed to get M.Clark or A.Cordy there.
12– Number of late changes this week, the most all year. While most were irrelevant to DT, Patrick Cripps hurt over 55% of the competition, many of which had no cover. Some other outs that may have been DT relevant were L.Montagna, J.Geary, J. Hogan and I.Smith.
17- The number of times the word "innocuous" was used to describe an injury this week. From Jaensch's knee and Duncan's foot, to the N.Riewoldt and B.Smith head knock, it seemed to be the word of the week for the commentators. Unfortunately, for some of these injured players there looks to be a prolonged stretch on the sidelines. With Jaensch and Duncan looking to be out for the majority of the rest of the season, they are must trades.
20– Disposals by Chris Masten in the last quarter against Gold Coast on Saturday night. Despite the game already wo
n, and gold coast actually wining this quarter 25-15, Masten was everywhere, racking up 20 touches and 66 fantasy points. That has to be some kind of record.
44.83- Amount paid out per dollar for a successful 9-tip multi this week. With the only big upset being the last game of the round, when Brisbane managed to beat Port by 37 points. This makes for a much easier week of tipping than last week, where the 9-tip multi would have scored $935
52- Points scored by Port Adelaide sub Karl Amon in just 29% game time. The sub usually has an increased PPM (Points per minute), but considering he Kamon with the side down and out, it was an impressive debut. In these dark days of downgrading, he may be a solid option, netting 209K from Vandenberg, or if you're feeling like a rage trade, 217K from Cripps.
59- Percentage of
Toby Greene's score that came in the third quarter. Managing to scrape together 104 after just 17 at half time, it makes coaches wonder what he could have done if he put in a 4 quarter effort
63- Players who cracked the magical ton this week, a surprisingly large amount considering how low the scores were this week. Unfortunately, only 14 of them were owned by more than 10% of the competition, and the majority were DT irrelevant flukes like Tom Nicholls (101), Mitch Hallahan (107), Drew Petrie (114) and Eddie Betts (123)
96- Average of Calvin's top 5 captain options last week. Armitage (106) and Gray (115) were the only ones to ton up, with Pendlebury (77) in particular letting Calvin down. If you throw in popular captain option Ebert (64) the average drops to less than 91. Not a week for the captain, however luckily Perma-Captain Lewis is back this week and Rockliff is beginning to rebuild after his horror start to 2015.
103– The Fail-4 is made up of the 4 worst scores from players who are DT relevant (owned by at least 10% of the competition). Last week they managed 145, not so lucky this week. If you know someone who had all of B.Smith (8), C.Salem (12), M.Clark (40) and A.Vandenberg (43), let us know in the comments so we all feel a little better after a shocking week.
166– Take a bow Luke Parker (and those who stuck with him through the 3 sub 90 scores). He was just what this week needed, someone to go above and beyond, and pump out an absolute monster. 5 goals greatly boosted the score, and perhaps he is now a prime candidate to gain FWD/MID DPP status for round 12… conveniently in the middle of the bye rounds.
2001- Last week Geelong were all the rage scoring a massive team total of 1855, however that does not even come close to the monster effort by West Coast in their 92 point smashing of gold coast on Saturday night. Led by midfield trio Priddis (155), Yeo (150) and Masten (144), this is the largest team score of the year, and will be tough to beat. What makes it even more impressive is it was wet, and quite challenging to string together a lot of kick-mark combos.
2394- In a week full of highs and lows, there is always that one coach who manages to dodge every single bullet shot by the DT gods, and inevitably you end up playing them in your league. This week, Samuel Wood's team "Sammywammy Tigers" managed just that, scoring nearly 2400 in what for many could be dubbed the week from hell. Having Priddis (C, 310), Parker (166), Cotchin (131), Ellis (127), Dangerfield (122), Maric (118), Roughead (139) and T.Mitchell (121) all scoring over 115, it was a good week to have a slightly Tigers biased fantasy team. Apart from Bellchambers (47), he managed to avoid all the carnage.
See you again next Monday for more Numbers. Leave an interesting AFL related figure or Fantasy Fact as a comment on this post and you could feature in next weeks article.