THROWBACK THURSDAY – Round 6 – The Heralded Suns / Gary Ablett edition
What the hell's going on with The Gold Coast Suns? Muttley takes a look.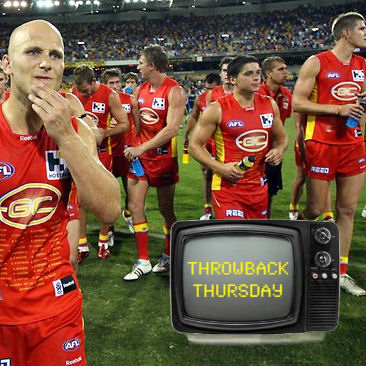 What the hell's going on with The Gold Coast Suns? First there was Gary Ablett's ongoing injury, then the new coach Rodney Eade suggested after 4 straight losses it wouldn't matter if they lost 20 straight. WTF? Now there's been an alco-scandal involving some of their best players including Harley Bennell, who was just starting to look really good.
Well, the blowtorch is on The Suns – if that's physically possible – and they'll be out to prove they haven't eclipsed any chance of a half decent season this Saturday night at home to Adelaide. They'll need all the luck they can get.
So in the absence of the little magician 'Gaz', plus the long-term injured Jaeger O'Meara and now the suspended Bennell, have you considered which of their previously lauded midfield might be a handy pickup for your Dream Team? Which of the Suns shine brightest without Gaz? And just how good is Michael Rischitelli?
Q) IS RISCHITELLI RISKY?
A) The Suns' acting captain has been their best player this year by a streak. Sure, his price has shot up to $528k but so has his DT average, from 73 last year to 107. With consistent scores of 98, 112, 120, 120 and 87, that's some career-best form for Rischitelli and take note, the man likes to tackle. His highest ever DT scores were 131 on this day (May 7th) in 2011 against his old club Brisbane, where he laid 10 tackles and had 29 possessions, beaten only by his 133 in a Gaz-free last round of last year when he had 34 possessions. With an average of 27 possessions and 5 tackles so far this year, chances are he could break his PB at any given moment. The only downside is he has rarely ever scored 100+ in the company of ball magnet Gary.
Q) IS DION PRESTIA REALLY A "HUMAN MEATBALL", OR JUST A SPUD?
A) Hang on there. In the last two years Prestia has been a lot more meat than veg, with a consistent near-100 average and a nice sprinkling of 120+ scores. Coincidentally on this round (6) back in 2012 – with no Gary Ablett – he topped 30 possessions for the first time. Last year without Gaz he was still good, but maybe not quite as good as the 40-odd possessions he's been capable of alongside Brownlow boy, such as the Rd 14, 2013 game versus Adelaide where he scored 157 DT as they gained 72 touches between them. So keep an eye on Prestia and even more so when Ablett returns.
Q) WHAT IS THE DEAL WITH CHARLIE DIXON's BEARD?
A) The beard has been accumulating possessions off the field since Gary Ablett's absence as it grows out of control and takes all before it. Last week Dixon and his beard both triumphed on the field and kicked 6 goals (118 DT). We think lil Gary may have actually been hiding inside the beard the whole game, especially as Charlie Dixon has been absent from most of the same games as Ablett. Hmmm, spooky…
Okay so with all this talk about a footy legend who isn't actually playing this weekend (although The Suns sure wish he was) – today's Throwback will finish with that other Ablett – no, not Nathan, nor Geoff, Kevin, Len or Luke, but the Original Godster – Gary senior. This guy was a-mazing. On this round (6) in 1993 versus Essendon (apologies to DT Talk's Warnie), Gary Ablett Sr had 25 kicks, 0 handballs and 14 goals for a whopping 202 DT points. And that wasn't even his highest score. In 1989 versus Richmond, he also kicked 14 goals from 30 possessions and 14 marks to register 213 DT pts. Imagine that lighting up Metricon this weekend! If only…
NEXT WEEK: Richooooooo!!!!!