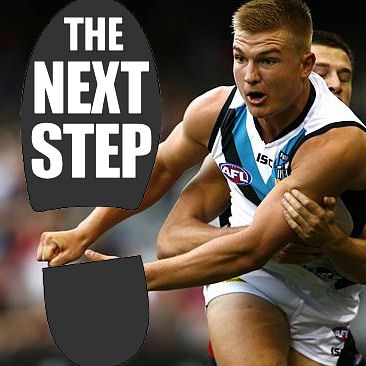 Recent AFL history is littered with remarkable stories of players both young and mature proving themselves on the big stage; of seizing the responsibility for their team and taking their game to new heights – often in the span of just 12 months. The Next Step will move the spotlight over each club to find one player who is ready to show the footballing world that they are ready to stand up and deliver. Not only is this good news for these players' teams, but it is great news for our fantasy teams.
From Rocky's outstanding third-year-breakout in 2011 to Hibbo' leap forward in 2013 to the premium defender's circle; and the dizzying heights of young pup Macrae in 2014 that saw him up his fantasy average by over 40 points per game – I'm here to run the gauntlet and try to predict those who are every chance of mirroring these feats; of climbing the ladder to fantasy relevance; and telling the football universe "I am here". We've now come to the final week of the series, having covered 14 would-be Fantasy Premiums – leaving only four remaining. The Final Instalment will take the spotlight to the remaining four clubs (Port, Brisbane, Essendon & Geelong); and find out who's ready to take The Next Step.
Port Adelaide
Oliver Wines

Position: Midfielder
Age: 20
2014 Season:  91.23 average from 22 games
2015 Starting Price: $517,000 (AF) $514,900 (RDT)
Years in AFL system: 2
It's remarkable that Ollie Wines hasn't had more attention this preseason, as he sits alongside Brad Crouch as one of the most talented Fantasy prospects under the age of 22 in the country. I've got to be honest, there are few young players in the game at the moment that instils the level of confidence that this man does: confidence that he will become a star, and a fantasy premium. There's no question of 'if', and the question of 'when' could be solved the second he steps out onto the field at Domain Stadium in Round 1. Wines has already proven his durability; is one of the first picked in Hinkley's team; has a big ceiling and infinite potential to improve; and is still just 20 years of age. His bullocking frame and fantasy-loaded game make him the perfect package, and even more perfectly placed to take The Next Step in 2015.
The Case For: Ollie's trajectory from rookie to promising AFL player makes for beautiful viewing. 74.4 from 22 games with 3 hundreds in his first year. 91.2 from 22 games with 7 hundreds in his second year. He is perfectly placed for a 3rd year breakout. Just on Wines' 2014 season, he had a good balance in his scores: 6 in the 80-90 range; 5 in the 90-100; 5 in between 100-115; one big score of 136; and just 5 sub-80 scores. It's interesting to note that his lowest patch was between Rounds 19-23 where he averaged 67.4. This would be arresting, if not for the fact he perked back up in the finals to average 98 from Port's 3 x appearances. So I'm taking that 5-game stretch with a grain a salt. The number I'm interested in is his average of 98 up until R18, whereby his lowest score was 81. A season averaging what was essentially 98 – for a second year player – is just ridiculous. So my current question becomes: what's he going to do with another stellar off-season and a stronger Port team around him in 2015?
Projected 2015 Output: Let's face it: if this were a Deck of Dream Team article, I would sincerely struggle to point out anything bad about Oliver Wines. His 2015 season appears a foregone conclusion that he will bust out of the gates, and into the deluge of Fantasy Premium-hood. I'm expecting a more consistent, and dare I say – even better player wearing the #16 for Port Adelaide this season. An average of anything less than 100 would be surprising, whilst the teal sky is the limit. #TeamWines
Loading ...
Brisbane
Sam Mayes

Position: Defender/Midfielder
Age: 20
2014 Season:  67.33 average from 21 games
2015 Starting Price: $381,000 (AF) $380,100 (RDT)
Years in AFL system: 2
Sam Mayes – former #8 pick, 2013 Rising Star nominee and one of the talented kids in a wave of youth revitalising the Brisbane Lions. The midfielder-forward played 18 games in a stellar debut season, only to face some tough obstacles in his second year – the primary one being an unfamiliar role change that transformed his focus and numbers completely. Mayes was thrown down back in 2014 predominately due to necessity, but also for his excellent foot skills (disposal efficiency of 73 in his first two years) and reading of the play. With the return of several midfield stars and an introduction of several new blue-chip recruits, Mayes is now free to return to his preferred role in the forward half, which will see him be more offensive in his play – something that has translated to some brilliant fantasy scores in his 39-game career to date. Approaching the 50-game milestone, he has already become a best 22 player; and despite competition at both ends of the ground, will play each week barring injury.
The Case For: Spending 2014 focused on defence forced Mayes to improve his tackling and pressure, which will no doubt make him a better – and more rounded – player going forward, despite not showing much improvement in his fantasy scoring. This, in fact could make him slide further under the radar as he doesn't appear as likely on paper. Thankfully for Mayes, his story cannot be explained by simply looking at the numbers (much to my disappointment). Still, there were plenty of positives to pull out of last season – with 6 x scores above 80, including a brilliant game against West Coast in Round 17 (105). With a third pre-season under his belt and a return to his more fantasy-friendly role; and a general rise of the team around him – Mayes could be one of the big improvers of 2015, leading to a jump in fantasy production that's sure to surprise those who hadn't considered the young Lion cub.
Projected 2015 Output: Without the clear path of exposed form pointing to a traditional breakout, a bit more faith with be required to get behind Sam Mayes in 2015. For those that jump on board, this will more than likely be rewarded as they watch him put forth a season worthy of the attention of even the most wary. I can easily see Mayes shocking (most of) the fantasy world this season to average a premium-esque ~85, but my realistic prediction is closer to 80 – still worthy of anybody's consideration as a mid-price defender.
Loading ...
Essendon
Tom Bellchambers

Position: Ruck/Forward
Age: 25
2014 Season:  54.57 average from 7 games
2015 Starting Price: $281,000 (AF) $308,000 (RDT)
Years in AFL system: 7
'Belly' was the one ruckman I had penned in here from the inception of the series. The fact Warnie couldn't resist the urge to feature the big man as the final card in the Deck of DT on Monday shows just how huge 2015 could be for Tom Bellchambers. Notwithstanding an infraction that causes a mandatory time-out for half his team, the injury-affected ruck is the only man above 200cm featured in this series for good reason. Since 2011, he's slowly set himself up to be an important cog in the Essendon machine; and the off-season departure of his partner-in-crime Paddy Ryder will put a huge impetus on Bellchambers to pull out a career-best season. Forget about 2014's write-off. Forget about depth acquisitions in Giles and McKernan over the summer. Bellchambers will be the #1 big man at Windy Hill in Season 2015, and he'll give it a bloody good shake, too.
The Case For: Looking back through the preceding seasons, there's always been a culprit looming to ruin his year. That has come in the form of many things, not least in internal competition – but also drops in confidence; red-vests; or injury hitting him at the worst time. Bellchambers hasn't had a decent run of luck and opportunity together at the same time in his career to date. 2015 is the year where those two things finally come together. Tom has proven he can score, both with a ton of hit outs as first ruck; and through the ability to float forward and put up a few +12 combos. So with the ruck mantle all to himself, and a clean injury slate to start the year, the ball is in his court. An average of 80.1 from 16 games in 2012 is his best record to date, but 2015 could see him easily eclipse that, and finally begin to fulfil his potential as a fantasy-grade ruckman.
2015 Projected Output: Predicting a specific average with so many variables is like playing Russian Roulette. So I'm going to project (with a fair level of confidence) that Belly will bounce back with an average between 76-84 in 2015 – leading the way at the ball-ups for the Bombers. I can't say that he's one of the most certain of players likely to take The Next Step this season, but a solid year will set the tone for a token late-twenties peak for Tom Bellchambers.
Loading ...
Geelong
Mitch Duncan

Position: Midfielder
Age: 23
2014 Season:  94.9 average from 22 games
2015 Starting Price: $537,000 (AF) $535,700 (RDT)
Years in AFL system: 5
2014 saw Mitch Duncan go from promising supporting cast member to a consistent and damaging midfielder in his own right. The second half of the season saw him particularly stand out, taking charge of his own fate and pushing his fantasy credentials into near-premium territory. He has treaded a steady line of improvement over the past few years; with his midfield impact showing a noticeable incline from 2013 to last season. He's already enjoyed a great career – tallying 76 wins from 100 games, including a premiership at the age of just 20. Considered a future leader at Geelong, his recent elevation to his club's leadership group shows the esteem in which he is held internally at Kardinia Park. In terms of his performance, the table further down tells a positive story of the extra responsibility that he's taking on in the Geelong engine room, which will only lead to good things if he continues along the same path in 2015. The highlighted column is of most interest, and leads to my projected output for Duncan in 2015.
The Case For: In 2014, Duncan pumped up his fantasy productivity across the ground, breaking the 100 barrier in 50% of his games. Expanding on that, he went big (115+) on four occasions (18%); and managed 90+ a reliable 68% of the time. For me, the big numbers to come out of last season (you know I love my Numbers) surrounded his efforts from the second half of the season. From Round 13 – 23, Duncan averaged 100.91, which included a paltry day against Carlton in R21 (48). Take out that, and all of a sudden he has a 10-game-stretch with an average of 106.2 – premium in any language. 2015 should see him bridge the gap between his 2014 potential and this outstanding segment of exposed form.
Projected 2015 Output: As alluded to above, Duncan has shown a consistent rise in his scores over the past few years, and the fantasy numbers coupled with the raw statistics give us a clear indication of what's in store for this young Geelong leader. I think it speaks for itself.
Loading ...
The Next Step Class of 2015
So there it is – four weeks, 18 players and an epic mini-series done and dusted. For a quick review, here's the inaugural list of picks that I have nominated to take The Next Step in 2015:
Defenders
Shannon Hurn (West Coast) – Week 2
Nick Vlastuin (Richmond) – Week 3
Sam Docherty (Carlton) – Week 1
Sam Mayes (Brisbane) – Week 4
Loading ...
Midfielders
Brad Crouch (Adelaide) – Week 1
Dom Tyson (Melbourne) – Week 2
Ben Cunnington (North Melbourne) – Week 2
Lachie Neale (Fremantle) – Week 1
Ollie Wines (Port Adelaide) – Week 4
David Armitage (St Kilda) – Week 3
Dylan Shiel (GWS) – Week 3
Mitch Duncan (Geelong) – Week 4
Loading ...
Ruck
Tom Bellchambers (Essendon) – Week 4
Forwards
Craig Bird (Sydney) – Week 1
Jack Gunston (Hawthorn) – Week 2
Tom J. Lynch (Gold Coast) – Week 1
Jamie Elliott (Collingwood) – Week 3
Nathan Hrovat (Western Bulldogs) – Week 2
Loading ...
Here's a recap of each article, with links – just in case you want to take one last look for your preseason research:
http://dreamteamtalk.com/2015/01/30/the-next-step/
http://dreamteamtalk.com/2015/02/06/the-next-step-part-two/
http://dreamteamtalk.com/2015/02/13/the-next-step-part-three/
A huge thanks to everyone for your support with these articles, and for giving these lesser lights the front-page billing they deserve. Time will tell how many of my picks make the grade this season, but I'm quietly confident that they'll do me proud.
Now to the NAB Challenge, and onwards to Round 1 – I'm champing at the bit to see my boys run out, and take their first strides towards The Next Step in Season 2015.
Tell me your thoughts below, and give me some feedback on Twitter @McRathDT or help spread the word by using the hashtag #TheNextStep