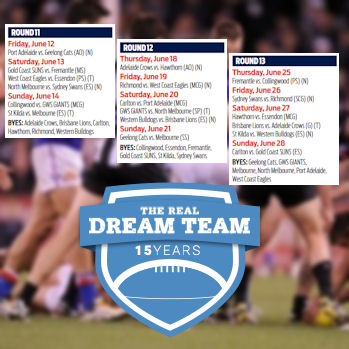 G,day all,
This graphic makes me laugh every time I see it – wish I knew how to embed audio in as well but pretty sure we can all hear the 'catchy' tune in our heads anyway..
Following on from last weeks tanking strategy to deal with the byes, this week I will outline a more traditional and balanced "8-10-12" set up which aims to allow you to (hopefully!) field 18 or (miraculously!)22 on the park each week of the byes. Injuries, rests, suspensions and rookies not making final squads always seems to play havoc with my team around this time of the year, but all you can do is plan ahead and hope for a little luck. Although 30 trades always sounds a lot at the start of the year, a few injuries and the almost obligatory 2 'fix up' trades before round 3 price changes and suddenly you are headed towards the pointy end of the season with never quite enough trades, so its important to try to avoid sideways trading as much as possible and keep those valuable trades for the best use which is rarely sideways trades.
'8-10-12' explained
"Shouldn't I just aim for 10 players from each round – why are you saying to pick more players from bye round 13?"
Simple.
The fantasy gods are fickle bastards at the best of times, and there are always injuries, suspensions and the dreaded 'general soreness' that seem to pop up around the byes. Some weeks you could swear there was some trickster sitting up there going, "now, how can I screw over as many teams as possible? I know – I will suspend a popular premo and rest a gun rook this week"
By going into Round 11 with an 8-10-12 set up, you will have 22 non bye players to potentially field a side of 22 and pick a best 18 from. In this round unless there is a gun rook on the bubble or a premo is about to lose a mountain of cash I would be hoping to avoid trading altogether as anyone you bring in still has a bye to come.
So lets assume you go into Round 12 still with the 8-10-12 set up. You now have only 20 non bye players to field a side from. So what you can do is use up to 3 trades replacing Round 12 bye players with Round 11 Bye players who have already had their bye. Lets assume you use all 3, your team will now change to a 11-7-12 set up and you suddenly have 23 non bye players to select from.
Then in Round 13 which you go into with that 11-7-12 set up, you can once again use up to 3 trades but this time you trade your Round 13 bye players to Round 11 OR Round 12 players as they have had their bye and are available to be selected. Lets assume you use all 3 and pick up 2 Round 11 players and 1 Round 12 player, that gives you a 13-8-9 breakup and 21 potential players to pick from.
Sounds pretty easy so far yeah? Got this bye thing all sorted out and this year will be easy?
Wrong.
Where this gets starts to get tricky is you need to balance each position with similar numbers of bye round players, as you can still only field certain number of players in each position.
ie lets assume you start with the fairly vanilla ruck of Kreuz, Luey and M Cox (for dpp). Even if by some miracle in Round 13 Cox (round 12 bye) is playing as well as Kreuz and Luey (Round 11 byes), you still can't use one of those as a scoring player as you only have 2 ruck spots available. If you are counting all 3 of those as part of 18 available then you actually only have 17 possible scorers.
The next curve ball we need to consider in RDT is that we have only 30 trades to use for the season. Now that sounds a lot at the start of the year, but invariably it is never enough as we approach the pointy end of the season and bragging rights are on the line, whether its overall rankings or league comps. Simply sideways trading premiums to avoid donuts in the bye rounds is one of the quickest ways to leave yourself in trade shortage and slows you down from improving the overall point scoring potential of your team.
My 30 trades I will try to use as below:
2 fix up trades before round 3
10 upgrades
12 downgrades
3 injuries
3 finals
So with our precious 30 trades in mind,  you need to keep an eye on how many gun's you select from each bye round, as ideally it is rooks and maxed out midpricers only that you should trade to post bye guns or rooks each week. I think most teams will begin with approximately 11 to 13 gun's in their starting sides, with teams improving that to somewhere between 16-19 guns by Round 11. With this in mind I would try to balance out my gun's as much as possible and ideally have say a 6-6-6 balance that don't get traded during the byes, instead it is the rooks and mids around them that become post bye guns and rooks.
Starting side

Below is the same side, just colour coded for the bye rounds to easily identify issues (such as I currently have 4 Round 11 bye defenders so my first upgrade would ideally be one of those to say Mackie from Round 13)-

Now my possible starting side above has 12 likely Guns (in bold), with a 3-4-5 break up of the bye rounds. What this means is I will need to ensure I actively look to try to add more bye round 11 and 12 Guns over round 13 guns as we lead up to the byes. I have purposely done it this way as I am hoping to be able to pick up the likes of Rocky, Simpson, Hodge and Beams at the same or cheaper prices from the round 11 bye teams as well as the likes of Barlow, Hibberd and Mundy from the round 12 bye teams.
So with my 10-11-9 split I am not quite exactly at my ideal Round 11 8-10-12 split of bye players just yet, but given we will be trading and managing our sides over the first 10 weeks before the bye mayhem hits us, I don't think it is critical to start with exactly that set up – rather I think you need to keep it in mind and work towards it as you make trade decisions leading up to the byes.
Anyway I hope this has been somewhat useful, I have come to the conclusion that there is no 'right' way to handle the byes but what I do think is you need to decide on at least a broad strategy fairly early on in the year and try to stick to it. Whether I go with this strategy or stick with my tanking theory is yet to be decided – however this balanced approach does have a very big selling point for me as it dramatically increases the number of DT relevant games I can watch as it has a bigger spread of guns from different teams (rather than the tanking strategy meaning your team is comprised almost exclusively from the Round 11 bye teams. That may actually be enough to sway me to this tactic as it was a little boring the first half of last season with a lot of fixtures containing none of my players – and what is footy without DT relevance? ?
Cheers and good luck