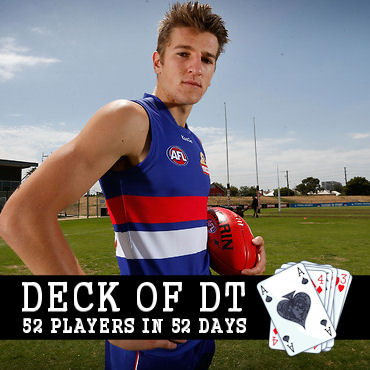 Name: Marcus Bontempelli
Club: Western Bulldogs
Position: Forward/Midfielder (DPP)
AFL Fantasy: $392,000
AFL Dream Team: $390,500
Bye Round: 11
2014 Average: 69.19
2014 Games Played: 16
Predicted Average: 84
In the midst of my research for The Next Step, I've sidetracked myself to finish up my Numbers-inspired collection of Deck of DT Articles for the 2015 pre-season. So for my final card, I'm going to look at a young Dogs' gun called 'Bonts'. Let's take a gander, shall we?
Why should I pick him?
16 – Bontempelli is an absolute jet and future star of the competition. Taken at Pick #4 in the 2013 draft, he debuted in Round 5 and went on to play 16 games for the year – finishing 2nd only behind Lewis Taylor (by one vote) in the NAB Rising Star. His presence on the field is impressive, with his many tricks and height making him extremely difficult to match up on. Pick him, and you'll not only see the points, but get a warm fuzzy feeling each time you see him in your side – in the same kind of the way you might see your favourite player or Gary Ablett.
7 – At the risk of adding to perhaps the most overused cliché in footy, Bontempelli is tearing up the track. Having already put on 7kg of muscle this offseason alone, and ready to resume a bigger presence in the team going forward – the only question that remains is how long until he becomes a star. My guess? Not long.
73 – Owing to a few vested games, he's on offer to us at the price of a player who averaged just 69 – whereas his non-vested average (NVA) is actually 73. His exposure to the midfield in 2014 means we're likely to see him play through the middle a lot more, too. Especially with the departure of Ryan Griffen to GWS – back Bonts in for some serious time in the guts throughout 2015, and then enjoy the points that come along with it.
The best way I can make the point of Bonts getting ready to dominate in 2015 is to compare him to fellow tall midfielder and current fantasy jet Nat Fyfe. Compare the pair's first AFL seasons for a second:
Statistically, they had a near-identical first year – the comparisons are scary, and go far beyond the stats above. The midfield time and responsibility are also there for the young pup to stand up in the same way Fyfe did in 2011. Marcus is having a stellar pre-season and has a fantasy-friendly game. To illustrate my argument for choosing this second-year kid in 2015, Fyfe went on to average 98.3 from 21 games in his second year. If you believe the comparisons above, it's not hard to get excited about his potential for the season ahead. Now, whether Bontempelli has the capacity to average 98 in 2015 is a big, big call – Fyfe could just be a pure freak; but at the least, a modest rise in average is – in my humble and objective opinion – all but guaranteed for this young superstar.
Why shouldn't I pick him?
2 – As with any 19 year old, the risk of second year blues looms large, with the small sample of exposure to AFL football making them an unknown quantity to a degree. As with Fyfe in his second year (or any young player), there's always a big element of risk/reward. But if you can pull it off – it feels amazing. Not to brag, but just saying… I chose Fyfe in his second year from day one and still pull the humble brag out occasionally – I'll take that one to my grave!
390 – The oft-heard argument exists that there are a lot of options in the forward line in 2015, with the Round 11 bye housing Deledio, Dusty, Daisy, Roughy, Zorko, Dahlhaus and the list goes on. Not to mention the likes of Buddy, Goddard and Swan, the question becomes: is there room for a guy in your team who sits at the awkward price of $390k?
5 – Risk is probably the biggest factor here, so if you have a naturally conservative approach then you'll probably veer away despite my best efforts here. On top of the second year blues risk, the main factor may well come from a level of inconsistency that comes with that development stage of a young footballers career. Bontempelli did have 5 of his scores in 2014 under 60, which isn't great viewing. The last thing is that owing to his stellar first year, he'll be open to more attention from opposing sides – so don't be surprised if he cops a hard tag a few times this season and ekes out the odd sub-60 score.
Deck of DT Rating.
JACK – Bontempelli presents as a bit of a wildcard in the deck, as he could be the pick of the season if everything falls his way. I believe he's the 'most likely' to go huge in his second year out of the entire 2nd year crop. But for now, I've gone with JACK status purely because of the risk factor involved. With Fantasy the way it is, you may choose to see how he starts before jumping on board. But for those of you who are already on board, you'll have absolute bragging rights for choosing the pick of the year should the risk pay off. So are you up for a game of risk in 2015?
Loading ...
FOLLOW ME ON TWITTER: @McRathDT for all thing AFL Fantasy (and more). Got something to say about the deck? Use the hashtag… #DeckofDT.