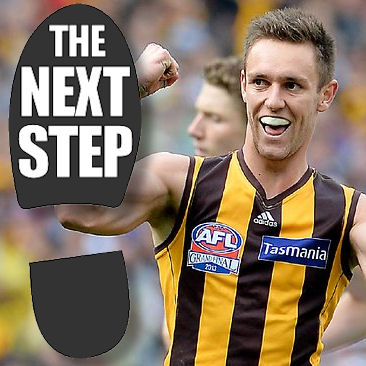 Recent AFL history is littered with remarkable stories of players both young and mature proving themselves on the big stage; of seizing the responsibility for their team and taking their game to new heights – often in the span of just 12 months. The Next Step will move the spotlight over each club to find one player who is ready to show the footballing world that they are ready to stand up and deliver. Not only is this good news for these players' teams, but it is great news for our fantasy teams.
From Rocky's outstanding third-year-breakout in 2011 to Hibbo's leap forward in 2013 to the premium defender's circle; and the dizzying heights of young pup Macrae in 2014 that saw him up his fantasy average by over 40 points per game – I'm here to run the gauntlet and try to predict those who are every chance of mirroring these feats; of climbing the ladder to fantasy relevance; and telling the football universe "I am here". Last week in Part One, I gave an insight to a few talented young midfielders from the Crows, Dockers and Blues, an upcoming key tall from the Suns as well as a hard-headed Swan – all on the verge of premium status. Part Two will take the microscope to the Hawks, Kangaroos, Eagles, Dogs and Demons. Read on to see who's ready to take The Next Step.
Hawthorn Hawks
Jack Gunston

Position: Forward
Age: 23
2014 Season:  82.75 average from 20 games
2015 Starting Price: $469,000 (AF) $467,100 (RDT)
Years in AFL system: 5
Since crossing from Adelaide three years ago, Gunston has been a revelation in Hawks colours. Quickly establishing himself as one of their best young players, the appropriately named roaming tall forward is just that – a fantasy gun. Still just 23, he's still working through minor bouts of inconsistency. But his fantasy potential and ceiling means that there are zero doubts in my mind that he is a premium forward waiting to explode. Now, you may be saying "what more should we expect from a guy who kicked 51 goals and won a second-straight premiership whilst still in his early 20's?" How about, become a fantasy premium?! This guy's peak is much higher in fantasy terms. So the only thing left for him to do now is to cut out a few of those quieter games and follow his path towards fantasy stardom – something that will be here sooner than you think.
The Case For: Jack Gunston knows how to score. Not only in the context of kicking a goal, but his ability to find the ball and get 'off the leash' means he has multiple strings to his bow – with the golden arrow being his beautifully accurate right foot. Of the Top 20 goal kickers in 2014, Gunston was 2nd only behind fellow Hawthorn sharpshooter Luke Breust. Jack also had four games where he scored 113 points or higher last season, including a huge 25 disposal, 5 goal display in Round 4 that netted him a huge 138 points. I believe we need only look at his opening 7 rounds of 2014 to see where his true potential lies – a period where he averaged 95 points.
Projected 2015 Output: Jack Gunston is a unique talent, and one that I strongly believe could do a Buddy Franklin in 2015 – turning into a player who is not just a high-scoring fantasy forward, but a weapon, and an absolute must have. I'm banking on a premium year for the young Hawk; and a 90+ average to go with his two premiership medallions and a parade of lavish praises.
Loading ...
North Melbourne Kangaroos
Ben Cunnington

Position: Midfielder
Age: 23
2014 Season:  88.77 average from 22 games
2015 Starting Price: $503,000 (AF) $501,100 (RDT)
Years in AFL system: 5
A Top-5 selection in 2009, Cunnington doesn't get the public praise of his more fancied draft class colleagues in Dustin Martin and Nat Fyfe. But barring these two genuine AFL stars, few have made such an (underrated) impact for their clubs since being drafted. Coming off a career-best year that yielded him a club Best & Fairest, he led his team's midfield from start to finish – playing all 25 games for North Melbourne in 2014. 'BC' now sits on 99 games as he looks to not only surpass the 100-game barrier in 2015, but also looks to pierce another 100 barrier: the fantasy 'ton' average. With his stated desire to increase his running patterns and become more dangerous in the forward half this season, Cunnington's best is definitely yet to come.
The Case For: The North #10 made a real fist of 2014, finishing 1st at the club for total tackles, contested possessions and clearances. From a fantasy perspective, he accumulated 8 x 100+ scores, including several periods whereby he was able to average over or around the magical mark (100). If he can work on stamping out the sub-80 scores still present in his game, then he'll be well on his way. With another pre-season under his best, and Captain Swallow back on deck from Round 1; he should be able to improve his consistency and take his game to another level in 2015.
Projected 2015 Output: An average of 95-100 looms large for Ben Cunnington this season as he looks to continue his steady path towards midfield premium status. He now approaches the golden age for midfielders, and has everything on his side: health, durability, opportunity and most importantly – a game built for fantasy. Someone who'll present as an extremely unique option, having just 0.4% ownership in the DT Live Database – Ben Cunnington is ready to take The Next Step for your team in 2015.
Loading ...
West Coast Eagles
Shannon Hurn

Position: Defender
Age: 27
2014 Season:  79.56 average from 18 games
2015 Starting Price: $451,000 (AF) $449,000 (RDT)
Years in AFL system: 9
Shannon Hurn has been around for a good while in AFL circles, so it may surprise some to know that he's only 27. At an age where most players are at their fantasy peak, Hurn is yet to reach his. Having just recently been installed as the captain of the West Coast Eagles for 2015, the long-kicking defender is set for his biggest year yet in every way. While many players reach their prime in their early-mid 20's, I have a good feeling that 2015 will see this veteran start to come into his own. Will he be targeted? Sure. Because he's a hugely important part of the Eagles side. But he wasn't chosen to lead his side because of his amazing hair – he has grit, resilience and let's his footy do the talking. With a strong leadership group behind him, Hurn is ready to step up and help his side rise up the ladder.
The Case For: Hurn has always been able to score. He's teased us for years with his fantasy chops, but never quite been able to put it together, with injury usually being the main culprit. Then, in 2014 something magical happened. After nine years in the AFL, we saw him start to finally show us what he was born to be: a fantasy premium. With a Non-Vested Average (NVA) of 84 and 5 x tons; just 5 sub-70 scores; and most in that 75-100 range – Hurn isn't far off at all. His only truly poor game (30) came in Round 23 against the Suns when West Coast shared the points around in a glitter strip thrashing. Unfortunately, somebody forgot to share with Hurn that day as he copped a hard tag and only managed 9 touches. All he needs is a little lift (ahem… leadership… check) and he will ascend to be a top 8 defender in a heartbeat. And with great defensive options few and far between, he doesn't look that bad at all.
2015 Projected Output: With 151 Games now under his belt, the timing is perfect for 'Bunga' (as he's known around the club) to reach out and take The Next Step in his AFL (and fantasy) career. I'm framing Hurn for an average in the range of 85-95 in 2015, with the improvement/support of his fellow young charges determining how high he climbs this season.
Loading ...
Western Bulldogs
Nathan Hrovat

Position: Forward
Age: 20
2014 Season:  71.5 average from 12 games
2015 Starting Price: $405,000 (AF) $403,600 (RDT)
Years in AFL system: 2
After running out for 7 games in his debut season, Nathan 'Hro-vat' improved his tally in 2014 to eke out 12 games to continue his steady career progression. If you ask any Dogs' fan, it won't take long for them to name this kid as one of the likely 'big movers' for the upcoming season. He has a fantasy-friendly game; is set for regular midfield time in 2015; and importantly – has a good claim for a spot in the starting 21. Being handed the #13 Guernsey by outgoing Dogs' veteran Giansiracusa in the off-season, Hrovat's running capacity is on the improve; and he's ready to make a bigger, longer impact in the year ahead. Oh, and did I mention that he's available as a forward?!
The Case For: Able to manage an average of 71.5 in his second year for a player spending large chunks up forward given his small stature and goaling nous, it's impressive to see the positive numbers he put up in 2014: scores of 110, 111 and 90 from 12 games, with 58% of his scores at 65 or above. Now, that may not inspire a lot of confidence – but when we remove his two vest-affected games (one due to injury), his average shoots up to 75. With a greater role in the midfield, and a small chance of getting the green vest – it's not difficult to see Hrovat making the jump to a premium-esque average this season.
Projected 2015 Output: At just 173cm, this pint-sized former-first round pick is a unique (0.1% ownership on DT Live) option for fantasy forward lines in 2015, and if things go his way it's completely conceivable that this 2014 Rising Star nominee will make the jump to premium status and become another 'third year breakout' success story. My prediction is for Hrovat to really step up in 2015 and finish with an average somewhere in the 80-90 range – more than worthy of our consideration.
Loading ...
Melbourne Demons
Dom Tyson

Position: Midfielder
Age: 21
2014 Season: 90  average from 22 games
2015 Starting Price: $510,000 (AF) $508,000 (RDT)
Years in AFL system: 3
The 2013 Trade Period brought about one of the most interesting risk/reward player transactions of recent memory. Long story short – the Dees traded away pick two (Josh Kelly) and gained pick nine (Salem) and the man of the moment – Dom Tyson. Given his injury problems and subsequent lack of senior game-time at GWS, it was a big risk for both Melbourne and Tyson himself. History, of course will show (at least in the short-term) that this gamble paid off – with a runner-up finish in the club's Best & Fairest and a season bearing an average of 24 disposals, 5.5 marks and 3.2 tackles  vindicating the decision by both parties. His year in the AFL was a third-year breakout in every sense as he played in every game for his new club, becoming a staple in the midfield; and a shining light in a forgettable year for the Dees.
The Case For: By all accounts in 2014, Dom was a revelation. Taking out his red-vested game in Round 5, he averaged a massive 97 in the first half of the year and 92 for the season. With his 7 x tons for the year – the lowest of those a 111, Tyson went big often. His possession count always seemed to sit in between 20-30, with his ability to level out his scores with a high mark or tackle count a big factor in his consistent performances across the board. Not missing a game, he has already established a good sense of durability; a high ceiling; and a maturity well above his 21 years. In the middle of a tough 2015 preseason, he is raring to start season 2015 – declaring "I can't wait (for round one). This is probably the fittest I've been." In news sure to delight Dees fans and his fantasy coaches alike, his endurance has also improved this offseason as he looks to become a more rounded player.
Projected 2015 Output: By his own account, Dom is 'in a good spot to have a good year' and I tend to agree. Coming into his fourth season, he has everything going his way in his bid to continue his upward trajectory towards becoming a premium fantasy midfielder. My prediction for the young Demon is that he'll elevate his game to average in the 95-105 range, with his scope for improvement in 2015 an exciting unknown.
Loading ...
Until Next Week
Cheers for the continued support of The Next Step series – check back again this time next week for Part Three as I drill down into a diverse group of young players looking to break into the top-tier of their positions, as well as our fantasy teams.
Tell me your thoughts below, and give me some feedback on Twitter @McRathDT or help spread the word by using the hashtag #TheNextStep