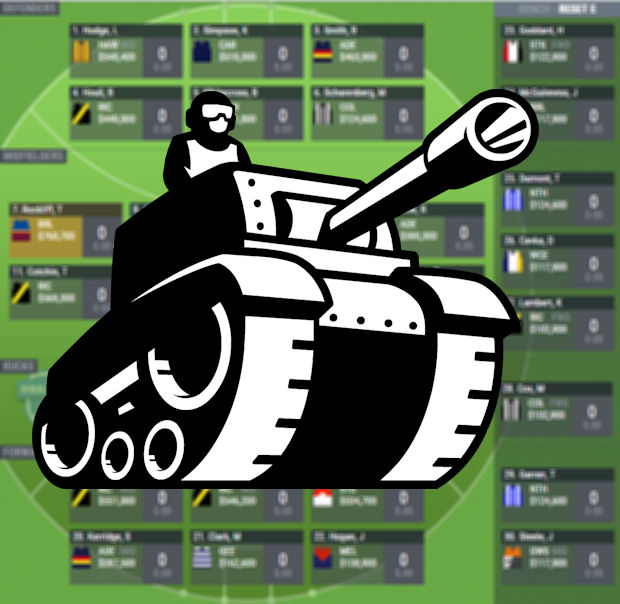 Hello all,
Hard to believe we are already in February – hope everyone had a good break over the off season.
Last year I proposed and trialled a strategy of 'tanking' round 8 (basically I selected almost all of my starting premiums from the 6 teams sharing the round 8 bye). The thinking was that by not using trades to avoid donuts during the bye rounds (ie no sideways moves based on who had the bye each week) I could concentrate on getting my team 'gunned up' quicker than most of my opposition. It meant a horrid score in the first week of the byes and an almost guaranteed loss in my league matches that week, but I won all 10 league games the next 2 weeks (as even with best 18 meaning my opponents traded and scraped to full sides, I had 22 on the park to get the best 18 scores from.) I finished runner-up in my main league (which was a highly ranked league), and ended 2014 ranked 505th overall. To me that was a success, and in 2015 I will be running the same strategy. I am mainly concerned with my league results, overall ranking I keep an eye on but it is my main league that I concentrate on. It is my opinion that it makes more sense to tank the first week of the byes, as it allows you to upgrade the second and third weeks of the byes with players who have also already had the bye.
2015 version
Bye week 1 – Hawks, Carlton, Adelaide, Lions, Tigers, Bulldogs
Bye week 2 – Swans, Pies, Suns, Freo, Bombers, Saints
Bye week 3 – Demons, Eagles, Port, Roos, Cats, Giants
It is a nice coincidence that the teams in bye week 1 include a host of the potential top players from each position as outlined below
DEF – Hodge, Simpson, Burgoyne, Jaensch, Walker, Docherty
MID – Rockliff, Lewis, Beams, Redden, Sloane, Macrae, Gibbs, Cotchin
RUC – Martin, Jacobs, Maric,
FWD – Martin, Deledio, Roughead, Zorko, Dahlhaus
There are also quite a few mid-priced options (<$350,000) available from these sides, as listed below:
DEF – Henderson, Hunt, Watson, Whitecross
MID – Whiley, Wallis, Lyons, Biggs, Rich, van Berlo
RUC – Kreuzer, Leunberger,
FWD – Lynch, Beams (Claye), Kerridge, Staker
Rookies it doesn't really matter which team they are from as hopefully they will be traded out before or during byes, generally I just go with the following bias set up (listed in order of priority) to help pick which rookie to select in my starting line-up
Playing round 1 (at least they have made the senior side)
'Likely' security (pretty hard to gauge but look at injuries and opportunities in their team)
Price (in rookies a player priced at $120k who averages 60 is a better cash cow than a rookie priced at $200k who averages 75)
Age (mature age players generally go better than raw young talent)
DPP (handy for switching side around)
So with all that in mind here is a potential LeftyDT starting squad below, please don't worry too much about the rookies I have picked at this stage at they will change no doubt,  I am also 50/50 on starting with Hodgey and may downgrade him to Docherty to free up the cash to add Newton and Brayshaw to my mids, also I will be keenly watching Biggs form during the NAB cup.
Bank: $36,800.
Obviously it is very early days and this side may (will!) change a lot depending on injuries, the good old  "superb NAB Cup form", calls of 'more midfield time" and 'had his best preseason in years', etc
What my possible team shows at this stage is that I will have 13 likely 'keepers' to start with, with 11 of those coming from the round 11 bye teams. I couldn't go past the little master GAJ for my midfield, and Buddy just seems too dangerous not to pick with his ability to belt out a monster score (particularly if Tippet starts round 1 as well this year). So that's 2 of my premo's missing in Round 12 but all the others available 12 and 13 already.
My 4 mid pricers are all round 11 bye players as well, with all likely to be close to the last upgrades in their respective positions which likely means they will all be in my side over the byes. This means that barring injuries, suspension or the dreaded general soreness, I have 11 premo's and 4 mid pricers already available for bye weeks 2 and 3 without looking at the rookies. The plan would be to try and get in at least 4 more round 11 bye premo's before round 12 so I have at least 19 gun or mid pricers for round 12 and that number climbs to 21 for round 13 (with Ablett and Buddy back after the round 12 bye) Now some may argue whether a few of my keepers are a top pick for their position, particularly my trio of Tigers in Houli, Maric and Cotchin but the Blues, Bulldogs, Lions and Demons are the first four games for the Tigers and I am pretty confident of some big fantasy scores for Richmond players over at least this period. Despite being a round 11 bye player I am avoiding Stefan Martin at this stage, I think he will be a top 5 ruck but if the Lions play him and Leuy in the same team then I expect them to share the ruck workload (and hence points). I also think Stefan is a better forward than Leuy so we may see Leuy get the lion share of the ruck duties in which case I may decide to change Maric to him and use the cash to add a better D6?
Anyway what I found last year was a lot of my opposition teams burned sideways trades through the bye weeks trying to get a competitive 18 on the park, and I was able to not only go 2 from 3 over the byes but I emerged from the trade weeks with a close to 'finished' side.
For those chasing overall ranking glory, this probably isn't the best strategy for you and you should look at as close to a 14/8/8 bye set up as you can get (I will probably put an article together next week to outline how you would go about setting this up) For those more interested in beating their mates and having bragging rights then tanking round 11 may be a strategy you wish to consider.
cheers
PLAY RDT NOW: afldreamteam.virtualsports.com.au