Jordan Lewis – Deck of DT 2015
Jordan Lewis became one of the picks of the year in 2014 after averaging 110 for the season. Has he now stepped up into the 'Fantasy Elite' status?… or was it just a fluke?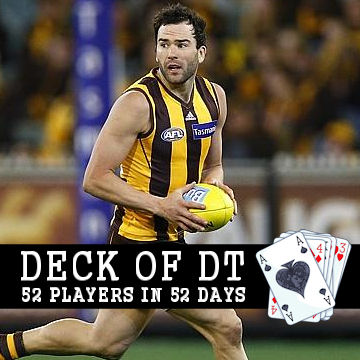 Name: Jordan Lewis
Club: Hawthorn
Position: Midfielder
AFL Fantasy: $621,000
AFL Dream Team: $618,700
Bye Round: 11
2014 Average: 109.62
2014 Games Played: 21
Predicted Average: 103
Click here for DT Live Profile.
Why should I pick him?
Jordan Lewis has continued to write himself into Hawthorn folklore for not just his footy smarts, but his unrelenting will to win. Jordan had his best year in 2014, taking out the premiers B&F with relative ease as he upped his disposal figures from 22 per game in 2013 to 27.8 touches a game last season. Quite simply, the Hawks #3 had a blinder and this well and truly correlated to his fantasy season, managing a herculean 109.6 points per game average.
Whilst the midfielders were going down left, right and centre towards the final few rounds of the season, Jordan stood up to average 129.6 in the last six fixtures. This data suggests that although 109 is nothing to sneeze at, their truly is potential to jump his average up further. Take into consideration that last season was the first season in which Lewis played simply as a ball hunter, without many defensive responsibilities. This was brought on by the injuries to the likes of Mitchell and Sewell, but given the level of his production, it's highly doubtful he'll ever be withdrawn from this role.
At the age of 28, Lewis is in the prime of his career and thus will play most if not all games barring injury in 2015. In fact over the last 5 seasons, he has only missed an average of 1.4 H&A games per season. Players winning tough inside ball generally don't come more durable than that. With the step up in his outside game (which included an additional 4.2 uncontested possessions a game), Jordan may be even less susceptible to the knocks than ever before. Selected by a measly 3.1% over on DT Live, you'll certainly have a strong differential if you stump for Lewy.
Why shouldn't I pick him?
The main issue with picking the Hawk star is that he hasn't notched up these types of premium scores consistently. Ryan Griffen, Brett Deledio and Jobe Watson are just a few of the names who haven't been able to replicate an uber premium midfield season after easily surpassing the desired threshold in one campaign, and there must be a certain level of doubt that Lewis' year wasn't simply a statistical purple patch. With the likes of Rockliff, Beams, Rich, Crouch and van Berlo all missing on that same Round 11 bye, bye structure may also need to be considered when selecting the Hawk.
A final issue that may arise with Jordan in 2015, is the tag. Given he's now an All Australian, triple premiership player, you'd suspect that there'll be more company following him around than ever before. Admittedly in the three games he did receive a tight tag this season, he managed scores of 66 (Hocking), 120 (Curren) and 122 (Carrazzo), which at this early stage suggests he may have the necessary tools to deal with the added attention.
Deck of DT Rating.
KING- Lewis is unfortunate to miss out on the ACE rating, but if he can back up his blinding stats in 2015, by this time next year there'll be no question of his rating! To pick or avoid Jordan should come down to one, simple question. Why is Lewis, valued at over 600k in both comps, a better pick than the other, more consistent premiums around his price range? Find a strong reason, for or against, and back it to the hilt. At this stage I'll look to upgrade to him after the bye, and hope that he can finish exactly how he did last year!
Loading ...
FOLLOW ME ON TWITTER: @b_gogos for all thing AFL Fantasy (and more). Got something to say about the deck? Use the hashtag… #DeckofDT.