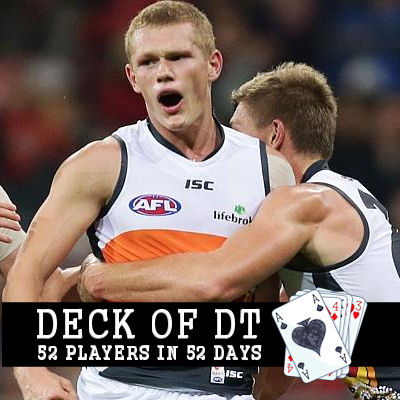 Name: Adam Treloar
Club: GWS Giants
Position: Midfield
AFL Fantasy: $586,000
AFL Dream Team: $583,900
Bye Round: Round 13
2014 Average:  103.5
2014 Games Played: 20
Predicted Average: 109.0
Click here for DT Live Profile.
Why should I pick him?
Adam Treloar is close to, if not, the best young midfielder in the AFL; only truly rivalled by Jaeger O'Meara. That's not an just an opinion; it's backed up by statistics.
From Treloar's intake year (2012), only Toby Greene comes close to averaging what Treloar has averaged over the past three seasons, with Treloar averaging 91.63pts from 58 games. In the early years, when career stats aren't supposed to be impressive, Treloar is ranked ahead of Greene (91.03pts), Tom Mitchell (88.93), Dylan Shiel (81.35), Stephen Coniglio (80.38) and Devon Smith (79.05) for best scoring new players from that year. O'Meara (2013 intake) comes close with an average of 90.90 from 44 games, approximately 5pts more on average than Treloar to the same point.
For total games played, Treloar is only behind Ellis (63), Wingard (62) and Smith (59), however he has played more minutes than any of them, with Ellis (9), Wingard (7), and Smith (2) all having vest affected games. Amazingly, for a young modern era player, Treloar has never been in a green or red vest.
Now at 58 games, in his first 50 games Treloar has had more 30+ disposal games than Ablett Jnr, Pendelbury, Watson, Dangerfield, Kennedy (Syd) and Judd; combined. He also averaged more possessions than any of them over the same period of time. In fact, when comparing him to established players, only Joel Selwood comes close to what Treloar is producing as a midfielder in his first three years; with Selwood playing three more games in his first three years, and averaging just 2.11pts more than him. This is the company that Treloar keeps.
Treloar has the high ceiling you want from a premium, with a career best 159pts against Melbourne (in the rain) last year. He is also consistent; ranked 6th in the league by Champion Data from players who played more than ten games. With 30% of his scores last year over 115 points and only three scores below 91pts, it means good things. Two of his low scores came early in the year, against St Kilda (69pts / Round 2) and Adelaide (68pts / Round 5) and his lowest thereafter against North Melbourne (84pts / Round 20) would still be acceptable as a lower end score. If you remove these three scores, he would have averaged 108.7 last season.
Loading ...
Treloar, like all Giants, also has the round 13 bye. This means he can be there, scoring you points, when most other midfield guns are going missing. The 17th most expensive midfielder for 2015, Treloar had a better fantasy output in 2014 than common favourites Nat Fyfe, Bryce Gibbs, Trent Cotchin & Brent Stanton and this alone can justify his position in your team. If that's not enough, he'll also be a unique alternative to those willing to take the rollercoaster of those aforementioned players: he is currently in only 3.6% of AFL Fantasy teams.
Why shouldn't I pick him?
Let's be honest; tactics or favouritism. They would be the only two acceptable reasons to not pick Treloar.
On Tactics
Instead of Treloar, you may want a mid-price player who has been discounted (like Tom Mitchell / -$154,000) even if his place in the Sydney team is questionable. Maybe you want a more proven player around the same price (like Jobe Watson / +$3,000) even if, well, Essendon and ASADA and all that. You may prefer a Dual Position Player (like Dustin Martin / -$33,000) in your midfield instead of Adam, even if Dusty is a little up and down throughout the season (if not the match). Finally you don't pick him because you want a very hard-line Guns and Rookies strategy; picking only uber-premiums (like Scott Pendlebury / +$31,000), even if it means taking risks with the cheapest of the rookies.
But really, those options aren't anything other than tactical reasons not to pick him.
On Favouritism
Oliver Wines, Jaeger O'Meara, Dion Prestia or Toby Greene may be your preferred young midfielder option – if tactically you've decided you're having one. Maybe you like O'Meara's hairstyle or Greene's swagger better? Only favouritism, which includes a 'break-out' gut feel or a preference for up and down scores would justify any of these players over Treloar. Statistically, Treloar is the better option for 2015.
Other Concerns?
His lowest scoring year was his debut season, where he averaged 81.6pts from 18 games, and he backed that up the following year with an 88.9pt average from 20 games. He lifted that average by 15pts last year and should look to lift it again.
He is yet to play a full season, however this has been simply coaches managing his workload and managing minor niggles. Leon Cameron would be looking to Treloar to play all possible games this year.
He could be tagged, but he isn't the most damaging Giant by foot, nor the most influential midfielder, and if he is tagged, he'll win the contested ball anyway. Last year Treloar ranked equal 11th of all AFL players for average contested possessions and equal 16th in the AFL for average clearances.
The addition of Ryan Griffen won't mean he will get less of the ball. It will mean he attracts less attention from the opposition at clearances, meaning he can utilize his outside pace to win the ball; he ranked equal 45th in the league for average uncontested possessions in 2014.
If you are worried he won't play in the guts, from a tactical point of view, Treloar can play inside or outside, and ranks well across the AFL for both Inside 50s and Rebound 50s. Put simply; he can play anywhere without it affecting his scoring. Champion Data ranks him Elite (in the top 10% of all midfielders) for disposals, contested possessions, clearances and ground-ball gets.
Whatever downside you think of; Treloar provides an answer. Oh yeah, and he is still only getting started: he turns 22 in March.
Deck of DT Rating.
KING – We are so close to an ACE here. Not having scored 100+ for more than the one season (due to age) and two scores under 70 last year are the only things holding me back (possibly harshly) from assigning Treloar the converted ACE status. And that'll likely come this time next year.
Treloar is a set and forget type player, similar to a young Joel Selwood or Scott Pendlebury. He can find the ball and find you points and you will rarely ever have to worry that he would do anything else. Lock.
FOLLOW ME ON TWITTER: @RLGriffinGWS for all thing AFL Fantasy (and more). Got something to say about the deck? Use the hashtag… #DeckofDT.