Daniel's Dilemma: Run Home
As the season rapidly approaches an end, Daniel reviews the teams and players that have the most appealing upcoming draw for you to stake a late claim in the Fantasy rankings.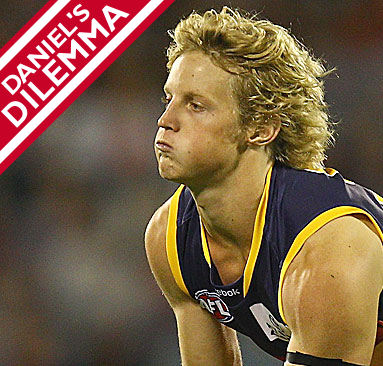 Welcome back to Daniel's Dilemma! Another week, another dilemma and league positions and overall rankings are inevitably taking place. With only a handful of rounds remaining before coaches' start becoming serious about prizes and bragging rights, this week's article will be focused around the teams and players that have the best draw as the year concludes.
After weeks of many heart breaking twists and turns and endless injury uncertainties, coaches can finally rejoice the impressive scores that are forthcoming recently. Some coaches broke personal records, some were just happy to select Tom Rockliff as captain who scored a huge 190 points on Saturday afternoon. Rockliff has been truly been a master in the midfield and this has led to him acquiring the title of DT 'Pig' for his stellar form.
Though dwelling on great scores from the previous weekend will not necessarily mean you become triumphant in your league or secure a spot in the top 1,000, as many coaches seem to forget there is no prize for coming second in Fantasy.
So to move on from a great weekend, we must focus on the new problems and headaches that confront us this week.
We now find ourselves at the business end of the year, where picking a player who plays for a team that has a comfortable end to the year may be the difference between 9th and top 8 on the ladder.
After some research and number crunching, I have found 3 teams that have a highly fancied draw and key players for each squad that could turn around what should have been a stellar season for your Fantasy team.
Adelaide

In the next 4 weeks, the Crows have a draw that could potentially interest you in a few of their squad members.
This week they play West Coast at Adelaide Oval, followed by Brisbane Lions, Richmond and North Melbourne.
In recent encounters, it is noted that Scott Thompson and Brodie Smith generally rally together to produce impressive fantasy scores.
Seemingly, the Crows have relied upon both Thompson and Rory Sloane this year as high fantasy scorers, averaging 95.5 and 102.2 respectively.
With Adelaide relatively easy draw and good scoring midfielders, it is suggested that you look into acquiring the above mentioned players into your team.
Why?
Excluding the great form both Sloane and Thompson are in, they have a good record against all four teams and average very highly in the run home to the finals.
Since 2012, Thompson has averaged 110.5 against the Lions, 95 points when playing North Melbourne, a stellar 116.5 in opposition to Richmond and 105.3 against West Coast!
Sloane also has a decent record against these teams, but generally falls short due to a tag or ground preference. Sloane averages 98.25 against North Melbourne, where he should have a chance to roam free at Hobart.
Sloane also averaged 100.75 in his last four games last year, indicating that this will to gather more DT points may continue as the season ends.
Thompson on the other hand, averaged 99.25 at the end of last year though this was halted by a 51 that he scored in Round 18 consequent of an injury in the second quarter.
In 2012, Thompson recorded a 92.75 average that was also harshly inflicted by a Crowley tag that saw him score only 62.
Essendon
The Bombers started the year like a house on fire, complete with smoke and high scoring fantasy midfielders that were picking up cheap possession left, right and centre.
Even though this for has eased off, Essendon can find themselves reproducing the numbers recorded earlier in the year with an easy draw approaching them.
Sydney, Richmond, West Coast and Gold Coast are the teams that stand in the way of Fantasy coaches jumping on the bombers midfielders. But the form that Dyson Heppell and Brent Stanton are in is just too hard to ignore.
Averaging 106.6 and 104.8 so far this season respectively, Heppell and Stanton can make strong cases to be traded into your side.
Out of the four teams mentioned above, Heppell averages an impressive 102 against Sydney and 97.5 against Gold Coast since 2012.
Though Heppell only averaged a measly 85.6 in the last four games in 2013.
Unlike Heppell though, Stanton manages to find his career best form coming into the business end of the season averaging 101.5 last year. This includes a whopping 149 v Richmond in Round 23!
Stanton also averages 107.6 when playing Sydney, a huge 114.3 against West Coast, 98 v Gold Coast and a whopping 121.2 against Richmond.
These players may provide you with a point of difference that could turn invaluable as the season ends.
Collingwood
Last but not least, Collingwood squeeze onto my list as the pies midfielders seek a spot in a position full of stars.
Scott Pendlebury and Steele Sidebottom manage to steal the show as the two highest averaging players for Collingwood at present.
Averaging 110.3 and 106.8 respectively, both players present a headache of selection towards you depending if you decide to stick your neck out and go for gold.
Obviously, Pendlebury is a class midfielder and is widely regarded as one of the best midfielders in the AFL. Though, despite his enormous scores and willingness around the footy, coaches have turned to a more reliable source of points this season.
With reliability however comes common selection which ends up with some coaches finding it hard to overcome an opponent or break into the top 1,000 with a very similar line up to the next player one spot above them.
That is why the focus will be applied on Sidebottom, who carries with him an owner percentage of only 1.63%.
Sidebottom averaged 90.5 in 2013 and 96.5 in 2012 as the year rapidly approached an end and finals spots were being finalised.
Against the upcoming opponents of Port Adelaide, West Coast, Brisbane and GWS, Sidebottom has averaged 100.6 against the Power, 99.6 against the Eagles, an impressive 115 against the Lions and 143 against GWS though only playing them once since 2012.
With the season end just around the corner, closely looking at these players without carelessly brushing them off could be a chance to see improvement in your side, especially as some coaches are currently finding themselves in a spot of bother in their respective league or ranking.
Take a chance a put your faith into one of the above mentioned players, as the risk could be great than the reward with only 5 rounds remaining before we say good-bye to another unpredictable Fantasy year.