Fantasy Good Food Guide
Which teams are pigging out, and which teams are setting up an all-you-can-eat-smorgasbord for their opposition? Find out here. Nix tells you which teams have upcoming bookings at the best nosheries …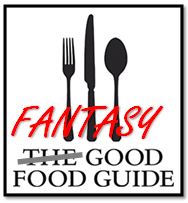 So I trade out Watson.  I decide S.Johnson is going to go so big against the Saints that he will get his BE.  I bring him in; he's going to go so big I make him captain.  I've got Beams as well.  I decide to hold Polec and Hallahan on the bench even though they are not playing.  What could possibly go wrong?
Anyway enough about my trauma, let's look at where the points fell last round.
Round Review
As the following graph shows the total amount of points available was slightly less than average.  But at least it was better than the previous week.
There were above average hundreds scored.  So many fantasy coaches had good scores.  Although others were effected by donuts or various bad scores from premium players.
Some points of interest from individual games:
Richmond scored 330 fantasy points more than Freo, but didn't look like winning the game.
Geelong got 60% of the points in their game, 620 more than St.Kilda who had the 3rd lowest team total of the year.  [Warning to fellow SJ captainers: don't start thinking about what he would have scored if he played].
Fantasy For and Against Tables
The updated table of average fantasy points scored and conceded by each team is below.
Some points of interest on the Points For side:
Fremantle lasted only 1 week in the green group, and fell back to middle of the table.
Collingwood and Geelong moved into the green group, Fremantle and North Melbourne came out.
Essendon, Fremantle and Gold Coast are the teams whose points are most different to their AFL ladder position.
Hawthorn, Port and Sydney, Geelong, and Collingwood are solid at head of table, and well represented in many fantasy teams.
Brisbane and St.Kilda remain at the bottom.
Some points of interest on the Points Against side:
St.Kilda and Brisbane still concede most points, and over 5 hundreds a game.
West Coast, GWS and North are the next 3.
Carlton, Hawthon and Geelong are the least generous teams.
Do we need a Doggie Bag or a Packed Lunch?
So which premiums should we bring in that will go straight to the head of the table and start carving?  Also which of our non-keeper players with questionable appetites might struggle when faced with a few weeks of slimmer pickings?
The following table shows which teams are likely to get extra (or less) points compared to if they played the average team.
This has changed a bit this week.  Some points of interest:
All the highest scoring teams (green teams) are in the bottom half of the table.  Port, Essendon and Collingwood are at the very bottom.
Freo, Richmond, North and West Coast have the best runs.
Collingwood is still at the bottom of the table.
Richmond, North, Geelong, Hawthorn  and Sydney are best placed of the teams with a lot of fantasy relevant players.
These projections are applicable to both AFLFantasy and RDT.  However, Fantasy coaches are more able to take advantage of changing player scoring levels, and subsequent price changes, simply because they have more trades to exploit the situation.
The Long View
For the extended analysis for the rest of the year and the finals see the table below.
Some points of interest:
Adelaide is at the top with the best percentages of any team.
Collingwood, Bulldogs, Geelong, Essendon and Sydney are all in the upper middle part of the table. This is good news for coaches as a lot of fantasy relevant players come from these teams.
Port, North, Freo and Hawthorn are towards the bottom; this may be a concern for some coaches.
Be aware of the cautionary comment below about the Fantasy Finals games
Caution – different selection behaviour in Fantasy Finals
In previous years we've seen team dynamics take over and influence player selections in the last few fantasy finals rounds, for example:
Teams battling to get into AFL Finals, or a more favourable spot, will be going flat out and play their best team.
But
Teams with a secure spot in the AFL Finals are likely to rest star players.  This tactic appears to have benefited Hawthorn and Freo in past years so we should see it repeated, particularly if playing away and players would have to fly interstate.
Teams lower down ladder and outside of AFL Finals contention will play their kids, send star players for early surgery and give club veterans farewell games.
So in my view the team scoring percentage methodology that is the basis of this article will be more reliable and useful in the rounds leading up to the finals, than in the last few rounds of the fantasy finals.
That's it for this week.  Please make comments below or hit me up on twitter @NixTrader.
Buon appetito
Psst … Trade Tip (for those who bother to read to the very bottom)
One of the reasons I risked no midfield cover last round was because I wanted to get Stephan Martin as soon as possible.  I haven't heard it mentioned elsewhere but when Martin was at Melbourne a couple of years ago he was called on to be sole ruck for a long spell when their main rucks (Jamar et al) were all injured.  He did very well averaging over 90 pts for most of the season.  He likes playing sole ruck and just keeps getting into the game.  Brisbane aren't going to win games and no one is going to worry about Martin running around picking up fantasy points as he isn't going to turn the game.  His scoring held up against Mumford last week so I think he will keep scoring well against any opposition team ruck.
I bought him in last week and started him on ground ahead of Walker.  I expect him to be a top 6 forward with the added bonus of DPP to ruck in an emergency, plus he is the price of a bench player at present.  I'm happy with my current ruck combo of Sandi and Lobbe, so Martin will be a forward for me for a while.  Just keep it to yourself tho …