DT Medical Room: Pre-season Edition
Welcome to the new DT Medical Room for 2014! In this pre-season edition, DiscoDC covers all you need to know from each club leading into round one so that you're making the right choices for your fantasy squads.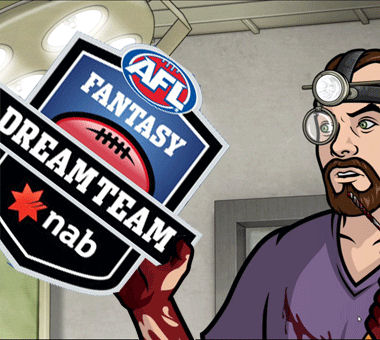 Greetings, Salutations and welcome to all new DT Medical Room for 2014!
This will serve as your weekly round-up of injuries across the AFL, some hopefully more realistic timeframes for returning from injury than AFL medical rooms have provided in the past (looking your way Pendlebury's cracked tibia!) and some fantasy options to manage our troops.
This special preseason edition however will be the round up of the health of all lists post NAB Challenge & some viable options for your Rd 1 side.
Let's get into it. Be gentle, it's my first time…
ADELAIDE
The pride of South Australia has a few injuries to some vital cogs in the machine down at West Lakes.  Ricky Henderson's broken fibula will see him out for a couple of months, does Matthew Jaensch ($310,400) become a viable option after averaging 83 points across the NAB games in the back half?
The final practice match across the weekend proved to be costly for the Crows with Tom Lynch dislocating his shoulder, Andy Otten injuring his knee & Richard Douglas coping a nasty knee to the groin that left him hospitalized. All but Lynch are expected to available for Round 1
Nathan Van Berlo's freak Achilles rupture will see him out for at least 6 months, potentially 12 which is the standard with Achilles ruptures despite Adelaide's optimism (source). Has Matt Crouch ($203,200) done enough to earn NVB's spot come Rd 1? Recent comments from Adelaide football luminaries suggest he may need some seasoning in the SANFL.
FULL LIST:
Ricky Henderson – 4-5 months (Broken Fibula)         Brett Reilly- 2 weeks (Shoulder)
Nathan Van Berlo – 5-6 months (Achilles)                     Taylor Walker- 2-4 months (ACL)
Tom Lynch- TBA (Shoulder)                                                 Andy Otten- TBA (Shoulder)
Richard Douglas- TBA (Groin)                                            Sam Shaw- TBA (Hamstring tightness)
BRISBANE
Lewis Taylor ($189,700) & Darcy Gardiner ($206,000) are the only fantasy relevant injury concerns out of the Gabba, but with both unsighted during the NAB series a Rd 1 berth was always unlikely. There were some concerns preseason about Tom Rockliff ($558,800) & his back but his 130 points in NAB2 should ease any concerns there. #Lockliff
Preseason placeholder Claye Beams has suffered a foot injury. He will get scans but is certainly ruled out for Rd 1.
Perennial last pick in Draft leagues Jonathan Brown ($347,200) continues his recovery from becoming more metal than man and is listed as a test. I can only assume that test is to go back in time to prevent the rise of Skynet.
FULL LIST
Jonathan Brown- Test (foot)                      Darcy Gardiner- 4 weeks (foot)
Stefan Martin- 3 weeks (back)                   Ash McGrath- 3 weeks (calf)
Brent Staker- 3 weeks (calf)                        Lewis Taylor- Test (foot)
Claye Beams- TBC (Foot)
CARLTON
The big preseason injury news out of the Navy Blues is of course Dale Thomas ($346,000). He had 70 points from 66% TOG in his one NAB hitout. Is that enough to convince you his ankles are no longer made from Swarvoski crystal and that he'll be back to his damaging best of 2010? Can you ignore his value? Only time will tell.
Chris Judd's ($443,800) Achilles has undergone surgery and is expected to return within 4-6 weeks however age is not on his side when it comes to Achilles. What effect will this have in terms of extra attention for Marc Murphy ($463,500)?
FULL LIST
Andrew Carazzo- 4 weeks (Calf)                                Sam Docherty – 2-3 weeks (Quad)
Lachie Henderson- 1-2 weeks (Groin)                     Chris Judd- 4-6 weeks (Achilles)
COLLINGWOOD
A preseason injury list almost as big as the football department's spending budget is a problem for the Magpies leading up to Rd 1.
Seedsman will hurt those who had him as a left field POD, while the injuries to Broomhead, Scharenberg & Karnezis/Karjezus will force us to look elsewhere for value picks come Rd 1. Look for Scharenberg to be wrapped in cottonwool until he's ready to go, potentially a late year downgrade target (source).
Dane Swan ($636,600) didn't appear to be hampered at all by his off season wrist surgery and we all know His Lord Pigliness has little regard for February action. Lock and Load.
FULL LIST
Jarryd Blair- 1-2 weeks (Toe)                                    Tim Broomhead- 3-4 weeks (Hand)
Sam Dwyer- 2 weeks (Groin)                                      Nathan Freeman- 4-5 weeks (Hamstring)
Patrick Karnezis- 5 weeks (Groin)                           Adam Oxley- 4-6 weeks (Ankle)
Matthew Scharenberg- 12 weeks (Feet)                 Paul Seedsman- 5 weeks (Hip)
Josh Thomas- 2 weeks (Knee)                                    Alan Toovey- Test (Knee)
ESSENDON
Michael Hibberd. Well that was a kick in the crotch wasn't it? Pencilled in by many (including Warnie!) as a consistently scoring option in defence. He went down with a hamstring injury in NAB 2 scoring only 35 points along with career hamstring destroyer Jason Winderlich in the same game. Both a questionable for a Rd 1 berth (source).
Bellchambers' ($399,900) ankle injury potentially opens up more ruck time for Patrick Ryder ($444,100) but there are better value options out there.
FULL LIST
Tom Bellchambers- 4-6 weeks (Ankle)                   Alex Browne – Season (Knee)
Michael Hibberd- TBC (Hamstring)                         Jason Winderlich – TBC (Hamstring)
FREMANTLE
Garrick Ibbotson ($500,300) is still 2-3 weeks away with his surgically repaired Achilles and his non-participation in the NAB series means a line must be put through him until he can string some games together.
Bradley, Clarke & Griffin are all on the mend but unlikely to put pressure on Sandilands ($244,500) who appears to rid himself of his Turf Toe issues and locked up R2 at minimum in most sides.
Some looked at Scott Gumbleton ($280,400) as a value forward pick but cross him off after another hamstring mishap.
FULL LIST:
Kepler Bradley – 2-3 weeks (knee)                            Zac Clarke- 2-3 weeks (Knee)
Jonathon Griffin- TBC (Knee)                                      Scott Gumbelton- 12 weeks (Hamstring)
Garrick Ibbotson- 2-3 weeks (Achilles)                   Anthony Morabito- TBC (Knee)
Alex Silvagni- Test (Ankle)
GEELONG
Joel Selwood ($576,700) is the big one here. Scans have revealed "barely" a Grade 1 hamstring strain sustained in the final quarter of the clash with Melbourne but he is expected to play Rd 1 against North Melbourne. Between this & the moon boot seen early in the preseason, there is better value elsewhere. Nick Maxwell may want to look for a sponsorship deal with Jawbreakers after obliterating young George Burbury's mandible & Nathan Vardy is done for the season. Can Hamish McIntosh ($344,700) gain the ascendency?
FULL LIST:
George Burbury- 6 weeks (Jaw)                                Allen Christensen – 12 weeks (back)
Shane Kersten- Test (back)                                         Daniel Menzel- Indefinite (knee)
Steven Motlop- 5-7 weeks (knee)                             Jordan Murdoch- test (back)
Joel Selwood- TBC (Hamstring)                                Jesse Stringer- test (hamstring)
Nathan Vardy- Season (ACL)
GOLD COAST
Gary Ablett ($621,200) is listed as a test for a calf, which has troubled him in the past, but have no fear and lock him in. He looks like he's going to pick up where he left off from last year straight away.
Nathan Bock was unsighted during the NAB challenge series, and should be struck off your watchlist.
FULL LIST:
Gary Ablett Jr- Test (calf)                           Nathan Bock- TBC (Leg)
Jack Hutchins- TBC (back)                         Leigh Osborne- Ankle (TBC)
Zac Smith- Indefinite (knee)                       Seb Tape – Test (Hamstring)
Rory Thompson- Test (Hip)
GWS
Jed Lamb ($243,400) appears to have overcome his injury worries, settled in at the Giants and has likely secured his Rd 1 berth. Must be considered.
FULL LIST:
Stephen Coniglio- Test (concussion)                        Tim Mohr- 5 weeks (Foot)
Sam Schulz – 9 weeks (shoulder)
HAWTHORN
Mostly clean bill of health down at Waverley Park. Big news over the past week was the Hawks decision to mothball livewire Dayle Garlett ($162,600) due to personal reasons. Keep on an eye on him across the season, he is too talented not to get a run when everything is going his way.
FULL LIST
Jed Anderson- 3 weeks (Pneumonia)                     Brendan Whitecross- Indefinite (ACL)
Ryan Schoenmakers- 2-4 weeks (knee)
MELBOURNE
Mitch Clark ($213,300) was on a lot of preseason watch lists but a hamstring injury kept him out of the NAB series and will make him extremely unlikely for Rd 1. Durability has always been his issue so you would want to see him and the glass slippers he calls feet to string together a couple of games before you draft him into your forward line. Wait and see.
As if things weren't bad enough in the big man stocks, young gun in waiting Jesse Hogan has been ruled out indefinitely with stress fractures in his lower back. Look for the Demons medical team to use the kid gloves and take a conservative approach.
Recruit Aiden Riley has also been placed on the long term injury list.
FULL LIST:
Mitch Clark- 2-3 weeks (hamstring)                         Chris Dawes- Test (calf)
Colin Garland – 2-4 weeks (ankle)                            Cam Pederson- 1 week (hamstring)
Aidan Riley- 6 weeks (leg)                                            Luke Tapscott- 2 weeks (knee)
Jesse Hogan- Indefinite (Lower Back)
NORTH MELBOURNE
Andrew Swallow continues his slow recovery from his Achilles rupture but don't expect him to return until after the MBRs. Jack Ziebell ($513,100) appears to have left his injury worries behind and after a preseason spent slimming down and focusing on his tank, he presents as a viable POD after posting 147 points in NAB1. His 55 in NAB2, awkward price & spotty history with the match review panel suggests to look elsewhere however. As always, fortune favours the brave.
FULL LIST:
Tom Curran- Indefinite (foot)                     Taylor Garner- 6 weeks (hamstring)
Kieran Harper- 4 weeks (ankle)                 Andrew Swallow- 8-12 weeks (Achilles)
PORT ADELAIDE
Jarrod Redden doesn't scream "PICK ME DAMMIT!" but he is the only major competition for Matthew Lobbe ($439,300) and the #1 ruck spot at Port he currently holds. With a somewhat speculative pick like Lobbe, any extra time spent solidifying the top spot will be music to ears. Alipate Carlile & Jackson Trengrove should both be fit Rd 1 which will make it difficult for young Port Defender Tom Clurey ($163,500) to crack the team.
FULL LIST
Alipate Carlile- 1-2 weeks (Quad)                             Campbell Heath- 1-2 weeks (Shin)
Jarrad Redden- 5-6 weeks (Knee)                            Jay Schulz- 1-2 weeks (foot)
Jackson Trengrove- 1-2 weeks (knee)
RICHMOND
The Mighty Mullet himself, Ivan "Drago" Maric, been sent for ankle surgery this close to the season proper he will definitely miss Rd 1 and will be managed throughout the year as the Tigers look to build on last year's finals appearance.
Shaun Hampson ($294,100) immediately becomes the #1 at Richmond- do you have cajones to pick him? I certainly don't. Young defender Ben Griffiths ($135,000) becomes an option as back up ruck since Richmond has made it known they want Ty Vickery ($373,700) to become a dedicated spearhead.
Put a line through Tiger's top draft pick Ben Lennon ($233,100). He's been sent for knee surgery so look for his debut later in the season.
FULL LIST
Jake Batchelor- 1 week (calf)                     Matt Dea- 1-2 weeks (ankle)
Ben Lennon- 3-4 weeks (knee)                  Ivan Maric- 6-8 weeks (ankle)
Chris Newman- 1-2 weeks (knee)             Jack Riewoldt- Test (quad)
ST KILDA
Calvin's boy Jack Steven ($532,400), who appeared on the cusp of pushing into the uber-premium category, has been struck down with a fractured foot. Between his injury and the suspensions of Montagna & Hayes for Round 1, the debut of Luke Dunstan ($216,800) seems like a sure thing. Keep an eye out.
FULL LIST:
Sam Gilbert- 6-7 weeks (foot)                     Tom Lee- test (shoulder)
Terry Milera- 2-3 weeks (foot)                   Lewis Pierce- 7-12 weeks (back)
Jack Steven- 8-10 weeks (foot)                  Spencer White- 2-3 weeks (hamstring)
SYDNEY SWANS
Injuries to Adam Goodes & Kurt Tippett may not send shockwaves through the fantasy community, but their effect on Lance Franklin's ($426,500) output should not be underestimated. With a less than sterling showing in his only NAB game (31 points) & Sam Reid as his only foil, expect Buddy to be double or even triple teamed. Maybe look elsewhere for Round 1, potentially Jack Darling ($374,500) & Jack Gunston ($415,400) at similar price points.
FULL POINTS
Adam Goodes- 4-6 weeks (knee)                             George Hewett- 1 week (knee)
Luke Parker- 1 week (eye)                                          Kurt Tippett- 3-4 weeks (knee)
Tommy Walsh- indefinite (hamstring)
WEST COAST
Our silent guardian. Our watchful protector. Our Dark Knight. What will our fantasy sides look like without Beau Waters? It seems much like Bruce Wayne, Beau Waters (coincidence? I think not!) & his body has finally up & quit after the years of punishment this man has put himself through in service of our backline. Here's hoping he can get his body right and be a fixture once more. Whilst not on the office AFL injury list, speculation continues that Nic Natinui ($419,800) and his groins wont get up for round 1.
FULL LIST
Tom Barrass- Indefinite (hip)                      Beau Waters – TBC (shoulder)
WESTERN BULLDOGS
Ryan Griffen is listed as a test for back complaint for the bulldogs last preseason game and whilst Nathan Hrovat ($288,200) is hopeful for Round 1, Robert Murphy & his elbow are yet to resume full contact training & unlikely for Round 1.
FULL LIST
Jarrad Grant- 1-2 weeks (foot)                                   Ryan Griffen- test (back)
Nathan Hrovat- 1-2 weeks (cheekbone)                Robert Murphy- 1-2 weeks (elbow)
Clay Smith- TBC (knee)
Is there anyone we missed? Let me know in the comments below!