NAB Challenge 2014 Scores
Thanks to Chad at www.dtlive.com.au, we have a table that features all of the AFL Fantasy scores and time on ground from the NAB Challenge including points per 100m. Filter by whichever heading you would like.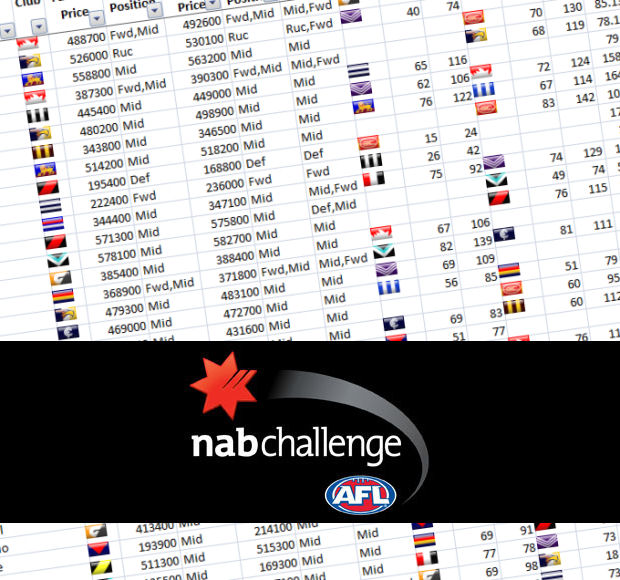 Huge thanks to Chad at www.dtlive.com.au for this table with all of the NAB Challenge scores, time on grounds and the points per 100 mins figures.
To download your own excel spreadsheet with this information with a whole lot more – including Real Dream Team prices and Ultimate Footy positions, download here: NABChallengeStats2014.xlsx
On a mobile? Click here to view in landscape on phone for best results.
| First | Last | Club | Price | Pos | NAB1 TOG% | NAB1 Score | NAB 2 TOG% | NAB 2 Score | PP100M |
| --- | --- | --- | --- | --- | --- | --- | --- | --- | --- |
| Eddie | Betts | ADE | 323200 | Fwd | 75 | 99 | | | 111.09 |
| Luke | Brown | ADE | 301700 | Def | 81 | 48 | 88 | 69 | 58.97 |
| Charlie | Cameron | ADE | 115200 | Fwd | 40 | 42 | | | 88.72 |
| Matt | Crouch | ADE | 203200 | Mid | 64 | 85 | 64 | 54 | 92.47 |
| Patrick | Dangerfield | ADE | 534700 | Fwd,Mid | 60 | 50 | 72 | 64 | 73.31 |
| Richard | Douglas | ADE | 521500 | Mid | 77 | 96 | 60 | 79 | 108.55 |
| Cameron | Ellis-Yolmen | ADE | 115200 | Mid | 70 | 55 | 68 | 45 | 61.65 |
| Mitchell | Grigg | ADE | 325200 | Mid | 86 | 51 | 72 | 77 | 68.78 |
| Kyle | Hartigan | ADE | 301100 | Def | 81 | 54 | 77 | 34 | 47.43 |
| Sam | Jacobs | ADE | 406700 | Ruc | 54 | 44 | 68 | 89 | 92.89 |
| Matthew | Jaensch | ADE | 310400 | Def | 82 | 83 | 83 | 82 | 84.92 |
| Josh | Jenkins | ADE | 350400 | Fwd | 77 | 51 | 77 | 52 | 56.69 |
| Lewis | Johnston | ADE | 349200 | Fwd | 64 | 46 | | | 59.97 |
| Sam | Kerridge | ADE | 375500 | Fwd,Mid | 59 | 57 | 74 | 49 | 67.89 |
| Jarryd | Lyons | ADE | 338800 | Fwd,Mid | 57 | 49 | 42 | 45 | 80.77 |
| David | Mackay | ADE | 364800 | Mid | 78 | 99 | 76 | 76 | 96.21 |
| Brodie | Martin | ADE | 150300 | Def | 70 | 58 | 60 | 47 | 68.54 |
| Shaun | McKernan | ADE | 332400 | Fwd,Ruc | 47 | 52 | 48 | 77 | 115.77 |
| Andy | Otten | ADE | 343900 | Def,Fwd | | | 71 | 58 | 70.45 |
| Jared | Petrenko | ADE | 287300 | Fwd | | | 52 | 56 | 92.9 |
| James | Podsiadly | ADE | 409500 | Fwd | 82 | 74 | 38 | 27 | 71.41 |
| Jason | Porplyzia | ADE | 313300 | Fwd | 23 | 40 | 74 | 92 | 116.57 |
| Ben | Rutten | ADE | 281800 | Def | | | 69 | 67 | 83.6 |
| Sam | Shaw | ADE | 197700 | Def | 78 | 60 | 81 | 63 | 65.92 |
| Rory | Sloane | ADE | 512600 | Mid | 80 | 73 | 66 | 98 | 99.69 |
| Brodie | Smith | ADE | 371600 | Def | 78 | 75 | 78 | 74 | 81.3 |
| Daniel | Talia | ADE | 249800 | Def | 90 | 50 | 75 | 45 | 48.93 |
| Luke | Thompson | ADE | 136600 | Def | 67 | 54 | | | 68 |
| Scott | Thompson | ADE | 504800 | Mid | | | 79 | 93 | 101.63 |
| Matthew | Wright | ADE | 368900 | Fwd,Mid | 82 | 139 | 81 | 111 | 130.6 |
| Jed | Adcock | BL | 451600 | Def | | | 79 | 81 | 84.29 |
| James | Aish | BL | 246600 | Mid | 70 | 66 | 71 | 60 | 75.77 |
| Claye | Beams | BL | 187400 | Mid | | | 75 | 57 | 62.51 |
| Rohan | Bewick | BL | 330300 | Fwd | 76 | 48 | | | 55.47 |
| Jordan | Bourke | BL | 115200 | Fwd | 65 | 69 | 61 | 44 | 76.17 |
| Justin | Clarke | BL | 239200 | Def | 73 | 26 | 72 | 53 | 45.98 |
| Michael | Close | BL | 156600 | Fwd | 77 | 45 | 71 | 43 | 50.49 |
| Jack | Crisp | BL | 199800 | Mid | 58 | 40 | | | 60.43 |
| Tom | Cutler | BL | 176100 | Def | 52 | 45 | 27 | 31 | 82.43 |
| Jonathan | Freeman | BL | 135500 | Fwd | 57 | 20 | | | 30.72 |
| Mitch | Golby | BL | 399600 | Def | 79 | 52 | 69 | 69 | 69.46 |
| Josh | Green | BL | 284100 | Fwd | 75 | 72 | 82 | 50 | 65.82 |
| Pearce | Hanley | BL | 463700 | Def,Mid | | | 75 | 101 | 110.77 |
| Ryan | Harwood | BL | 344800 | Def | 71 | 79 | 59 | 82 | 105.16 |
| Nicholas | Hayes | BL | 115200 | Fwd | 52 | 38 | | | 64.11 |
| Ryan | Lester | BL | 333700 | Mid | 76 | 103 | 60 | 71 | 109.04 |
| Matthew | Leuenberger | BL | 461500 | Ruc | | | 67 | 53 | 65.16 |
| Jordan | Lisle | BL | 310100 | Fwd | 89 | 33 | 74 | 54 | 45.43 |
| Matt | Maguire | BL | 347900 | Def | 85 | 55 | | | 56.64 |
| Sam | Mayes | BL | 395100 | Fwd,Mid | 77 | 80 | 81 | 73 | 82.08 |
| Luke | McGuane | BL | 302600 | Fwd | | | 90 | 55 | 50.3 |
| Daniel | McStay | BL | 197800 | Def | 77 | 41 | | | 46.49 |
| Daniel | Merrett | BL | 306400 | Def,Fwd | | | 87 | 54 | 51.16 |
| Sam | Michael | BL | 137000 | Ruc | 64 | 30 | | | 41.03 |
| Brent | Moloney | BL | 428200 | Mid | | | 60 | 95 | 129.6 |
| Zac | O'Brien | BL | 115200 | Mid | 84 | 43 | | | 44.65 |
| Marco | Paparone | BL | 226700 | Fwd | 83 | 38 | 73 | 47 | 46.33 |
| Joel | Patfull | BL | 324900 | Def | | | 76 | 73 | 79.08 |
| James | Polkinghorne | BL | 297600 | Mid | 79 | 48 | | | 53.22 |
| Andrew | Raines | BL | 265000 | Mid | 59 | 13 | | | 19.33 |
| Jack | Redden | BL | 514200 | Mid | | | 83 | 142 | 140.18 |
| Daniel | Rich | BL | 365500 | Mid | | | 75 | 71 | 77.87 |
| Nick | Robertson | BL | 173400 | Mid | 59 | 48 | 33 | 48 | 89.4 |
| Tom | Rockliff | BL | 558800 | Mid | | | 70 | 130 | 152.71 |
| Patrick | Wearden | BL | 115200 | Fwd,Mid | 47 | 42 | | | 78.59 |
| Trent | West | BL | 301800 | Ruc | 64 | 30 | 63 | 60 | 60.19 |
| Dayne | Zorko | BL | 400100 | Fwd,Mid | 51 | 58 | 67 | 90 | 106.07 |
| Dennis | Armfield | CAR | 305700 | Fwd,Mid | 50 | 14 | | | 23.06 |
| Tom | Bell | CAR | 277600 | Mid | 68 | 87 | 73 | 66 | 91.95 |
| Josh | Bootsma | CAR | 182800 | Def | 67 | 35 | 76 | 51 | 51.02 |
| Dylan | Buckley | CAR | 135500 | Mid | 78 | 53 | 75 | 52 | 58.01 |
| Jaryd | Cachia | CAR | 355800 | Mid | 66 | 82 | 80 | 53 | 78.38 |
| Levi | Casboult | CAR | 290000 | Fwd | 79 | 38 | 69 | 40 | 44.54 |
| Patrick | Cripps | CAR | 230300 | Mid | 46 | 38 | 46 | 63 | 93.1 |
| Ed | Curnow | CAR | 395400 | Mid | 83 | 36 | 85 | 78 | 57.47 |
| David | Ellard | CAR | 224100 | Mid | 71 | 83 | 84 | 86 | 92.2 |
| Andrejs | Everitt | CAR | 325500 | Def | 89 | 84 | 87 | 69 | 73.52 |
| Jeff | Garlett | CAR | 386200 | Fwd | | | 71 | 50 | 60.73 |
| Bryce | Gibbs | CAR | 481500 | Mid | 73 | 52 | 51 | 87 | 94.24 |
| Nicholas | Graham | CAR | 185400 | Mid | 33 | 43 | | | 109.14 |
| Michael | Jamison | CAR | 258700 | Def | | | 78 | 46 | 50.87 |
| Matthew | Kreuzer | CAR | 469200 | Ruc | | | 64 | 51 | 68.69 |
| Kane | Lucas | CAR | 377500 | Mid | 57 | 34 | | | 49.77 |
| Andrew | McInnes | CAR | 234500 | Def | 76 | 36 | 84 | 35 | 37.49 |
| Brock | McLean | CAR | 469000 | Mid | 56 | 85 | 51 | 79 | 129.77 |
| Troy | Menzel | CAR | 227300 | Fwd | 76 | 49 | 72 | 37 | 48.97 |
| Marc | Murphy | CAR | 463500 | Mid | 77 | 61 | 74 | 95 | 87.45 |
| Mitch | Robinson | CAR | 411600 | Fwd,Mid | 71 | 81 | 69 | 68 | 90.11 |
| Sam | Rowe | CAR | 305100 | Fwd,Ruc | 87 | 25 | 59 | 4 | 16.75 |
| Heath | Scotland | CAR | 443500 | Def | | | 48 | 59 | 106.34 |
| Kade | Simpson | CAR | 461900 | Def | | | 80 | 71 | 76.26 |
| Dale | Thomas | CAR | 346400 | Mid | | | 66 | 70 | 91.58 |
| Zach | Tuohy | CAR | 284800 | Def | 63 | 46 | | | 60.97 |
| Jarrad | Waite | CAR | 372600 | Fwd | 80 | 25 | 53 | 27 | 33.02 |
| Andrew | Walker | CAR | 470000 | Def | 63 | 58 | | | 76.87 |
| Robert | Warnock | CAR | 381600 | Ruc | 64 | 42 | | | 54.85 |
| Matthew | Watson | CAR | 223900 | Def | 89 | 56 | 77 | 46 | 51.95 |
| Cameron | Wood | CAR | 285300 | Ruc | 56 | 53 | 69 | 74 | 86.2 |
| Chris | Yarran | CAR | 329200 | Fwd | 78 | 53 | 64 | 52 | 62.46 |
| Taylor | Adams | COL | 445400 | Mid | 65 | 116 | | | 146.65 |
| Tony | Armstrong | COL | 248000 | Def | 83 | 70 | 62 | 20 | 51.39 |
| Luke | Ball | COL | 518500 | Mid | 84 | 89 | 70 | 91 | 96.99 |
| Dayne | Beams | COL | 498800 | Mid | 88 | 115 | | | 107.37 |
| Tim | Broomhead | COL | 184300 | Fwd | 21 | 14 | | | 55.25 |
| Marty | Clarke | COL | 335300 | Def | 84 | 53 | 78 | 45 | 50.17 |
| Travis | Cloke | COL | 502200 | Fwd | 68 | 40 | 80 | 58 | 54.97 |
| Jamie | Elliott | COL | 366300 | Fwd | 62 | 100 | 87 | 85 | 103.17 |
| Alex | Fasolo | COL | 208400 | Fwd | | | 72 | 41 | 47.45 |
| Nathan | Freeman | COL | 238500 | Mid | 33 | 34 | | | 84.77 |
| Jack | Frost | COL | 173000 | Def | 95 | 38 | 54 | 33 | 39.41 |
| Tyson | Goldsack | COL | 304400 | Def | | | 53 | 15 | 23.73 |
| Brodie | Grundy | COL | 335500 | Ruc | 83 | 74 | 55 | 24 | 58.86 |
| Nathan | J. Brown | COL | 211900 | Def | | | 77 | 19 | 20.59 |
| Lachlan | Keeffe | COL | 265600 | Def | 47 | 8 | 82 | 25 | 21.27 |
| Ben | Kennedy | COL | 248000 | Fwd | 84 | 74 | 83 | 48 | 60.6 |
| Tom | Langdon | COL | 135500 | Def,Mid | 84 | 43 | 69 | 52 | 51.5 |
| Heritier | Lumumba | COL | 475400 | Def,Mid | 87 | 83 | 82 | 49 | 64.84 |
| Quinten | Lynch | COL | 361300 | Fwd | 96 | 73 | 84 | 36 | 50.18 |
| Brent | Macaffer | COL | 359300 | Mid | 92 | 90 | 78 | 80 | 82.85 |
| Jonathon | Marsh | COL | 135500 | Fwd | 0 | 5 | 31 | 25 | 80.43 |
| Nick | Maxwell | COL | 352000 | Def | 93 | 27 | | | 23.86 |
| Caolan | Mooney | COL | 135500 | Fwd | | | 79 | 53 | 56.23 |
| Scott | Pendlebury | COL | 611200 | Mid | 64 | 98 | 83 | 104 | 114.06 |
| Jackson | Ramsay | COL | 142800 | Def | 30 | 74 | 62 | 45 | 107.8 |
| Ben | Reid | COL | 387700 | Def,Fwd | | | 73 | 73 | 83.75 |
| Steele | Sidebottom | COL | 523000 | Mid | 85 | 117 | 80 | 71 | 94.42 |
| Dane | Swan | COL | 636600 | Mid | | | 73 | 80 | 91.79 |
| Jesse | White | COL | 336000 | Fwd | 56 | 64 | 77 | 65 | 80.55 |
| Marley | Williams | COL | 385900 | Def | 89 | 57 | | | 52.66 |
| Peter | Yagmoor | COL | 135500 | Def | 86 | 46 | 22 | 11 | 43.45 |
| Clinton | Young | COL | 218300 | Mid | 32 | 35 | 73 | 60 | 75.31 |
| Jason | Ashby | ESS | 152000 | Def | 88 | 72 | 50 | 23 | 59.59 |
| Kurt | Aylett | ESS | 135500 | Def | 45 | 23 | | | 44 |
| Mark | Baguley | ESS | 360300 | Def | 84 | 59 | 77 | 47 | 57.14 |
| Alex | Browne | ESS | 195400 | Def | 15 | 24 | | | 138.81 |
| Jake | Carlisle | ESS | 360000 | Def | 86 | 75 | | | 74.9 |
| Paul | Chapman | ESS | 403800 | Fwd,Mid | | | 76 | 77 | 89.03 |
| Travis | Colyer | ESS | 269900 | Mid | 56 | 39 | 70 | 71 | 75.79 |
| Joe | Daniher | ESS | 249700 | Fwd | 86 | 43 | 74 | 65 | 58.55 |
| Cory | Dell'Olio | ESS | 264000 | Fwd | 73 | 47 | | | 54.97 |
| Dustin | Fletcher | ESS | 318900 | Def | | | 81 | 51 | 55.25 |
| Martin | Gleeson | ESS | 115200 | Mid | 64 | 68 | 83 | 43 | 65.59 |
| Brendon | Goddard | ESS | 571300 | Mid | | | 49 | 74 | 133.14 |
| Kyle | Hardingham | ESS | 301900 | Def | 70 | 61 | 74 | 49 | 65.99 |
| Dyson | Heppell | ESS | 514900 | Mid | 80 | 70 | 82 | 104 | 93.27 |
| Michael | Hibberd | ESS | 472300 | Def | 81 | 108 | 35 | 35 | 106.53 |
| Heath | Hocking | ESS | 388000 | Mid | 79 | 52 | 73 | 64 | 66.18 |
| Cale | Hooker | ESS | 390700 | Def | 94 | 60 | 87 | 36 | 46.03 |
| Ben | Howlett | ESS | 405900 | Fwd,Mid | 66 | 103 | 74 | 59 | 100.45 |
| Michael | Hurley | ESS | 323800 | Fwd | 90 | 63 | 85 | 56 | 58.91 |
| Leroy | Jetta | ESS | 259200 | Fwd | 77 | 39 | 74 | 35 | 42.49 |
| Elliott | Kavanagh | ESS | 232600 | Mid | 53 | 59 | | | 96 |
| Jackson | Merrett | ESS | 272700 | Fwd | 80 | 65 | 56 | 30 | 60.46 |
| Zac | Merrett | ESS | 195100 | Fwd | 56 | 71 | 34 | 44 | 109.84 |
| Nick | O'Brien | ESS | 175600 | Mid | 47 | 58 | | | 106.48 |
| Tayte | Pears | ESS | 381400 | Def | | | 82 | 66 | 70.66 |
| Patrick | Ryder | ESS | 444100 | Ruc | 66 | 89 | 72 | 64 | 96.17 |
| Brent | Stanton | ESS | 560300 | Mid | 84 | 96 | 79 | 67 | 86.29 |
| Ariel | Steinberg | ESS | 115200 | Def | 76 | 35 | 69 | 35 | 41.86 |
| Fraser | Thurlow | ESS | 115200 | Fwd,Ruc | 39 | 54 | 49 | 45 | 97.77 |
| Jobe | Watson | ESS | 534000 | Mid | | | 79 | 84 | 93.19 |
| Jason | Winderlich | ESS | 417800 | Fwd | | | 59 | 31 | 46.11 |
| David | Zaharakis | ESS | 444700 | Mid | 70 | 145 | 77 | 62 | 122.25 |
| Hayden | Ballantyne | FRE | 386900 | Fwd | 65 | 29 | 81 | 63 | 52.78 |
| Michael | Barlow | FRE | 567000 | Mid | 89 | 83 | 74 | 93 | 90.45 |
| Ryan | Crowley | FRE | 318000 | Mid | | | 75 | 68 | 77.01 |
| Hayden | Crozier | FRE | 306700 | Fwd | 61 | 37 | 57 | 24 | 43.23 |
| Zac | Dawson | FRE | 184000 | Def | 94 | 28 | 94 | 70 | 43.69 |
| Matt | de Boer | FRE | 415100 | Fwd,Mid | 83 | 64 | 74 | 39 | 54.96 |
| Paul | Duffield | FRE | 419000 | Def | 45 | 46 | 88 | 72 | 74.88 |
| Max | Duffy | FRE | 115200 | Fwd | 44 | 40 | | | 75.1 |
| Nathan | Fyfe | FRE | 530900 | Mid | 75 | 103 | | | 112.45 |
| Scott | Gumbleton | FRE | 280400 | Fwd | 82 | 39 | 16 | 9 | 40.6 |
| Jack | Hannath | FRE | 216300 | Ruc | 47 | 33 | 59 | 21 | 42.79 |
| Stephen | Hill | FRE | 382100 | Mid | 70 | 82 | 76 | 60 | 81.54 |
| Michael | Johnson | FRE | 444400 | Def | 90 | 41 | 93 | 91 | 60.46 |
| Chris | Mayne | FRE | 469200 | Fwd | | | 38 | 33 | 74.37 |
| Luke | McPharlin | FRE | 414400 | Def | 42 | 10 | 91 | 80 | 57.14 |
| Sam | Menegola | FRE | 115200 | Fwd | 68 | 67 | | | 81.36 |
| David | Mundy | FRE | 530600 | Mid | 81 | 65 | 68 | 89 | 86.45 |
| Tendai | Mzungu | FRE | 424200 | Mid | 89 | 59 | 81 | 85 | 70.89 |
| Lachie | Neale | FRE | 405400 | Mid | 76 | 70 | 68 | 51 | 69.98 |
| Matthew | Pavlich | FRE | 393100 | Fwd | 41 | 46 | 86 | 95 | 93.71 |
| Clancee | Pearce | FRE | 395400 | Def | | | 76 | 60 | 67.31 |
| Danyle | Pearce | FRE | 436800 | Mid | 67 | 50 | 77 | 42 | 53.65 |
| Aaron | Sandilands | FRE | 244500 | Ruc | 72 | 71 | 74 | 122 | 110.79 |
| Tom | Sheridan | FRE | 275100 | Mid | 77 | 66 | 50 | 43 | 71.64 |
| Tanner | Smith | FRE | 158300 | Def | 81 | 43 | 8 | 7 | 46.53 |
| Lee | Spurr | FRE | 384500 | Def | 66 | 35 | 88 | 72 | 58.38 |
| Nick | Suban | FRE | 367700 | Mid | | | 41 | 51 | 104.51 |
| Cameron | Sutcliffe | FRE | 257400 | Def | | | 87 | 60 | 58.31 |
| Colin | Sylvia | FRE | 443600 | Fwd,Mid | 73 | 29 | | | 32.81 |
| Matthew | Taberner | FRE | 164400 | Fwd | 81 | 23 | | | 23.41 |
| Michael | Walters | FRE | 444700 | Fwd | 34 | 48 | 81 | 105 | 112.3 |
| Jimmy | Bartel | GEE | 514900 | Def,Mid | 97 | 79 | 89 | 88 | 76.09 |
| Mark | Blicavs | GEE | 329500 | Ruc | 48 | 43 | 71 | 43 | 61.72 |
| Mitchell W. | Brown | GEE | 211000 | Def | 95 | 78 | 92 | 84 | 73.47 |
| George | Burbury | GEE | 222400 | Fwd | 26 | 42 | | | 133.76 |
| Josh | Caddy | GEE | 343500 | Fwd,Mid | 83 | 84 | 83 | 121 | 104.83 |
| Mitch | Duncan | GEE | 477400 | Mid | 76 | 89 | 85 | 103 | 101.37 |
| Corey | Enright | GEE | 480300 | Def | 93 | 128 | | | 113.11 |
| Cameron | Guthrie | GEE | 301000 | Def | 78 | 95 | 79 | 45 | 75.61 |
| Joel | Hamling | GEE | 115200 | Def | | | 70 | 25 | 31.41 |
| Tom | Hawkins | GEE | 306000 | Fwd | 88 | 74 | 88 | 48 | 58.82 |
| George | Horlin-Smith | GEE | 284000 | Mid | 73 | 46 | 82 | 91 | 75.13 |
| Taylor | Hunt | GEE | 302700 | Mid | 83 | 75 | 91 | 68 | 69.65 |
| Jarrad | Jansen | GEE | 168000 | Mid | | | 67 | 57 | 74.69 |
| Steve | Johnson | GEE | 641600 | Mid | 50 | 94 | 87 | 94 | 117.38 |
| James | Kelly | GEE | 518400 | Mid | 49 | 89 | 72 | 59 | 104.55 |
| Tom | Lonergan | GEE | 209900 | Def | 91 | 68 | 87 | 34 | 48.54 |
| Andrew | Mackie | GEE | 449100 | Def | 96 | 81 | | | 69.5 |
| Lincoln | McCarthy | GEE | 135500 | Fwd | 76 | 59 | 84 | 33 | 48.85 |
| Hamish | McIntosh | GEE | 344700 | Ruc | | | 55 | 28 | 44.8 |
| Jordan | Murdoch | GEE | 271500 | Fwd | | | 73 | 41 | 49.26 |
| Jared | Rivers | GEE | 216300 | Def | 87 | 72 | 93 | 41 | 53.27 |
| Jordan | Schroder | GEE | 182200 | Mid | 43 | 58 | 56 | 8 | 56.79 |
| Joel | Selwood | GEE | 576700 | Mid | | | 27 | 8 | 26.23 |
| Dawson | Simpson | GEE | 335500 | Ruc | 64 | 46 | 70 | 54 | 63.47 |
| Billie | Smedts | GEE | 292300 | Fwd | 44 | 73 | 77 | 50 | 87.03 |
| Mathew | Stokes | GEE | 513100 | Mid | 86 | 117 | | | 112.03 |
| Jesse | Stringer | GEE | 244500 | Mid | 0 | 0 | | | 0 |
| Harry | Taylor | GEE | 426400 | Def | 95 | 94 | 90 | 65 | 72.83 |
| Jackson | Thurlow | GEE | 265500 | Def | | | 86 | 71 | 72.34 |
| Travis | Varcoe | GEE | 298100 | Fwd,Mid | 60 | 85 | 80 | 86 | 104.09 |
| Nathan | Vardy | GEE | 278300 | Fwd,Ruc | 77 | 41 | | | 43.86 |
| Josh | Walker | GEE | 228600 | Fwd | 40 | 53 | 58 | 26 | 68.94 |
| Luke | Breust | HAW | 401600 | Fwd | 71 | 106 | 42 | 30 | 105.1 |
| Shaun | Burgoyne | HAW | 427400 | Def,Mid | 60 | 48 | 67 | 42 | 61.83 |
| Jonathon | Ceglar | HAW | 156500 | Ruc | 36 | 52 | 61 | 49 | 90.7 |
| Kyle | Cheney | HAW | 228900 | Def | 76 | 52 | 87 | 53 | 56.09 |
| Taylor | Duryea | HAW | 309200 | Def | 57 | 50 | | | 76.8 |
| Josh | Gibson | HAW | 339600 | Def | | | 97 | 70 | 62.73 |
| Jack | Gunston | HAW | 415400 | Fwd | 78 | 119 | 75 | 77 | 111.71 |
| David | Hale | HAW | 385300 | Fwd,Ruc | 53 | 84 | 74 | 75 | 108.76 |
| Mitch | Hallahan | HAW | 115200 | Mid | 72 | 70 | 35 | 43 | 92.29 |
| Billy | Hartung | HAW | 200500 | Mid | 48 | 22 | | | 40.34 |
| Kurt | Heatherley | HAW | 115200 | Def | 65 | 32 | 79 | 32 | 38.72 |
| Bradley | Hill | HAW | 333700 | Mid | 70 | 111 | 78 | 75 | 109.09 |
| Luke | Hodge | HAW | 491900 | Def,Mid | | | 54 | 70 | 112.54 |
| Will | Langford | HAW | 135500 | Def | 74 | 66 | 79 | 101 | 95.16 |
| Jordan | Lewis | HAW | 498600 | Mid | 79 | 105 | 73 | 87 | 110.12 |
| Angus | Litherland | HAW | 115200 | Def | 84 | 72 | 81 | 38 | 58.1 |
| Ben | McEvoy | HAW | 410200 | Ruc | 81 | 93 | 70 | 54 | 84.84 |
| Sam | Mitchell | HAW | 517700 | Def,Mid | 82 | 120 | 75 | 79 | 110.43 |
| Tim | O'Brien | HAW | 165800 | Fwd | 67 | 24 | 70 | 58 | 52.15 |
| Paul | Puopolo | HAW | 381100 | Fwd | 65 | 51 | | | 68.74 |
| Cyril | Rioli | HAW | 398600 | Fwd | 71 | 88 | 75 | 87 | 104.5 |
| Ben | Ross | HAW | 115200 | Mid | | | 62 | 43 | 60.27 |
| Jarryd | Roughead | HAW | 470100 | Fwd | 77 | 89 | 85 | 63 | 81.68 |
| Brad | Sewell | HAW | 418500 | Mid | | | 67 | 84 | 108.79 |
| Liam | Shiels | HAW | 343800 | Mid | 76 | 122 | 67 | 114 | 143.77 |
| Jonathan | Simpkin | HAW | 360600 | Mid | 76 | 94 | 57 | 79 | 113.5 |
| Isaac | Smith | HAW | 468400 | Mid | 74 | 108 | 79 | 74 | 103.71 |
| Matt | Suckling | HAW | 314400 | Def | 65 | 83 | 40 | 38 | 100.58 |
| Derick | Wanganeen | HAW | 115200 | Mid | 82 | 79 | 78 | 101 | 98.1 |
| Alex | Woodward | HAW | 115200 | Mid | 63 | 50 | | | 69.25 |
| Shaun | Atley | NM | 365800 | Def | 68 | 37 | 82 | 69 | 60.14 |
| Ryan | Bastinac | NM | 463200 | Mid | 67 | 126 | 67 | 22 | 93.94 |
| Aaron | Black | NM | 384500 | Fwd | 86 | 55 | 72 | 65 | 64.41 |
| Ben | Cunnington | NM | 446300 | Mid | 69 | 83 | 60 | 112 | 128.17 |
| Daniel | Currie | NM | 115200 | Ruc | 80 | 35 | 77 | 42 | 41.51 |
| Scott | D. Thompson | NM | 421000 | Def | 86 | 62 | 94 | 60 | 57.67 |
| Nick | Dal Santo | NM | 479200 | Mid | 79 | 91 | 74 | 74 | 91.54 |
| Majak | Daw | NM | 226600 | Fwd,Ruc | | | 56 | 14 | 21.74 |
| Cameron | Delaney | NM | 356100 | Def | | | 51 | 32 | 54.68 |
| Michael | Firrito | NM | 316900 | Def | 59 | 44 | | | 62.36 |
| Taylor | Garner | NM | 135500 | Fwd | | | 49 | 25 | 44.37 |
| Sam | Gibson | NM | 442500 | Mid | 73 | 58 | 85 | 51 | 58.75 |
| Todd | Goldstein | NM | 487100 | Ruc | 69 | 78 | 80 | 62 | 79.91 |
| Lachlan | Hansen | NM | 391900 | Def | 59 | 48 | 31 | 39 | 81.74 |
| Brent | Harvey | NM | 503400 | Fwd,Mid | 75 | 87 | | | 96.55 |
| Taylor | Hine | NM | 231500 | Def | 54 | 22 | | | 34.08 |
| Ben | Jacobs | NM | 192400 | Mid | 38 | 43 | 57 | 73 | 104.22 |
| Jamie | MacMillan | NM | 373500 | Mid | 64 | 63 | 71 | 58 | 76.32 |
| Luke | McDonald | NM | 243900 | Def,Mid | 67 | 66 | 87 | 75 | 77.9 |
| Brad | McKenzie | NM | 247700 | Mid | 58 | 40 | 34 | 18 | 53.41 |
| Scott | McMahon | NM | 323200 | Def | 72 | 30 | 83 | 60 | 49.39 |
| Aaron | Mullett | NM | 402600 | Def | | | 80 | 62 | 67.24 |
| Robin | Nahas | NM | 178100 | Fwd | 79 | 48 | 79 | 70 | 63.4 |
| Drew | Petrie | NM | 464600 | Fwd | 92 | 89 | 85 | 51 | 67.16 |
| Lindsay | Thomas | NM | 343900 | Fwd | 80 | 62 | 81 | 55 | 61.77 |
| Joel | Tippett | NM | 115200 | Def | 86 | 57 | 84 | 42 | 49.44 |
| Daniel | Wells | NM | 450600 | Mid | 58 | 80 | 64 | 81 | 112.3 |
| Mason | Wood | NM | 135900 | Fwd | 68 | 49 | | | 60.15 |
| Sam | Wright | NM | 262500 | Def,Fwd | 53 | 64 | 32 | 39 | 102.59 |
| Jack | Ziebell | NM | 513100 | Mid | 67 | 147 | 72 | 55 | 123.62 |
| Rohan | Bail | MEL | 234400 | Mid | 72 | 96 | 77 | 51 | 84.87 |
| Dom | Barry | MEL | 115200 | Mid | 53 | 35 | 40 | 21 | 51.76 |
| Sam | Blease | MEL | 172400 | Fwd,Mid | 49 | 25 | 66 | 53 | 58.57 |
| Shannon | Byrnes | MEL | 323900 | Fwd | | | 81 | 72 | 77.99 |
| Mitchell | Clisby | MEL | 355400 | Def | | | 80 | 93 | 101.93 |
| Daniel | Cross | MEL | 485700 | Mid | 75 | 82 | 82 | 126 | 114.18 |
| Lynden | Dunn | MEL | 369800 | Def | 93 | 83 | 96 | 104 | 85.26 |
| Michael | Evans | MEL | 361000 | Mid | 34 | 15 | | | 37.41 |
| Jack | Fitzpatrick | MEL | 326700 | Fwd,Ruc | | | 74 | 29 | 34.39 |
| James | Frawley | MEL | 339900 | Def | 88 | 101 | | | 97.51 |
| Alexis | Georgiou | MEL | 115200 | Def | 69 | 70 | 95 | 55 | 65.69 |
| Jack | Grimes | MEL | 416200 | Def,Mid | 90 | 72 | 58 | 68 | 81.23 |
| Jesse | Hogan | MEL | 265600 | Fwd | | | 75 | 65 | 76.1 |
| Jeremy | Howe | MEL | 366700 | Fwd | 91 | 83 | 90 | 74 | 74.69 |
| Matt | Jones | MEL | 383100 | Mid | 65 | 62 | 77 | 73 | 82.09 |
| Nathan | Jones | MEL | 420800 | Mid | 78 | 102 | 78 | 101 | 112.06 |
| Jay | Kennedy-Harris | MEL | 157200 | Fwd | 55 | 69 | | | 106.84 |
| Max | King | MEL | 115200 | Ruc | 42 | 40 | 44 | 8 | 48.23 |
| Tom | McDonald | MEL | 326500 | Def | 87 | 74 | 87 | 54 | 63.33 |
| Jordie | McKenzie | MEL | 308500 | Mid | 69 | 52 | 69 | 64 | 72.4 |
| Viv | Michie | MEL | 193900 | Mid | 58 | 87 | 62 | 79 | 119.24 |
| Dan | Nicholson | MEL | 342400 | Def | 61 | 34 | 59 | 60 | 67.49 |
| Cameron | Pedersen | MEL | 332800 | Def | 88 | 35 | | | 33.79 |
| Jake | Spencer | MEL | 338800 | Ruc | 71 | 64 | 90 | 56 | 64.37 |
| James | Strauss | MEL | 195500 | Def | 86 | 79 | | | 77.94 |
| Dean | Terlich | MEL | 434900 | Def | 76 | 90 | 86 | 78 | 89.27 |
| Jimmy | Toumpas | MEL | 259400 | Mid | 76 | 65 | 81 | 72 | 75.19 |
| Jack | Trengove | MEL | 422500 | Mid | 64 | 130 | 73 | 58 | 118.16 |
| Dom | Tyson | MEL | 218400 | Mid | 41 | 56 | 75 | 114 | 126.21 |
| Bernie | Vince | MEL | 449300 | Mid | 70 | 105 | 79 | 107 | 122.85 |
| Jack | Watts | MEL | 365200 | Def,Fwd | | | 76 | 80 | 92.5 |
| Brendon | Ah Chee | PA | 115200 | Mid | 46 | 26 | | | 47.77 |
| Karl | Amon | PA | 135500 | Mid | 47 | 55 | | | 99.03 |
| Travis | Boak | PA | 543300 | Mid | | | 65 | 81 | 109.24 |
| Matthew | Broadbent | PA | 388000 | Def | 90 | 82 | 73 | 97 | 94.08 |
| John | Butcher | PA | 208900 | Fwd | | | 84 | 40 | 41.85 |
| Darcy | Byrne-Jones | PA | 135500 | Def | 34 | 18 | | | 44.71 |
| Domenic | Cassisi | PA | 295900 | Mid | 59 | 46 | 76 | 59 | 67.05 |
| Tom | Clurey | PA | 163500 | Def | 86 | 80 | 92 | 81 | 77.69 |
| Sam | Colquhoun | PA | 297400 | Def,Mid | 64 | 78 | | | 101.69 |
| Kane | Cornes | PA | 578100 | Mid | | | 76 | 115 | 132.96 |
| Brad | Ebert | PA | 537300 | Mid | | | 78 | 89 | 99.33 |
| Daniel | Flynn | PA | 115200 | Def | 51 | 17 | | | 28.15 |
| Robbie | Gray | PA | 391700 | Fwd,Mid | | | 72 | 83 | 101.05 |
| Hamish | Hartlett | PA | 446600 | Mid | | | 44 | 42 | 83.75 |
| Mitch | Harvey | PA | 143600 | Fwd | 73 | 17 | | | 19.65 |
| Jack | Hombsch | PA | 318800 | Def | 91 | 33 | 87 | 57 | 43.4 |
| Jarman | Impey | PA | 208700 | Fwd | 63 | 43 | 47 | 13 | 43.62 |
| Tom | Jonas | PA | 245000 | Def | | | 87 | 53 | 53.42 |
| Matthew | Lobbe | PA | 439300 | Ruc | | | 51 | 33 | 56.75 |
| Tom | Logan | PA | 324200 | Def | 84 | 83 | | | 83.38 |
| Angus | Monfries | PA | 441500 | Fwd | 75 | 58 | 76 | 83 | 80.07 |
| Andrew | Moore | PA | 370000 | Mid | 79 | 88 | 47 | 49 | 92.95 |
| Jake | Neade | PA | 252400 | Fwd | 64 | 39 | | | 50.85 |
| Ben | Newton | PA | 115200 | Mid | 70 | 62 | | | 74.56 |
| Cameron | O'Shea | PA | 384300 | Def | 88 | 55 | 70 | 68 | 66.71 |
| Jasper | Pittard | PA | 311100 | Def | 68 | 64 | 79 | 129 | 112.41 |
| Jared | Polec | PA | 135500 | Mid | 69 | 91 | 70 | 102 | 118.99 |
| Brent | Renouf | PA | 179700 | Ruc | 45 | 47 | 49 | 28 | 68.62 |
| Jay | Schulz | PA | 415400 | Fwd | | | 58 | 57 | 86.17 |
| Mason | Shaw | PA | 161200 | Fwd | 77 | 22 | | | 24.08 |
| Lewis | Stevenson | PA | 282700 | Def | 80 | 67 | | | 69.86 |
| Paul | Stewart | PA | 265600 | Fwd | 87 | 72 | 71 | 62 | 72.69 |
| Justin | Westhoff | PA | 473900 | Fwd | | | 82 | 99 | 106 |
| Matt | White | PA | 317100 | Mid | 80 | 73 | 71 | 37 | 62.45 |
| Oliver | Wines | PA | 402300 | Mid | 41 | 66 | 73 | 90 | 117.38 |
| Chad | Wingard | PA | 474000 | Fwd,Mid | | | 49 | 46 | 82.76 |
| Aaron | Young | PA | 249800 | Mid | 70 | 72 | 68 | 36 | 67.26 |
| Matthew | Arnot | RICH | 196700 | Mid | | | 68 | 44 | 54.21 |
| David | Astbury | RICH | 179700 | Def | 100 | 43 | 82 | 47 | 41.65 |
| Jake | Batchelor | RICH | 265200 | Def | 33 | 21 | 34 | 19 | 50.39 |
| Troy | Chaplin | RICH | 330400 | Def | 100 | 45 | 88 | 57 | 45.7 |
| Reece | Conca | RICH | 435300 | Mid | | | 37 | 52 | 117.81 |
| Trent | Cotchin | RICH | 511300 | Mid | 73 | 61 | 79 | 154 | 119.17 |
| Brett | Deledio | RICH | 514900 | Mid | 81 | 88 | 82 | 134 | 114.77 |
| Aaron | Edwards | RICH | 380200 | Fwd | 85 | 51 | 92 | 77 | 60.88 |
| Shane | Edwards | RICH | 372000 | Fwd,Mid | 41 | 42 | 72 | 69 | 82.64 |
| Brandon | Ellis | RICH | 429300 | Mid | 73 | 60 | 73 | 81 | 81.36 |
| Nathan | Foley | RICH | 395300 | Mid | 74 | 63 | 46 | 54 | 82.25 |
| Ben | Griffiths | RICH | 135500 | Def | 90 | 66 | 88 | 68 | 63.41 |
| Shaun | Grigg | RICH | 484600 | Mid | 79 | 62 | 78 | 100 | 86.93 |
| Shaun | Hampson | RICH | 294100 | Ruc | 44 | 41 | 81 | 64 | 70.71 |
| Brad | Helbig | RICH | 135500 | Mid | 38 | 17 | | | 38.18 |
| Bachar | Houli | RICH | 461800 | Def | 81 | 56 | 76 | 55 | 59.57 |
| Jake | King | RICH | 294300 | Fwd | | | 38 | 27 | 59.67 |
| Ben | Lennon | RICH | 233100 | Fwd | 60 | 34 | | | 48.21 |
| Sam | Lloyd | RICH | 135500 | Fwd | 51 | 57 | 80 | 66 | 79.08 |
| Dustin | Martin | RICH | 526000 | Fwd,Mid | 72 | 86 | 80 | 114 | 110.85 |
| Liam | McBean | RICH | 154300 | Fwd | 43 | 6 | | | 11.89 |
| Matthew | McDonough | RICH | 166200 | Fwd | | | 72 | 75 | 86.81 |
| Kamdyn | Mcintosh | RICH | 158900 | Def | 55 | 11 | | | 17.03 |
| Anthony | Miles | RICH | 279700 | Mid | 79 | 67 | 41 | 53 | 84.38 |
| Steven | Morris | RICH | 222700 | Def | 84 | 33 | 76 | 66 | 51.94 |
| Chris | Newman | RICH | 364300 | Def | 51 | 77 | | | 128.01 |
| Ricky | Petterd | RICH | 395700 | Def | | | 33 | 35 | 89.13 |
| Alex | Rance | RICH | 381900 | Def | 96 | 17 | 94 | 50 | 29.71 |
| Orren | Stephenson | RICH | 271100 | Ruc | 46 | 28 | | | 51.66 |
| Matt | Thomas | RICH | 271100 | Mid | | | 42 | 44 | 87.79 |
| Tyrone | Vickery | RICH | 373700 | Fwd | 92 | 73 | 94 | 74 | 66.4 |
| Nick | Vlastuin | RICH | 375600 | Def,Mid | 78 | 52 | 74 | 91 | 79.28 |
| David | Armitage | STK | 473900 | Mid | 71 | 70 | 70 | 66 | 84.36 |
| Jack | Billings | STK | 257400 | Fwd,Mid | 42 | 15 | 52 | 29 | 40.62 |
| Josh | Bruce | STK | 278400 | Def | 90 | 29 | | | 30.7 |
| Thomas | Curren | STK | 324100 | Mid | 78 | 61 | 51 | 44 | 72.34 |
| Luke | Delaney | STK | 224800 | Def | 86 | 34 | 73 | 35 | 38.22 |
| Sean | Dempster | STK | 358300 | Def | | | 68 | 66 | 77.92 |
| Trent | Dennis-Lane | STK | 276300 | Fwd | 67 | 43 | | | 61.14 |
| Samuel | Dunell | STK | 231100 | Mid | 38 | 15 | | | 37.41 |
| Luke | Dunstan | STK | 216800 | Mid | 51 | 37 | 68 | 81 | 85.82 |
| Jarryn | Geary | STK | 383800 | Def | 92 | 65 | 56 | 68 | 80.07 |
| James | Gwilt | STK | 291400 | Def | | | 59 | 34 | 46.84 |
| Lenny | Hayes | STK | 470400 | Mid | | | 44 | 52 | 95.83 |
| Tom | Hickey | STK | 282700 | Ruc | 71 | 85 | 80 | 46 | 75.53 |
| Clinton | Jones | STK | 420200 | Mid | 56 | 34 | 77 | 76 | 71.36 |
| Thomas | Lee | STK | 282900 | Fwd | | | 76 | 47 | 49.95 |
| Billy | Longer | STK | 194400 | Ruc | 19 | 20 | 88 | 47 | 52.13 |
| Beau | Maister | STK | 261400 | Fwd | 85 | 36 | 76 | 46 | 44.73 |
| Leigh | Montagna | STK | 606000 | Mid | 77 | 92 | 80 | 71 | 90.35 |
| Jack | Newnes | STK | 323100 | Mid | 53 | 33 | 85 | 80 | 70.37 |
| Farren | Ray | STK | 448100 | Mid | 68 | 63 | 49 | 55 | 89.3 |
| Nick | Riewoldt | STK | 559000 | Fwd | | | 59 | 74 | 101.94 |
| Dylan | Roberton | STK | 358500 | Def | 74 | 46 | | | 59.31 |
| Sebastian | Ross | STK | 305200 | Mid | 69 | 53 | 48 | 27 | 60.47 |
| Josh | Saunders | STK | 228700 | Mid | 70 | 45 | 76 | 82 | 75.85 |
| Shane | Savage | STK | 364900 | Mid | 78 | 75 | 73 | 94 | 98.1 |
| Adam | Schneider | STK | 312300 | Fwd | | | 48 | 64 | 108.05 |
| Tom | Simpkin | STK | 154800 | Def | 84 | 29 | 94 | 52 | 39.62 |
| Rhys | Stanley | STK | 247500 | Def | 78 | 26 | | | 31.4 |
| Jack | Steven | STK | 532400 | Mid | 77 | 87 | | | 106.75 |
| Eli | Templeton | STK | 115200 | Mid | 56 | 43 | | | 73.4 |
| Jimmy | Webster | STK | 235500 | Def | 56 | 50 | 88 | 83 | 79.4 |
| Maverick | Weller | STK | 306700 | Def | | | 69 | 77 | 90.36 |
| Nathan | Wright | STK | 213300 | Def | 87 | 50 | 95 | 40 | 42.88 |
| Aliir | Aliir | SYD | 146300 | Def | | | 9 | 3 | 29.38 |
| Sam | B. Reid | SYD | 280800 | Fwd | 81 | 75 | 87 | 34 | 54.99 |
| Craig | Bird | SYD | 387300 | Fwd,Mid | | | 68 | 119 | 152.21 |
| Harry | Cunningham | SYD | 135500 | Mid | 72 | 78 | 83 | 92 | 93.24 |
| Tom | Derickx | SYD | 135500 | Ruc | 80 | 65 | 77 | 53 | 63.72 |
| Lance | Franklin | SYD | 426500 | Fwd | | | 70 | 31 | 38.57 |
| Heath | Grundy | SYD | 292700 | Def | 82 | 44 | 100 | 134 | 83.13 |
| Daniel | Hannebery | SYD | 481900 | Mid | 73 | 77 | 85 | 55 | 70.82 |
| Brandon | Jack | SYD | 187500 | Mid | 65 | 56 | 74 | 73 | 78.93 |
| Kieren | Jack | SYD | 549400 | Mid | 79 | 45 | | | 47.24 |
| Lewis | Jetta | SYD | 335500 | Fwd,Mid | | | 53 | 49 | 80.07 |
| Jeremy | Laidler | SYD | 135500 | Def | 85 | 37 | 76 | 75 | 58.91 |
| Jake | Lloyd | SYD | 115200 | Mid | 46 | 43 | 76 | 70 | 78.75 |
| Jordan | Lockyer | SYD | 115200 | Def | 13 | 10 | | | 64.85 |
| Nick | Malceski | SYD | 447600 | Def | 76 | 88 | 84 | 108 | 104.08 |
| Harrison | Marsh | SYD | 129000 | Mid | 9 | -2 | 58 | 15 | 16.8 |
| Ben | McGlynn | SYD | 383100 | Fwd | 77 | 58 | | | 62.37 |
| Jarrad | McVeigh | SYD | 529900 | Def,Mid | 89 | 57 | | | 53.12 |
| Tom | Mitchell | SYD | 488700 | Fwd,Mid | 72 | 138 | | | 159.39 |
| Sam | Naismith | SYD | 115200 | Ruc | 54 | 51 | 32 | 33 | 81.95 |
| Toby | Nankervis | SYD | 170700 | Ruc | 69 | 17 | | | 20.43 |
| Ryan | O'Keefe | SYD | 530700 | Mid | 69 | 54 | 89 | 107 | 86.79 |
| Josh | P. Kennedy | SYD | 493000 | Mid | 74 | 66 | | | 73.97 |
| Luke | Parker | SYD | 459000 | Fwd,Mid | 69 | 98 | 18 | 26 | 118.77 |
| Mike | Pyke | SYD | 402100 | Ruc | | | 69 | 41 | 51.72 |
| Dane | Rampe | SYD | 279400 | Def | 87 | 42 | 79 | 57 | 50.41 |
| Ted | Richards | SYD | 281600 | Def | 98 | 55 | | | 46.52 |
| Xavier | Richards | SYD | 135500 | Def | | | 31 | 23 | 64.94 |
| Lewis | Roberts-Thomson | SYD | 146700 | Def,Fwd | | | 69 | 31 | 39.11 |
| Daniel | Robinson | SYD | 115200 | Mid | | | 82 | 64 | 67.9 |
| Gary | Rohan | SYD | 138400 | Fwd | 71 | 58 | 83 | 80 | 76.15 |
| Rhyce | Shaw | SYD | 246400 | Def | 79 | 83 | 75 | 54 | 75.49 |
| Nick | Smith | SYD | 308700 | Def | 75 | 45 | 85 | 75 | 63.73 |
| Dean | Towers | SYD | 179700 | Fwd,Mid | 58 | 48 | 86 | 39 | 51.3 |
| Jamie | Bennell | WC | 135500 | Mid | 67 | 31 | 60 | 27 | 38.59 |
| Mitchell | Brown | WC | 212500 | Def | 75 | 39 | 85 | 16 | 29.16 |
| Adam | Carter | WC | 266300 | Def | | | 32 | 42 | 115.04 |
| Brant | Colledge | WC | 126700 | Fwd | | | 78 | 66 | 73.75 |
| Dean | Cox | WC | 526000 | Ruc | 40 | 74 | | | 153.05 |
| Jamie | Cripps | WC | 298100 | Fwd | 70 | 99 | 70 | 49 | 89.49 |
| Jack | Darling | WC | 374500 | Fwd | 78 | 94 | 52 | 60 | 99.76 |
| Xavier | Ellis | WC | 135500 | Mid | 48 | 72 | 67 | 75 | 108.67 |
| Andrew | Gaff | WC | 378700 | Mid | | | 76 | 111 | 127.13 |
| Darren | Glass | WC | 305100 | Def | 81 | 44 | | | 44.79 |
| Josh | Hill | WC | 318400 | Fwd | 76 | 41 | 80 | 22 | 34.19 |
| Shannon | Hurn | WC | 352300 | Def | 69 | 74 | 76 | 74 | 86.45 |
| Mark | Hutchings | WC | 480200 | Mid | 62 | 106 | 72 | 124 | 145.45 |
| Josh | J. Kennedy | WC | 466600 | Fwd | 76 | 51 | | | 55.33 |
| Mark | LeCras | WC | 458500 | Fwd | 81 | 87 | | | 88.57 |
| Scott | Lycett | WC | 278300 | Ruc | 49 | 53 | 74 | 88 | 97.62 |
| Eric | MacKenzie | WC | 282600 | Def | 82 | 78 | | | 78.5 |
| Chris | Masten | WC | 533400 | Mid | 77 | 101 | 65 | 89 | 112.94 |
| Patrick | McGinnity | WC | 282500 | Mid | 51 | 38 | 38 | 23 | 57.86 |
| Jeremy | McGovern | WC | 115200 | Fwd | | | 67 | 41 | 52.63 |
| Fraser | McInnes | WC | 115200 | Fwd | | | 80 | 47 | 50.65 |
| Murray | Newman | WC | 155600 | Fwd | 49 | 76 | 73 | 35 | 77.43 |
| Matt | Priddis | WC | 519300 | Mid | 81 | 103 | | | 104.86 |
| Matt | Rosa | WC | 381900 | Mid | 70 | 65 | 76 | 91 | 90.52 |
| Will | Schofield | WC | 307900 | Def | | | 82 | 35 | 37.13 |
| Scott | Selwood | WC | 587500 | Mid | 72 | 70 | 75 | 89 | 91.65 |
| Dom | Sheed | WC | 235800 | Mid | 56 | 61 | 59 | 46 | 78.92 |
| Brad | Sheppard | WC | 274700 | Mid | 52 | 52 | 66 | 68 | 86.27 |
| Luke | Shuey | WC | 479300 | Mid | 69 | 109 | | | 130.57 |
| Callum | Sinclair | WC | 258000 | Ruc | 78 | 52 | 80 | 109 | 86.32 |
| Sharrod | Wellingham | WC | 391900 | Mid | 54 | 67 | 69 | 86 | 105.3 |
| Blayne | Wilson | WC | 315000 | Def | | | 67 | 79 | 101.41 |
| Elliot | Yeo | WC | 314600 | Def | 71 | 72 | 75 | 58 | 75.42 |
| Matthew | Boyd | WB | 563300 | Mid | 83 | 120 | 84 | 95 | 115.47 |
| Tom | Campbell | WB | 217000 | Fwd | 72 | 43 | 56 | 40 | 58.72 |
| Adam | Cooney | WB | 502900 | Mid | 70 | 87 | 78 | 107 | 117.45 |
| Ayce | Cordy | WB | 171400 | Fwd | 35 | 35 | | | 95.86 |
| Stewart | Crameri | WB | 352600 | Fwd | 83 | 38 | 78 | 50 | 49.27 |
| Luke | Dahlhaus | WB | 381100 | Fwd | 64 | 88 | 73 | 92 | 117.11 |
| Tory | Dickson | WB | 384800 | Fwd | 82 | 48 | 78 | 69 | 65.89 |
| Daniel | Giansiracusa | WB | 379900 | Fwd | | | 76 | 62 | 69.55 |
| Brett | Goodes | WB | 428200 | Def | 69 | 43 | 73 | 52 | 60.04 |
| Shaun | Higgins | WB | 305400 | Fwd | | | 49 | 58 | 101.19 |
| Mitch | Honeychurch | WB | 135500 | Fwd,Mid | | | 40 | 30 | 64.41 |
| Nathan | Hrovat | WB | 288200 | Mid | 37 | 11 | | | 28.51 |
| Lachlan | Hunter | WB | 271000 | Fwd,Mid | 70 | 70 | 72 | 65 | 85.36 |
| Jason | Johannisen | WB | 312300 | Def | | | 66 | 34 | 43.99 |
| Lin | Jong | WB | 215300 | Mid | 66 | 73 | 61 | 39 | 79.04 |
| Tom | Liberatore | WB | 527000 | Mid | 82 | 101 | 76 | 87 | 107.21 |
| Jackson | Macrae | WB | 344400 | Mid | 75 | 92 | 74 | 129 | 133.52 |
| Will | Minson | WB | 498100 | Ruc | 47 | 64 | 77 | 65 | 92.45 |
| Dale | Morris | WB | 260900 | Def | 83 | 27 | 89 | 41 | 35.5 |
| Daniel | Pearce | WB | 139600 | Def | 51 | 27 | | | 50.54 |
| Liam | Picken | WB | 348200 | Def | 79 | 68 | 62 | 52 | 77.13 |
| Jack | Redpath | WB | 115200 | Fwd | 41 | 9 | | | 20.88 |
| Fletcher | Roberts | WB | 153700 | Fwd | 45 | 17 | | | 35.99 |
| Jordan | Roughead | WB | 281800 | Def | | | 81 | 47 | 49.16 |
| Koby | Stevens | WB | 364300 | Mid | 77 | 78 | 73 | 120 | 118.93 |
| Jake | Stringer | WB | 239000 | Fwd | 79 | 41 | 79 | 49 | 51.26 |
| Michael | Talia | WB | 350500 | Def | 81 | 42 | 52 | 12 | 36.93 |
| Jason | Tutt | WB | 245400 | Fwd | 78 | 42 | | | 50.72 |
| Mitch | Wallis | WB | 379100 | Mid | 66 | 81 | 75 | 102 | 116.31 |
| Tom | Williams | WB | 148300 | Fwd | | | 52 | 18 | 29.36 |
| Easton | Wood | WB | 171400 | Def | 77 | 36 | 78 | 42 | 45.24 |
| Tom | Young | WB | 340000 | Def | 74 | 26 | 46 | 33 | 44.85 |
| Gary | Ablett | GC | 621200 | Mid | 84 | 98 | | | 100.47 |
| Jackson | Allen | GC | 174100 | Def | | | 81 | 61 | 62.01 |
| Harley | Bennell | GC | 462900 | Mid | | | 59 | 87 | 121.7 |
| Andrew | Boston | GC | 193600 | Mid | 79 | 78 | | | 84.32 |
| Greg | Broughton | GC | 352900 | Def | 87 | 55 | 73 | 42 | 51.01 |
| Clay | Cameron | GC | 115200 | Def | 76 | 54 | 77 | 17 | 38.97 |
| Sam | Day | GC | 267500 | Def,Fwd | 45 | 56 | 73 | 41 | 68.7 |
| Charlie | Dixon | GC | 386100 | Fwd,Ruc | 61 | 19 | 70 | 50 | 44.18 |
| Daniel | Gorringe | GC | 290300 | Ruc | 49 | 28 | 73 | 48 | 52.2 |
| Aaron | Hall | GC | 357500 | Fwd | 52 | 47 | 74 | 42 | 59.17 |
| Josh | Hall | GC | 184100 | Fwd | 49 | 66 | 60 | 37 | 79.17 |
| Jarrod | Harbrow | GC | 438000 | Def | 78 | 83 | 72 | 72 | 86.91 |
| Karmichael | Hunt | GC | 224900 | Mid | | | 49 | 41 | 69.04 |
| Tom | J. Lynch | GC | 307600 | Fwd | 82 | 59 | 79 | 70 | 67.38 |
| Sean | Lemmens | GC | 192400 | Mid | 40 | 36 | 69 | 53 | 68.26 |
| Jesse | Lonergan | GC | 224400 | Mid | 60 | 39 | 70 | 69 | 69.28 |
| Jack | Martin | GC | 268300 | Mid | 74 | 62 | 72 | 52 | 65.69 |
| Brandon | Matera | GC | 364800 | Fwd | 81 | 49 | 62 | 85 | 79.04 |
| Steven | May | GC | 246100 | Def,Fwd | 72 | 43 | 77 | 25 | 38.33 |
| Trent | McKenzie | GC | 438100 | Def | 73 | 59 | | | 69.01 |
| Thomas | Murphy | GC | 325500 | Def | | | 29 | 30 | 85.28 |
| Tom | Nicholls | GC | 406900 | Ruc | 35 | 22 | 65 | 62 | 70.26 |
| Jaeger | O'Meara | GC | 483400 | Mid | 67 | 66 | | | 84.08 |
| Michael | Rischitelli | GC | 381400 | Mid | 79 | 81 | | | 87.57 |
| Luke | Russell | GC | 324300 | Def | | | 69 | 55 | 65.48 |
| Alex | Sexton | GC | 162200 | Mid | | | 70 | 26 | 30.54 |
| Matthew | Shaw | GC | 383900 | Def,Mid | 68 | 92 | 73 | 60 | 90.05 |
| Danny | Stanley | GC | 449600 | Mid | 77 | 97 | 78 | 86 | 99.22 |
| Tim | Sumner | GC | 219800 | Fwd | 78 | 41 | 77 | 14 | 29.83 |
| David | Swallow | GC | 377000 | Def,Mid | 71 | 88 | | | 106.73 |
| Jeremy | Taylor | GC | 146100 | Def | 86 | 48 | 68 | 54 | 55.68 |
| Matthew | Warnock | GC | 148900 | Def | 81 | 32 | 80 | 33 | 33.94 |
| Dylan | Addison | GWS | 276000 | Fwd | 69 | 48 | 79 | 50 | 53.99 |
| Tomas | Bugg | GWS | 295000 | Def | 70 | 71 | 68 | 125 | 116.38 |
| Matthew | Buntine | GWS | 241200 | Def | 16 | 15 | | | 78.17 |
| Jeremy | Cameron | GWS | 360300 | Fwd | 87 | 31 | 89 | 101 | 61.36 |
| Stephen | Coniglio | GWS | 413400 | Mid | 68 | 92 | 8 | 18 | 119.31 |
| Phil | Davis | GWS | 292300 | Def | 95 | 55 | 70 | 39 | 46.72 |
| Sam | Frost | GWS | 144200 | Fwd | 63 | 25 | 43 | 37 | 48 |
| Jonathan | Giles | GWS | 362600 | Ruc | 75 | 59 | 79 | 31 | 47.82 |
| Toby | Greene | GWS | 415100 | Mid | 72 | 101 | 68 | 63 | 95.57 |
| Curtly | Hampton | GWS | 348700 | Def | 76 | 52 | 79 | 77 | 68.14 |
| Nick | Haynes | GWS | 313400 | Def | 78 | 87 | 85 | 77 | 82.32 |
| Will | Hoskin-Elliott | GWS | 268100 | Mid | | | 71 | 60 | 68.57 |
| Josh | Hunt | GWS | 327900 | Def | 52 | 43 | 71 | 61 | 69.15 |
| Josh | Kelly | GWS | 260200 | Mid | | | 64 | 76 | 96.08 |
| Adam | Kennedy | GWS | 282100 | Def | 82 | 70 | 84 | 106 | 86.88 |
| Jed | Lamb | GWS | 243400 | Fwd | 57 | 60 | 79 | 64 | 74.54 |
| Shane | Mumford | GWS | 423000 | Ruc | 79 | 82 | 70 | 72 | 84.52 |
| Rhys | Palmer | GWS | 394700 | Fwd,Mid | 68 | 69 | 72 | 128 | 115.12 |
| Jonathon | Patton | GWS | 204100 | Fwd | 40 | 13 | 80 | 49 | 42.13 |
| Lachlan | Plowman | GWS | 178900 | Def | 64 | 31 | 16 | 5 | 36.89 |
| Tom | Scully | GWS | 406200 | Mid | 84 | 60 | | | 59.24 |
| Heath | Shaw | GWS | 441300 | Def | 83 | 52 | 86 | 86 | 66.86 |
| Dylan | Shiel | GWS | 390500 | Mid | 60 | 62 | 73 | 108 | 104.63 |
| Devon | Smith | GWS | 400500 | Fwd,Mid | 74 | 78 | 80 | 84 | 86.07 |
| Adam | Tomlinson | GWS | 399200 | Fwd | 85 | 78 | 85 | 47 | 60.24 |
| Jacob | Townsend | GWS | 245200 | Mid | | | 46 | 15 | 26.53 |
| Adam | Treloar | GWS | 482100 | Mid | 72 | 96 | 78 | 131 | 123.85 |
| Callan | Ward | GWS | 510200 | Mid | 64 | 98 | 76 | 82 | 105.14 |
| Lachie | Whitfield | GWS | 385400 | Mid | 67 | 106 | | | 131.58 |