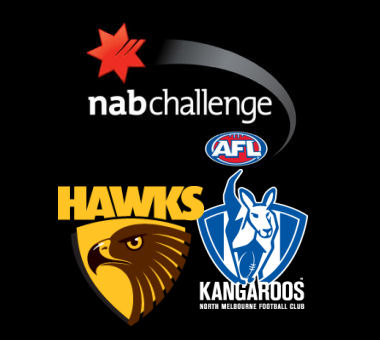 Hawthorn Hawks v North Melbourne Kangaroos.
Aurora Stadium. Friday 21st February, 2013.
Click here for AFL Match Centre.
9 games down, 9 to go. Tonight we see the Hawks and the Kangaroos for the second time, and we see far stronger teams this time around. For the hawks, Hodge, Gibson and Sewell are back, while Dayle Garlett (cross him off your list – I can't see him playing more than 5 games this year), and Grant Birchall are set to miss again. I'm bit disappointed to see Alex Woodward (MID, $115,200) named as emergency, but I'm glad too see Mitch Hallahan (MID, $115,200) – albeit as the sub -get another game. Matty Suckling (DEF, $314,400) will also start as sub.
For the Kangaroos, Brent Harvey is a late withdrawl (don't let that phase you – the Kangaroos have confirmed he is just being rested). Sam Wright and Lachlan Hansen (DEF, $391,100) will start as the subs – it will be interesting to see how Hansen goes once he gets given a chance. I'm also slightly disappointed that Liam Anthony (MID, $221,100) didn't suit up, he is a ball magnet who just can't seem to force his way into the side.
There's plenty of Fantasy relevance in this game! Personally, I'm keen to keep an eye on Simpkin (MID, $360,600), Ziebell (MID, $513,100), Luke McDonald (DEF, MID, $243,900), Mitchell (DEF, MID, $517,700), McEvoy (RUC, $410,200), Gunston (FWD, $415,400), Cunnington (MID, $446,300), Bastinac (MID, $463,200) and Aaron Mullett (DEF, $402,600). It will also be interesting to see if Currie (RUC, $115,200) can play a role that may see him get games this year (I doubt it), and the role Shaun Atley (DEF, $365,800) plays.
In the interview before the game, Brad Scott says "they're really keen to get Daniel Currie into the side". Andrew Swallow mentioned last week how much the Kangaroos want to paly two rucks. He'll start forward. McEvoy is starting up forward for the hawks, Hale in the ruck. Sam Mitchell starts in the guts. Hale kicks the first (to which I have flashbacks to the 2012 Grand Final – time for a beer). Oh yeah, the cricket's also on. Let's hope Mitch Johnson can wrap the tail up.
Cyril Rioli (FWD, $398,600) looks like he'll playing across half back again this week – I love this position for him, both for the Hawks and for Fantasy value. He's getting a bit of it early. The hawks are very much playing that Fantasy friendly game we love, short, precise kicking and maintaining possession. Hodge (DEF, MID, $491,100) is also getting a fair bit of it early – he had a great 2013, and as a defender this year, he must be considered.
Dal Santo is finding plenty of it, whilst Cunnington is adding grunt. Majak Daw might be a supreme athlete, but he is not a footballer. Might be a bit harsh, but I think he is more of a liability for the Kangaroos than anything else. Brad Hill is looking busy, like he was last week – but my heart still wants to vomit a little when he gets near it, although probably not as much as the last few years. Heatherly (DEF, $115,200) tries hard, and has looked good, but 2014 won't be for him. Birchall, Stratton and Lake all still to return.
Hodge is dominating the first quarter, playing the most beautiful Fantasy role out there – loose off half back. He and Rioli are doing what they please. Roy's boy Liam Shiels (MID, $343,800) has kicked 3, playing across half forward, and is on an amazing 70 points at quarter time! I can't pick up if he is running with anyone at the moment, but if Clarkson uses him like he did a few years ago, he is bargain priced. Roughly the same price as Daisy actually – is Daisy's sore anklechest still a problem? Hodge, Rioli and Mitchell are on 36, 35 and 34 respectively. Luke McDonald is on 26, Mullett on 28 and Nicky Dal on 37 for the Kangaroos. Majak Daw is on 2, Shaun Atley is on 3. Of course he is.
The hawks lead by 5 goals at 1/4 time – time for the cricket.
McEvoy and Hale are alternating between the ruck and forward, and if need be, I'm sure they'll push back – they just don't really need to at the moment. Aaron Black is just about the only NM forward who looks damaging. Thomas, Petrie and Majak Daw are not giving much – but the ball is not really going forward.
Atley's actually having a pretty good quarter running off half back and through the middle. I've hardly seen Bastinac out there, but at least Cunnington is starting to get involved. He is such a tough tackler, he's certainly going to average at least 5 per game in 2014. I'm claiming Simpkin. My boy! He's a ball magnet, plus he uses the ball so well. If he has made his way into the starting 21 at Hawthorn, he could go bang this year – I'm thinking a breakout year a-la Liam Shiels in 2011. Boogsy likes the look of Langford – and so do I. He's finding plenty of it, and bobs up around goal as well. The hawks are still dominating the game – the lead at half time again is 5 goals.
Shiels is on 88, Simpkin 69, Hodge 58, Rioli 56 and Mitchell 50. Gunston is surprisingly on 42, I haven't really noticed him too much, so that's a good sign he is still scoring well. McEvoy is only on 25 – I'd love to see the stats but it definitely seems like Hale has spent more time in the ruck. But probably the most pleasantly surprising for mine is young Derick Wanganeen (MID, $115,200), who just looks at home – he is so clean with the ball.
For the Kangaroos, they have had 50 less disposal than the hawks, and 12 less inside 50's. At least they have tackled well, they've had 45 to the hawks 32. Dal Santo is on 54, Black 47 and Cunnington is on 42 – 28 of those are from tackles. McDonald just looks composed, he will definitely be a round 1 starter. He's on 36. Atley had a busy second quarter and goes to half time on 39. Mullett is also on 39. Bastinac is on 12 (4 HBs and a tackle), and Majak Daw on 6.
I switch on the cricket, and we still don't have a wicket – another beer. Gunston kicks the first of the 3rd after marking 15m out. He is just so dangerous. McDonald looks like a 50 gamer, and Joel Tippett (DEF, $115,200) is actually looking OK in the backline as well. Rioli is all over the place, and Atley has really worked himself into the game now.
The subs are being made early in the 3rd quarter. Matty Suckling is on, and Luke Hodge has been subbed off. Breust is subbed off for Hallahan. Sam Wright has come on for Taylor Garner, who might have a serious knee injury – I hope the kid is OK. Lachlan Hansen is on for Cameron Delaney. The sub players all find the ball early, the fresher legs are helping their cause.
The second half was very much a dull affair. All sting (if there was even any to begin with) was gone, and players looked like they were running on the spot. There was not a lot to take out of the second half – I think players were more inclined to think about getting through the game unscathed than really having a dip – of which I cant blame them. The result was beyond doubt (as irrelevant as it is anyway), and it was probably more just about blowing out the cobwebs.
I was most impressed by the young quartet of Langford (101), Shiels (114), Simpkin (79) and Wanganeen (101) for the hawks, while Hodge (70 and subbed out just after halftime), Rioli (87) and Mitchell (79) also played well, and played very fantasy friendly roles. Sam Mitchell is 100% a must start this year. He had a quiet second half, but he did what he needed to. Matty Suckling (38) got through nearly a half of footy and barring a setback, he will play round 1.
For the kangaroos, Atley (69) worked himself into the 2nd and 3rd quarters after a quiet start, Cunnington (112) is tough as nails and just doesn't give up, Dal Santo (74) was good early and Luke McDonald (75) is a young gun – I think it's worth getting on him for the Rising Star.
The disappointments were Currie (42), Ryan Bastinac (22 – if he doesn't find a way to shake a tag then he will soon find himself on the outer) and Jack Ziebell (55), who had absolutely zero influence on the game. The Kangaroos will need to find consistency in the midfield if they are to be truly regarded as a contender – if you are keen on any of the Kangaroos midfielders, be prepared for inconsistency – expect the unexpected. Goldstein was also pretty quiet, but on the flipside, so was McEvoy. There wasn't much to get excited about from a Kangaroos perspective.
There we have it, another rather dull NAB Challenge match (Oh yeah, the Hawks won by 65 points). The things I took out of this match were; lock in McDonald, lock in Mitchell, give Cunnington a look, you could go worse than Shiels/Simpkin if you are after a unique mid pricer, and Wanganeen/Langford are worth putting on your watchlists leading into round 1.
Anything else take your eye? Follow me on twitter: @cruttonhutton.