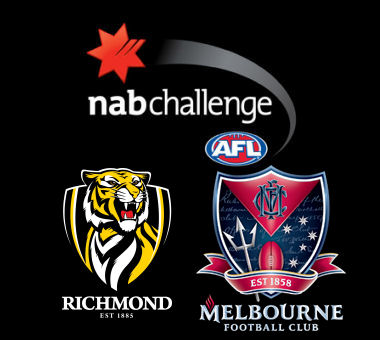 Richmond Tigers v Melbourne Demons
Etihad Stadium. Friday 14th February, 2013
Click here for AFL Match Centre
I must admit, The AFL got something right. The 18 games in 18 days concept is a big winner. Fans get footy every night in the lead up to the home and away season and more importantly, we the Fantasy community, get to carefully assess our current selections and other watchlist players.
'Superstar' Jack Watts was a late out tonight so we'll need to wait a little longer before we see him in his new midfield role. Personally, I don't believe Watts is fit enough to play in the midfield full time so don't be fooled. Chris Dawes, Mitch Clark and Jesse Hogan were three more Demon talls out of action. Clark is pushing a fine line to be match fit for Round 1 so let's hope our forward cashcow features in the next round of the NAB Challenge.
In the end, wasn't it great to see Melbourne get over the line!? I think we'd all agree that Paul Roos has had a positive affect on the playing group and further improvement is on the horizon. Overall the game wasn't the most attractive we've ever seen but there were plenty of positives from a Fantasy point of view.
The Dees played a short kicking, possession game which saw a number of +6's come into fruition, many to Jack Trengove (MID, $422,500) who had with 130 Fantasy points. Dean Terlich (DEF, $434,900) started like a house on fire with 45 points at quarter time but ran out of gas and only finished with 90 for the game. Viv Michie (MID, $193,900) was solid as an in and under midfielder and could be a nice little bargain but the biggest talking point of the game was the performance of rookie, Jay Kennedy-Harris (FWD, $157,200). Tonight, JKH secured a small forward role for the Dees. He looked awesome and finished the game with 9 kicks, 4 handballs, 5 marks and 3 goals all in the last quarter!
As for the Tigers, well no one cracked the ton in fact no one got close. Dustin Martin (FWD/MID, $526,000) played most of the game at half back and tried to run and carry. Surely, he is better suited to a mid/fwd role! Brandon Ellis (MID, $429,300) didn't get a lot of the pill but played on the ball instead of his customary wing role and Trent Cotchin (MID, $511,300) was very quiet with only 14 touches.
Dom Tyson (MID, $218,400) was ok and had 16 touches, 4 marks and 1 tackle. He scored only 56 points but don't cross him off your watchlist just yet. Conversely, Bernie Vince (MID, $449,300) was best afield after being allowed to roam free all night and had 32 touches, 7 marks and 105 Fantasy points by games end. I've added Vince to my watchlist!
Not that it's Fantasy relevant but Chris Newman (DEF, $364,300) sustained a knee injury in the game and was the only casualty.
What were your thoughts of the game? Discuss in the comments.