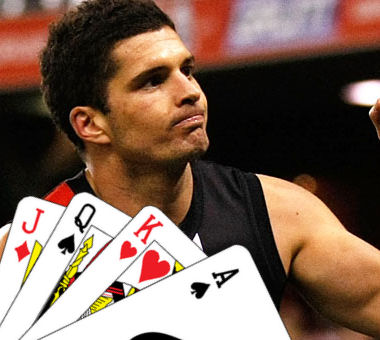 Name: Leigh Montagna
Club: St Kilda
Position: Midfielder
AFL Fantasy Price: $606,000
AFL Dream Team Price: $610,800
Bye Round: 10
2013 Average: 111.8
2013 Games Played: 21
Predicted Average: 104
Why should I pick him?  
As far as consistency goes, Joey is up there with the best of them. From his 21 games last season, he missed the coveted ton on only 5 occasions…a 76% strike rate. In 2013, Ablett would also reach the ton at 76%, Pendlebury was slightly lower at 70%, Barlow 62%, Goddard 59% and Jelwood a mere 55%. Only Johnson 81% and Swanny 77% had slightly better odds than Montagna in reaching the ton in 2013. Do I have your attention?
No doubt, Montagna is the type of player you can lock and leave. In the past five home and away seasons, he has only missed five games. Durability, check. He's ticked all the boxes so far this preseason and looks set for another big year. Another perk in picking Joey is his point of difference. According to Dreamteam Talk's Drawing Board, only 3.8% of coaches have selected the fifth highest averaging Fantasy player from last year. Take it from me, getting ahead in this game only occurs when you make a few left-field decisions. Dare to be different with Montagna!
How high is your ceiling? Montagna created Fantasy headlines in Round 23 last year after amassing 34 kicks, 13 handballs, 12 marks, 3 tackles and 2 goals to finish with a huge 189 Fantasy points! Averaging 30 disposals in 2013 saw Joey hit the 120+ score on 6 occasions and with even more midfield responsibility this season, the foundation is there for him to continue on his merry ways.
Don't forget that the Saints have the Round 10 bye thus you can comfortably sit on Monty for the first two bye rounds while holding Dangerfield in your forward line, Mitchell in defence and Ablett or Swanny in the mids.
Why shouldn't I pick him? 
Tag, you're it! With Nicky Dal suiting up for the blue and white in 2014, the chances that country boy Leigh will cop a heavy tag every week is pretty high. Montagna and Jack Steven are the only two midfielders at the Saints that the opposition will bother worrying about. Sure, Joey won't cop heavy attention from taggers every week but it will be far more frequent than last year. Consequently, Montagna's average will take a dive from last season…I guarantee it!
There's no bargain for your buck when picking 30-year-old Montagna. The fifth most expensive Fantasy player is being overlooked by many coaches to start the 2014 season because of an abundance of value elsewhere. Why pick Montagna ($606,000) and say a basement priced rookie like Jared Polec ($135,500) when you can have Savage ($364,900) and David Swallow ($377,000) instead? That's just one example!
Deck of DT Rating.
KING – A bit controversial considering Montagna averaged 110+ in 2013 however; I'm pretty confident that he'll be on the slide in 2014. Extra attention from taggers, an aging body and an abundance of inexperience around him in the midfield…it's an uphill battle for one of Fantasy's old favourites.
The final nail in the coffin is his $600,000+ price tag. Why spend that much coin on Joey when it can be better spent elsewhere? If you want go all out, spend the money on reliable DT guns in Swan, Ablett and Pendles.
FOLLOW ME ON TWITTER: @JeppaDT for all things Fantasy. Got something to say about the deck? Use the hashtag…#DeckofDT. Fantasy Pre-season is getting serious!