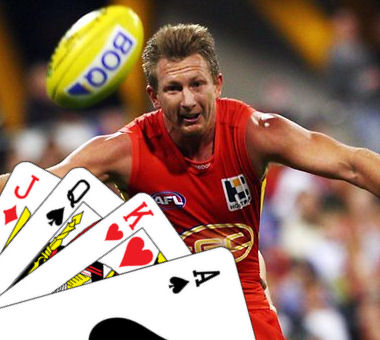 Name: Nathan Bock
Club: Gold Coast
Position: Forward
AFL Fantasy: $135,900
AFL Dream Team: $180,300
Bye Round: 8
2013 Average: 33
2013 Games Played: 2
Predicted Average: 72
Why should I pick him?
The rules for AFL Fantasy have changed.
Jesse Hogan – $265, 600, Tom Boyd – $262,900, Jack Martin – $268,300. Gone are the days where the best youth in the country can walk into our Dream Teams without a second thought. Rookies are now priced on potential and players affected by injury and time off are discounted more appropriately. There's a shift happening – 2014 will see our benches filled with mature players who've been in the system for years, not 10 gun rookies who are priced in the bottom bracket and just coming onto the scene.
Now to the man who is leading this change – Nathan Bock. Moving from the Crows to the Suns in 2011, Bock was in his prime after 3 productive seasons in defence at Adelaide yielding DT averages of 84, 87.8 & 78.5. 2012 brought him more of a swing-man role at the AFL's newest (at the time) club as he shouldered a lot of burden to smash out 21 games at an enviable average of 80.2.
With a full pre-season in front of him and the burden lifted by the growing talent on the Gold Coast, Bock is free to return and play a secondary role for the Suns – one that will be free of the heavy accountability and pressure that existed in 2012. Almost two years have passed since his horror leg break and he is ready to finish his career on a high as he helps the emerging Suns push towards the middle of the table in 2014.
Finally, did I mention his actual price-tag? At just $135, 900 you don't need to worry about risk – place him on the bench and watch his return to the top level yield you a healthy AFL Fantasy profit. He's nearly half the price of the top-priced rookies, so save yourself some money and #LockInBock
Why shouldn't I pick him?
Round 6, 2012 – Bock comes from the field in Q2 with a broken leg and isn't seen again on an AFL field until R19, 2013. Subbed off in both of his appearances for the year, Bock struggled to make a solid impact in both games as he worked back to full fitness. Will 2014 see this come to fruition? Well, I guess that's up to the Football Gods.
Playing 6 games in the last 2 years doesn't read well for anyone, let alone a guy who is turning 31 in 2014. Sure, the news has him on track for R1 – but how many times do we hear that at this time of year? [A lot] At this point the safe option is to attach a 'wait and see' clause to Bocky for now, with the notion of reassessing his position around mid-February.
But the equation is simple – if he's fit for R1 (even only 50% fit but still named), you'd be crazy not to pick Nathan Bock. It's actually hard to put forward a good case against him at this point.
Is he likely to recapture his pre-2012 again? No. Is he in the twilight of his career? Very likely. But is he worth picking anyway? Abso-bloody-lutely – yes.
Deck of DT Rating.
QUEEN – It's simple – if Bock is named for R1 and appears in sound health, he must be in your side in some capacity. He's a low risk, bottom-price player who (I'm confident) can still make an impact at the top level. Do yourself a favour and throw him on your bench for R1 and move onto your next selection. Injury-permitting, I have no doubt that Nathan Bock will be one of the most important players in your AFL Fantasy Team in 2014.
Do you agree? #LockInBock
FOLLOW ME ON TWITTER: @McRathDT for my honest and unbridled opinions on AFL Fantasy. Let's get the deck discussion going, using the hashtag #DeckofDT.