The Friday Scramble: Round 23 – Grand Final
Grand Final Time!!! Are you ready? Is your team struggling with injury or General Soreness? Hopefully you will be ready to go and you can bring home the glory! Join me for the last time this year as we scramble our way through Friday.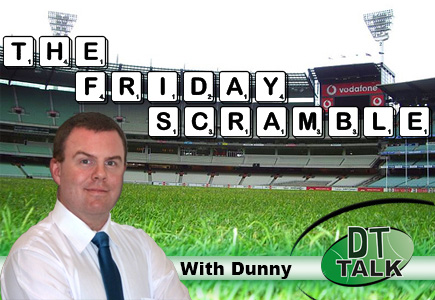 "They said you'd never make it…."  Anyway, as the song goes on to say… You did make it, you got there, you have made it all the way to the Grand Final.  Of course there is only a couple of us that have got this far in our leagues.  Congratulations on getting to the GF, now comes the tricky bit!  Winning it!  Whether it be for some sort of side bet with your mates or quite simply for pride, we all want to win it to get the bragging rights over our mates for the summer months.  For me… well it is about getting the winners trophy on my desk at work for the next 12 months.  But if you are out of the finals, firstly well done for sticking with your team and guiding it through to the end.  You may find your rank will go up a fair bit with those teams that are already bundled out of the finals falling by the wayside.
It is nice this year to head into the last game of the season with two trades sitting there ready to use!  I can't remember the last time that this has happened for my team.  So the key here is to use those trades wisely.  Hopefully you have a bit of cash in the bank that you can use too to try and bolster your team heading into this weeks big dance.
Trading Strategy
I think over the past few weeks I have written a fair bit about trading strategy and you should be all over it by now, however, here is a bit of a recap just to remember what we have already spoken about.
Injury or Selection – Well this is simply obvious, you aren't going to win a GF with only 21 players counting.  So before any luxury or risky trades you need to make sure you are fielding a full side!
Defence! – Here you would look at your opponent's team and see where your team is at a disadvantage and where you may be able to trade out one of your players and then bring in a key guy that your opponent has.  So this week if you don't have someone like Joel Selwood and they do, you would be looking to trade out someone that you don't have the utmost faith in and bring in Selwood to ensure that it is a nil all draw in that circumstance.
All Out Attack – In this case you think you are evenly matched in all of the big guns then you may want to go all out attack and bring in two guys that are going to give you the edge.  They would be guys that your opponent doesn't have and you think that they will be just the uniques that you need to bring your the win.  This might include guys like Pavlich, Bob Murphy or Harry Taylor.
#Yolo Trading – Sorry Calvin I know you aren't a YOLO fan, but these are where you are the complete underdog and you are going to go for someone that might score you a 40 or they might just get you a 140 at a low price.  Let's have a look at last week.  Matt Rosa is a guy that you ordinarily wouldn't look at, his average of 69.4 screams don't touch me!  But he came out and scored a 131 in a huge loss to Collingwood.  His previous best was an 84 in R15 against Adelaide (He plays them at home this week).  There are these guys that you think are due for a breakout game that can really surprise. you.  The best exponent of this theory though is Paul Seedsman.  He had a 121 last week with an average of 79.   In the R14 loss to Port he had a 148 but in R16 v Adelaide he only managed 54.  So he is a massive risk but can bring you a massive score for the price of $394k
Who to play on the field?
Once again this is all about your matchup.  Check out your opponents team and try to predict what you think they will do.  But when you are selecting your guys to play on  the field and those that you will put in the green vest (your emergencies) really look at who the guys are playing and the role they will play in that game and also how they have gone against that team in the past.  You won't get all these decisions right, we never do, but it will help you sleep at night after lockout to know that you have done all the research you can.  Don't just check out who scored the most last week and play them, that isn't always going to repeat itself.  You need to check out more than just last week.
Gary Ablett
Wow, never thought I would be discussing this in this article…. ever!  One question I have actually been asked a fair bit this week is… should I be trading or benching Gary Ablett this week.  Now I will give you the fact that he has been terrible over the last three weeks.  But seriously it is Gary Ablett here people!  His average has plummeted from 123 after round 18 down to 113.  Since his 114 in round 18 he has scored 89, 64, 82 and 71.  However, do you want to risk not having him?
Will Gaz bounce back?  Well earlier in the season at Manuka he had 131 on GWS, and we all know how much he loves Metricon where he averages 114.  Personally I will be playing him!
Freo.. Oh No!
Well our old buddy Ross Lyon has done it to us again!  We should have been suspicious on Wednesday night when we heard that betting on the Saints v Freo game was suspended.  So what happened?  Of course he left out Mundy and Fyfe.  Many of the teams out there will have at least one of these guys.  And also a lot of teams may have Zac Clarke in them too who has also been left at home.
#AskDunny
Interesting one this one.  Griffen scored 136 against Melbourne in round 14.  He didn't get tagged in that game and Boyd scored 90 in that game.  Playing at Etihad will certainly help him too.  There is a risk of him being tagged.  I still think he will go big given they will have Boyd and Cooney to contend with. If you were really concerned I don't have a problem with Sidebottom or Libba.  Sidebottom is averaging 110 in his last 7 games and scored 106 vs North in Round 1.  Libba hasn't had a great run over the last 3 weeks.  However when he played Melb earlier in the year he scored a 144!  So really, any of these three guys would be a good bet.  If you don't have any issues to deal with and are really worried about the tag then I would probably go Libba.
My first concern here is that Wingard did pull up sore against Freo and was subbed out in the 3rd quarter as a precaution.  The second thing that worries me here are the tags that Carlton like to use.  They must win this one to keep their game alive so Boak and Wingard will be heavily targetted by Curnow and the guy with a bad Mo Armfield.  These two guys have done well tagging lately and I think that those two guys will be the first two tagged by Carlton.  Last week we saw Boak get the Crowley tag and he scored a poor 66.  Against Carlton earlier in the year he had 74 which doesn't inspire confidence, however, his average at AAMI this year is 108.8 so there is some merit in playing him.  I think that if you have him you will probably have some bigger concerns in your lineup so keeping him would be a good idea. I am not sure that I would be bringing him in though, I think you will probably have better options out there.
Big Roo has been fantastic this season, averaging 102.3 this is his second year where he could finish with an average over 100 (2009 was his only other year where he averaged 106.5).  Nick didn't play against Freo earlier in the year as he had a bout of General Soreness and it was always planned that he wouldn't fly to Perth.  His last three against the Dockers have yielded 91, 65 and 75.  Certainly not very impressive numbers, but he has done well against some of the better sides in the comp even when his team is getting flogged.  He had 153 v Sydney, 117 v Collingwood and 123 v Carlton earlier this year so he remains a good chance to score well.  The other factor here is the Freo side that have their spot in the top 4 wrapped up and General Soreness has paid them a visit with their regular fullback Dawson is one that is out.  I think that Riewoldt will have a good game and I will be surprised if he scores under 90 (something he has only done on 6 occasions this year)
Short answer for this one.  I think that Cotch and K Jack are a little more risky than Beams.  I think that I also like Griffen slightly more than those two guys.  Cotch's red vest last week does still worry me as I am concerned that he has a niggle of some description.  I did read today that Beamer could have played last week but he didn't as a precaution so I think that he should be a fairly safe bet for this week's game.
JPK does seem to like playing the good teams as you said.  He had 121 against the Hawks at the G earlier in the year and 135 against Freo.  However, he didn't have that many huge games, those two plus his 126 vs St Kilda a couple of weeks ago are his only scores over 120.  His average is only 90 and he will be good for a score of about that in my opinion.  He averages 86 at ANZ Stadium and has scored 121, 147 and 113 against the Hawks in his last 3.  Given a chance I would take JPK this week.
Firstly I am sure that Chopper is pleased to see that he has a groupie out there!  Wow there is quite a few choices you have.  Stevie J, Rocky, Boydy, Watson or Scooter would be the ones that I would consider.  Really, this gives you the chance to either be attacking as Roy suggested on the show last night or you could play defensive and trade to take out a point of difference that your opponent has.  To be honest, just get a guy that you are comfortable with that has the best average and has a good record against their opponent.
Things To Remember
There is no Second Prize! – No one remembers who comes second.
Back your Guns! – These guys aren't called guns for nothing, trust them just like you have every other week.
Don't over think it – The more that you think about it the worse the decisions will make.  You got yourself to the GF…. you must know something!
Keep Calm and Lock Swan – The pig has been on fire lately and is playing at the sty…. what more do you need to know?
Dunny's Destroyers find themselves in 3 GF's this week.  One of them being the DTTalk SA State of Origin league!  Last week we had a respectable 2,346 and my ranking lifted up to 1,777 (surely a lucky ranking!).  Hopefully I can get myself one or two premierships out of those leagues and finish with a nice ranking.
Good luck to all of you I hope you all have a great game and bring home your premiership (Unless you are the coaches of Tonto Apache, Peto's Rare Breed and Cows with Guns whom I am trying to beat).  And if you aren't in the GF, stick in there for one more week and try and finish with a nice ranking.
Thanks to everyone for reading each week, I have had a great time writing for you and I hope that I have been able to give you some good advice throughout the year.  I will continue to tweet out over the finals for those that are playing the Match Day game so give me a follow on @pkd73.  Otherwise I look forward to having you back for the Scramble next year and also some Pre-Season advice.