Trigger Happy: Preliminary Round
Back after a week of dealing with life. JimBob looks at trying to help plug holes our titanic-like backlines with some players with handy fixtures and good form against their rivals. No surprise the Ty Vickery goes to a backline player either!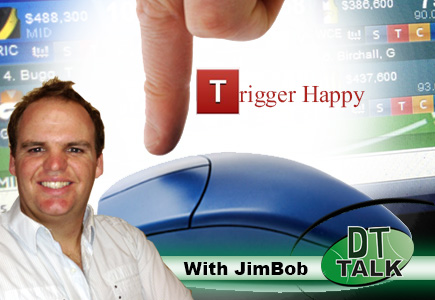 1 week to go to the big dance! You still in contention?
Defenders
Well we have some good old fashioned carnage this week down back.
With the Triple H of Heppell, Hartlett, and Henderson all going down, Ibbotson continues to be on the outer and while Hanley is named, there has to be doubt  after he was vested last week. If you're not making a trade in the backline this week, well you're probably not playing in a final!
Dunny gave us his wisdom this morning for some backline options, but I also think I have found a few too…..
Grant Birchall: – $317,500 b/e 98. It's round 5. Birchall is averaging 119, worth $518k and one of the most popular trade ins of the week. I even called him the 'must have defender'  back then.  Birchall goes on to play North Melbourne and gets a forward tag from Sam Wright which was the beginning of the end for Birchall's premium status. This week Birchall finds himself back against the same foe and has only bettered 80 since then with an 81. For his value, you may take an 80 this week but I wouldn't bank on it.
Danyle Pearce $396,300 b/e 39 – Danyle comes up against his former team for the first time so we have zero data on how he goes! What we do know is that he is averging 104 in his last 3 and 92 in his last 5 which places him 7th out of all defenders in the that period. I think Pearce will be up and about against his old club and think he will get a good score.
Paul 'Duffman' Duffield $323,300, b/e 23. The Duffman is cheap, but he's cheap for a reason. Since round 10, he's had 5 scores of 70 or under and a horror 3 week patch where he went under 51 three times. BUT Duffield likes to come home with a wet sail. Last year Duffield had 104, 113, 125 and 109 in his last month of DT. This year, now 2 weeks into his last month, he has a 90 and 97 to his name. He also loves playing Port Adelaide  with 118, 88 and 107 on them in his last 3. I think Duffield represents great value for his price and definitely worth considering for the next 2 weeks. A prize if anyone puts him captain!
Sam Butler $381,700 b/e 76 Poor old Sammy Butler. Not even owned by a 1000 coaches. In and out of the eagles team all year, he has now had 4 games on the trot and likely to finish the season out. While he hasn't been spectacular since returning, he has been solid with 93,83,90 and 82. Also had a 101 on Collingwood last year so does know how to score. I fear the ball may be down there a lot.
So there are some backline fancies that I like. Hope you can find a winner in all of them!
Midfielders
With all the backline carnage there may not be any room left to consider any other trades. While there are no omissions to note in the midfield, there is never a bad time to further upgrade in the mids. Cotchin and ROK are some popular trade outs that aren't Dyson Heppell.
Joey Montagna – $504,200 b/e 116 – I have looked at getting in Joey many a time but never trusted him. While he would get a couple of decent scores, he would then get a score under 80.but the last 5 rounds, he has 5 x 100's to his name and an overall average of 107 which is the ninth highest overall. Only in 5.3% of teams which is super unique.
Tom Liberatore $499,100 b/e 137 A good pick purely for fixture.  Likely to avoid the Raines tag and pump out a big score. Had 120 on the lions last time and the 4th highest projected score this week (if that means anything). Don't worry about that break-even; just be happy with the points on the park. A genuine consideration for starting squads next year too.
If you have been missing out on Joel Selwood in his beast mode for the last 7 weeks, it sucks to be you.
Rucks
Matty Kreuzer comes back in this week for those patient coaches that held him for those 2 weeks. While it would be great to bring him back in, unless you have someone like Jarryd Roughead at R2 I would place it low on the trading priority list this week. What is a turn up is that young Pie Brodie Grundy continues to get a game as the number 1 ruck at Collingwood, which is great for those coaches who brought him in as R3/4. Depth on every line at this time of the season is like gold. If only Aaron Sandilands knew that.
Forwards
Not too much to crow about in the forwards this week. Moving on.
The Ty Vickery Award
The contender
Brandon Ellis – Looked million dollars against Carlton after his first quarter in his usual loose role on a wing, then got the ol padlock by known tagger Dennis Armfield.  Once the tag was applied in the second quarter, Ellis only managed another 24 points for the match and Carlton ended up running over the tigers. I hope there isn't too high a correlation between the two events as he may see more attention coming his way.
But the winner is…
What a week for Pearce Hanley. A 5 year deal AND the Ty Vickery. Look how happy he is! The most popular trade in last week.  Coming off a 105 and 91, Hanley was a logical replacement for spuds like Garrick Ibbotson.  While a poor score due to injury can't be foreseen, it' still pretty dam frustrating and added to a week of post lockout hell.  While Hanley is named this week, he does play on a Sunday and could be a late out so make sure you have a reliable D7.
Running review
After Saturday's afternoon games, my team was looking pretty average with Ellis and Martin's slim offerings and my captain choice of Pendlebury. Fortunately,  I was lucky to have 'the big four' from the cats all fire against my boys and Barlow bring it home against Melbourne for a score of 2113 and on the verge of the top 1000. In 4 major prelims this week, including our writers league which I would be pretty pumped to win. For this reason, my trades will not be divulged until after lockout, nor my captain choice.
$hit is getting serious now, good luck
As always, Give me a follow on Twitter @jimbobholder