AFL Teams: Round 22
The ins and outs for Round 22 are posted. Make sure you are set for your preliminary finals by checking to see is all of your players are named.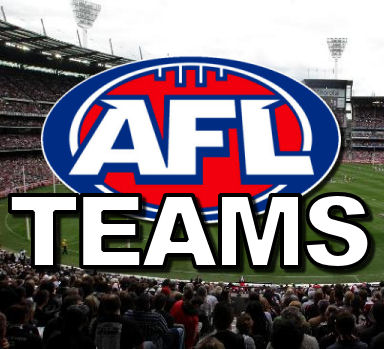 Team news as it drops…
UPDATE: Thursday 6:23pm AEST
Collingwood v West Coast
MCG, Friday August 23, 7.50pm AEST
COLLINGWOOD
In: A.Didak, B.Kennedy
Out: B.Sinclair (shoulder), J.Elliott (hamstring)
WEST COAST
In: M.Rosa, C.Masten, B.Wilson
Out: L.Shuey (hamstring), A.Carter, A.Embley
Adelaide v Melbourne
AAMI Stadium, Saturday August 24, 1.15pm ACST
ADELAIDE
In: K.Hartigan, M.Grigg
Out: M.Jaensch, S.Shaw
MELBOURNE
In: D.Rodan, J.Frawley, C.Dawes, C.Pedersen, J.Toumpas
Out: S.Byrnes (foot), J.Strauss (shoulder), S.Blease (ankle), J.Fitzpatrick (concussion), T.Davis
North Melbourne v Hawthorn
Etihad Stadium, Saturday August 24, 2.10pm AEST
NORTH MELBOURNE
In: M.Firrito, J.Ziebell
Out: N.Grima (foot), W.Sierakowski
HAWTHORN
In: B.Guerra, J.Anderson
Out: P.Puopolo (calf soreness), T.Duryea
Geelong v Sydney Swans
Simonds Stadium, Saturday August 24, 4.40pm AEST
GEELONG
In: P.Chapman, T.Hawkins
Out: J.Walker, J.Murdoch
SYDNEY SWANS
In: T.Mitchell
Out: J.Bolton (illness)
Carlton v Essendon
MCG, Saturday August 24, 7.40pm AEST
CARLTON
In: M.Kreuzer
Out: J.Bootsma
ESSENDON
In: P.Ryder, D.Myers, M.Hurley, J.Merrett
Out: L.Jetta, T.Bellchambers, D.Heppell (ankle), N.O'Brien
Fremantle v Port Adelaide
Patersons Stadium, Saturday August 24, 5.40pm AWST
FREMANTLE
In: J.Hannath, C.Sutcliffe
Out: A.Sandilands (cheekbone), A.Silvagni
PORT ADELAIDE
In: K.Mitchell, J.Neade, S.Colquhoun
Out: H.Hartlett (suspension), C.Hitchcock (hamstring), N.Blee
St Kilda v Gold Coast
Etihad Stadium, Sunday August 25, 1.10pm AEST
ST KILDA
C.Shenton, T.Ledger, B.Murdoch, L.Hayes
Out: D.Roberton (rested)
GOLD COAST
In: J.Brennan, M.Rischitelli, L.Patrick, L.Osborne, J.Gillbee, K.Hunt
Out: J.Hutchins (hamstring), D.Swallow (knee), S.Tape (concussion)
Greater Western Sydney v Richmond
Skoda Stadium, Sunday August 25, 3.20pm AEST
GREATER WESTERN SYDNEY
In: S.Darley, T.Adams, D.Tyson, K.Jaksch
Out: S.Gilham
RICHMOND
In: A.Edwards, M.White, S.Edwards, J.King, M.Dea
Out: L.McGuane (leg), D.Astbury (leg)
Brisbane Lions v Western Bulldogs
Gabba, Sunday August 25, 4.40pm AEST
BRISBANE LIONS
In: J.Lisle, J.O'Brien, J.Crisp, M.Paparone
Out: S.Black (suspension)
WESTERN BULLDOGS
In: J.Tutt, L.Jones, J.Macrae
Out: –
UPDATE: Thursday 5:57pm AEST
Round 22 teams released shortly on http://t.co/IBZE862aY1 – 29 changes for Fri/Sat teams and eight confirmed outs so far for Sunday squads.

— Patrick Keane (@AFL_PKeane) August 22, 2013
UPDATE: Thursday 5:00pm AEST
It's been a big week already for team news. We know that Hamish Hartlett (suspended – 2 weeks), Dyson Heppell (foot), Aaron Sandilands (face), Garrick Ibbotson (achilles), Scott D Thompson (lung – season) but there is doubt on a lot of other players including Pearce Hanley, Jack Riewoldt, and more.