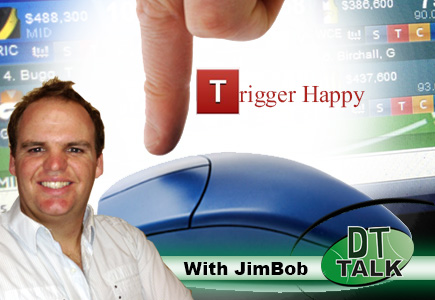 It's an early Trigger Happy this week as I have other commitments in 'life' outside of Dream Team……..
Last week of finals. It's time to pull out all the stops to make it to the top 4/8/. The closer the season comes to the end, the more short sighted we become (duh). It may seem logical but 2 week injuries need to be considered as an LTI. Hell even 1 week injuries can now be considered as a possible trade and if you don't have any injury problems you can throw your team loyalty right out the window…..
Changing things up
Usually I now continue to crap on about who the popular outs and popular ins for the week are, but as it's written on a Wednesday night, anything I write can be useless by Thursday night and we find out player A and B have been rested. So this week I will keep in the theme of the ultimate 22 I thought I would try and highlight some players in each line that you may not necessarily pick for a whole season, but might roll the dice for a few weeks. What have you got to lose? Some things I will consider when identifying players:
Their run home

Their 'floor' i.e how many lowest scores they have – this can help you form a worst case scenario and their ceiling.
Their consistency and;
Their popularity with coaches
Now if you want to know which team has the easiest run home in terms of DT, go and look at Nix's article from Tuesday – there's a few pretty little tables which are super user friendly!
Defenders
Jarrod Harbrow  $389,600, b/e 106 – According to Nix, Gold Coast has the easiest run home.  Harbrow hasn't exactly been setting the world on fire, but has never been horrible either. Has only been under 73 points per game twice and above 90 6 times. A pretty good CR of 11.6 and only in 5.6% of teams.
Charlie Dixon – $337,300 b/e 90. No, I'm not going to just pick all the GC players. While Dixon does  have 50% of his scores below 50, the half are over 90 so it's a bit boom or bust. Super unique (1.8%)and who knows what his role will be now that Nicholls has gone down. More ruck time?
Michael Johnson – $414, 200 b/e 97 – Yes he is a bit pricier and yes I do worry about his scores while McPharlin is out of the team but if you look at Nix's little table again, Freo are the only high scoring team that get an easy run home. Johnson has registered 100's against all of his next 3 opponents and he did have a 96 last week against Adelaide.
Midfielders
If you don't fancy the operation 'Beam me up' due to his high value, then I found some potential diamonds in the rough.
David Mundy – $491,700 b/e 127 – Once again on theme of the docker DT friendly draw coming home, Mundy has been pretty consistent all year without being spectacular and has never gone below 70 (and below 80 only 3 times). Averaging a respectable 99 for the year, he is averaging 109 in his last 5 and owned by just 3.5% of coaches.  Looking ahead, Mundy has been serviceable against Carlton (104,90,95) recently, had an off game against GWS (a 57 which appeared to be vested without an injury). Absolutely loves Melbourne after that with 3x 100's in his last 3 on them (but then again, who doesn't).
Tom Liberatore $472, 400 b/e 72 – Libba is the future of the bulldogs midfield and is starting to take the mantle on, averaging a uber premo like 119 in his last 3. Had a record 12 tackles last week and averages 6 a game for the season, and is starting to find the ball a lot with 24.5 possessions a game. Has shown better consistency in the back half of the year, with 75% of his scores above 88 since round 10. Has also gone above 115 100% of the time he gets a ton so when goes bang, he goes BANG. Will definitely have more than 2.93% ownership in the future.
Kade Simpson – $439, 000 b/e 56 – He's a bit like David Mundy and attack dog  Griffen in the way Simpson has threatened to become an uber premium but never quite delivered. What he can do though, is have spurts of form.  Hadn't registered a ton all year until round 16, but now has 3 in a row, including 127 last week against GC. Has a relatively neutral draw in terms of difficulty but decent records on his next 3 opponents. In a whopping .73% of teams, just imagine boasting about Kade Simpson knocking your mate out of DT for the WHOLE summer.
Rucks
Matthew Leuenberger $426,800 b/e 82. If you were like me and gave Berger the flick before the byes , you might of been disappointed in that trade, as he only had the 2 weeks off (one of them being a bye) and has quietly gone about his business since. Has shown goood consistency since rd 12, going under 80 only twice (which happen to be in the last 3 weeks). Hard to predict his form ahead, as he hasn't played either Richmond or St Kilda in the last 2 years, or ever played GWS. Has the highest projected of any ruckman this week.
Toddy Goldstein $407,300 b/e 55  is a popular trade in this week for Nicholls, but has a CR of 24 meaning there is a large chance of good and bad. looking at a floor of about 70 which isn't horrendous, but has gone around this mark 6 tines this year. Probably won a few coaches their matches last week, which may make up for all of last years losses in the second week of DT finals with his unvested  24. Go ask Roy about that one. On the plus side, he doesn't play Freo again.
Forwards
Chris Mayne  – $431,200, b/e 96 – The Golden mop of Fremantle has been going alright without Pav up forward.  Has that dream run home and averaging 103 in his last 3. Shown some good consistency since the bye, going under 75 just once. Only in 4.75% of teams
Jack 'Gunners' Gunston $429,900 b/e 104. I wish I didn't look this bloke up now as he got me thinking. You want consistency? Gunners is your man. In his last 10 games (since round 7) Gunston has gone under 86 ONCE .And that was a 75. Had a 100 on Richmond the last time he played them and is in just 1.92% of teams. Has a reasonably hard run home though, which could sort the men from the boys.
Andrew Walker $396,400 b/e 63 Another player re-invented  under Mick Malthouse, now sees him play off half back flank. While I'm not totally sure if he has been there all season or not, his fantasy scores have definitely improved in the last half of the season. Since round 10, Walker has gone under  78 just once and has 3 tons in that time as well. Has an average run home in terms of difficulty and in 1/10 of teams.
Stubby's Holders and Folders
Having a week off this week as all coaches need maximum points on the field. Trade, and trade hard!
The Ty Vickery Award
This one doesn't get a week off!
the contenders –
The Cannon McKenzie – I once again talk him up about how good he has been all season and he goes and lets me down again. 60 points isn't good enough. Has always bounced back after a mediocre score so should be good this week. Keep some faith.
Richard 'The Bling' Tambling – Like he was going to produce when he was traded in! His 27 points would of been super frustrating if you had him on the field, but if he sat o nthe bench as a bridging trade, he at least made you $20k.
but the winner is – 
Yep, the man with the chiseled jaw and funny name, Garrick Ibbotson gets the gong this week. I like this picture as that's probably what most coaches wanted to do to Garrick last week and his 56 points.  Despite the 2 average scores, people have backed him in to return to his premo scores of a month ago, but he hasn't repaid the faith. With three more games at Paterson's and that dream run home, lets hope Garrick  can come good.
Running review
Scored about par last week with 2205, which included Masten's vested 22, so am not too annoyed really. Was very happy with my late change of C from Pendles to Swan and happy with Scooter Selwood's first game back from injury. This week I need to get rid of Masten and not quite sure if I will jump on Beams or go someone a bit more unique. May even downgrade him and utilise Tom Mitchell on the ground. Will be a problem for future JimBob anyway.
Good Luck to all this week and I hope you get rewarded if you go more unique.
As always, Give me a follow on Twitter @jimbobholder