Trigger Happy Round 16 – Thursday edition
Early article with the live show tonight. JimBob shows examples of the value of squad depth and looks at some players that may not be at the top of the trade target list, then uses stats to make it look like a good idea.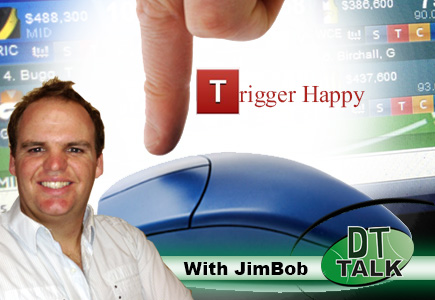 It's a pre-lockout edition this week due to the live show in Perth later tonight, and I'm not sure what my capacity to write an article afterwards will be….
Let's hope the information in the article doesn't become null – in-void after teams are announced!
Rant
Before I get started on the usual stuff, I thought I would touch on a topic that have been ranting about the whole season – my dislike of sideways trading and trying to build a squad of players. And last week was exactly why.
With teams on Thursday being kind to me, I had a few decisions to make with who to put on the field. Firstly, I decided that I couldn't bear to see another Terlich 100 on the bench so he came onto the field. Thanks to the magic of DPP, I could then substitute Vlastuin from the mids for Gibbs and bench the out of form Cotchin.
My mids now read Ablett, Swan, Pendlebury, Barlow, Dangerfield, Jelwood, Gibbs and Titchell with Cotchin (E) while my backs read Goddard, Heppell, Ibbotson, Ellis, McKenzie and Terlich and Clisby (E – traded from Vlastuin). I was pretty happy with the team and the depth I had.
Fast forward to 18 minutes before lockout and carnage once again struck with Ablett a late out. Fortunately, I didn't have to hit the panic button and consider trading Ablett out, just pop him on the bench and bring on the proven performer Cotchin and whacking the E on Hrovat.  With Cotchin getting a 100 I'm pretty confident I didn't lose much with Ablett's late out, but was very happy to have the luxury to bring him on so close to lockout.
While my story is fairly unspectacular, the point of having good depth on each line is very valuable. There was carnage before rd 14 with Stevie J, Barlow and co, there was carnage last week with Ablett, there appears to be carnage every week so you need good squad depth to mitigate against it. Prepare for the worst, hope for the best is my motto and I will continue to spruik this and hopefully find an example or 2 along the way.
Defenders:
Young tigers Vlastuin and Ellis head the list of the most traded out defenders so far. Both are pretty reasonable trades to make at this time of the season as they are both mostly unknown quantities and starting to leak considerable amounts of cash. I can still see merit in keeping both of them (assuming they play) if they were to sit at D7 as they have both proven to score well.
I didn't know Harry O was in enough teams to be involved in 1.73% of trades so far?
Nick Malceski $421,900, b/e 101 – Malceski was popular a few years back when he was cheap, but never cemented a spot in our teams due to persistent injuries. Back to his 2010 form, where he averaged 86 Malceski is averaging 87 for the season and 93 in the last 5 with only one score under 97 in that time. Pretty consistent with a CR of 11.7 too.
Pearce Hanley – $366,000 , b/e 28– The plucky irishman is cheap as chips and reminded us what he is capable of last week with 125 against GC. While still learning to cope with a tag, he can  still go big with a 3 round average of  88. Enjoy the ride, i'll consider when he gets a bit more consistent.
Midfielders
Jobe Watson dealt his coaches a cruel blow with a broken collarbone and a extended rest. Would hate to think if a coach had gone Murphy -> Scooter -> Watson as that's just plain bad luck. Jaeger O'Mera is the next most traded midfielder out and with a net profit of $316k, we thank you for your services and will see you VERY soon again.
Now with Watson the most traded player out, it's easy to see why the likes of Swan, Pendlebury and Barlow are some of the most traded in players this week. It also makes operation #GetStevieJ a whole lot easier, but will still cost $107k for the pleasure.
Trent Cotchin $394,700, b/e 70  – Yep, Cotchin is horribly out of form with only 1 x 100 in his last 9 matches and 4 scores under 80. So why Am I suggesting him?  Because he loves the second half of the season: (Thanks Dream-Stats!)
| | | | |
| --- | --- | --- | --- |
| Year | Ave 1st half (games) | Ave 2nd half (games) | Difference |
| 2012 | 105.2(11) | 116.2 (11) | +11 |
| 2011 | 89.6 (10) | 97.9(11) | +8.3 |
While the increase over the second half of the season could also be due to his natural improvement as a footballer, I still think he will come home stronger than his current average of 91 suggests. And with the $394k price tag, I think it's worth the risk. A trade to consider if you are off the pace a bit.
Brad Dalziell $317,400 b/e -32  – As   Tbetta talked up in the bullets, Dalziell is a bit of a diamond in the rough at this stage of the season. I'm pretty confident that he is  now in the best 21 for the eagles so shouldn't encounter the vest and is a proven DT scorer. With a rookie like b/e of -32 he is a good short term prospect to sit at M9 if you are forced to play Titch on the field. I am strongly considering him this week for this reason.
Rucks
Probably should of given  Matty Kreuzer ($430,900 b/e 70) a spruik here last week, as he is the inform ruckman of the competition as he is now playing a lone hand in the ruck. Averaging a 103 in his last 5, he looks great next to Cox at R2.
Forwards
The Buddy Franklin exodus continues as he is the 4th most traded player out this week. While I generally like to think the premos will come good, sometimes there are exceptions to the rule and it appears that contract talks do affect your on-field game! Keeping Buddy as your F7 cover isn't the worst idea as he has little currency for sideways trading.
Stevie J $541,000 b/e 119  – Operation #GetStevieJ  is in full swing. If you don't have him in your team, find a way to get him into. Use 2 trades? Who cares. with 163 and 171 on the dees previsouly AND playing at skilled he'll be fresh and raring to go. for me, this is not a problem this week as I was patient and held him for the 2 weeks. Did I lose out by having that much cash on the bench for 2 weeks? Playing Ben Kennedy and Brent Macaffer would suggest I lost a few points ( especially Kennedy's vested 21) but the shoe is on the other foot now as I can look to make other trades to strengthen my team while others use their 2 trades to get Stevie J back in. And this is before the teams have been named. In my opinion, it's all swings and roundabouts.
Joe Daniher $143,200 -b/e -52 – Daniher has been steadily coming into teams over the past 2 weeks despite not playing a game. It's not the worst move as he is on the bubble and likely to play games soon, but may have a hard time breaking into the team with Bellchambers kicking 5 on the weekend. Still makes you cash and can sit at F8.
Stubby's holders and folders
Buddy – Travis Cloke V.2013. See you next year – maybe. FOLD
Macaffer – to quote last week "Macaffer has great job security and will be a great F7 for the remainder of the season and with a 5 round average of 81, he is going nowhere in my team" and last week he scored 80! HOLD
Jackson Thurlow – with a fractured jaw and another 2-3 weeks out, it's time to cull this cow albeit prematurely. FOLD
The Ty Vickery Award
Before I get into naming and shaming, I just want to give a shout out to Dane Swan, who must read this article and really took the award on the chin well. Good way to respond.
The contenders – 
Gibbs – Coming off 3 score of 119 +, Gibbs was a huge in last week for many coches. A Collingwood loss and 60 points later, he could of ruined a few Friday nights.
Ibbotson – Despite his wonderful form at Patterson's playground, Ibbotson couldn't get near it on Sunday. A flash in the pan? Let's hope not.
But the winner is…..
Maybe a little bit harsh, but Griffen was a hugely popular trade for Matthew Boyd and with is recent form, a lot of coaches put the C on him straight away.  So relatively speaking, 86 points is not really acceptable, especially against GWS. Griffen has always teased us but never quite taken the step to uber premium status. He was only averaging 96 in round 10 and a purple patch has lifted his average to 109. Can it continue?
Running Review
A solid week for The Running Man with 2152 despite the  late out of Ablett, a concussed Ellis and the inclusion of my 'gun' forward Stokes. This week I need to get Gibbs back into the defenders and will likely cull Jimmy Webster to maybe someone like Lachlan Hunter who is on the bubble and a chance to get a game before the end of the season. After that I am tempted to bring in Bradd Dalziell for Hrovat as a mid solid bench option while still generating cash.
Looking forward to the live show in Perth tonight, should be pretty big! See you all there!
https://www.facebook.com/events/448513398578194/
Give me a follow on Twitter @jimbobholder