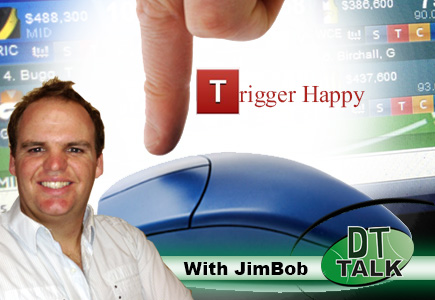 After a 2 week break I feel revitalised and rejuvenated and ready to tackle the home straight  that is Dream Team 2013.  I'll do my best to not drown my sorrows after the eagles loss while I write this…..
Defenders
Looks like the defenders were scared of being out of the spotlight for too long. At the beginning of the season I was quite up and about over my pick of Grant Birchall and boy oh boy, how the mighty have fallen. Round 5 he was close to the most traded player in and a mere 8 weeks later, he is the most traded player out. Not only did he put up scores that would make a rookie look bad, he likely cost some people up to $200k when they now have to trade him out…the only positive thing I can see in Birchall, is that he injured himself, removing all doubt in whether to trade or not.
Bryce Gibbs ($449,800 b/e  42) – The most traded in player this week, everyone is jumping back on after that '1 week hamstring' injury a while ago. Sits 5th in overall average and a no brainer for the rest of the season. There's a reason its a vanilla trade and ironically, the opposite trade was probably the most popular 2 months ago.
Michael Johnson ($439, 800, b/e 65) – While Garrick Ibbotson (still can't believe I am writing this) and the Duff Man take all the limelight in the fremantle backline, Johnson has been quietly going about his business. A 5 round average of 103, he is playing a mopping up/intercepting role down back for the dockers and a cracking POD (In 1.68% of teams). I say it too many times, I still don't trust a team coached by Ross Lyon. They do have a dream run coming home though, but does that mean they won't see the ball as much in the backline?
Trent 'The Cannon' McKenzie ($406,700/b/e 52) Another quiet achiever this season who has been going quietly about his business with an amazingly consistent season, with just 1 score under 80 in 8 games. Yes he has had a 80, 81 and 82, but hey, stats can say whatever you want them to. Bias stats aside, he's still consistent, and a pretty good price. Last 3 round average of 98, can he come home with a wet sail?
Midfielders
Did anyone beat me  in the  $hit-out-of-luck competition and bring in Barlow and Scooter last week?
Barlow should only be a week injury but Scooter Selwood is an auto trade when given a 4-6 week prognosis to return. The rest of the midfielders appear to be business as usual.
Scott Pendlebury ($510,600 b/e 77) – This is probably a stupid recommendation, but Pendles is only in 33% of teams, which means 2/3 coaches don't have him. If you don't have him, you are missing out. Big time. His lowest score this year is 86, which is pretty amazing really. Is in Calvin's Captains most weeks but still goes 'under the radar' a bit compared to Gazza and Swan. With a low b/e this week, he should be a priority to get in.
Matthew Boyd ($533,900 b/e 78) Old man Boyd who apparently has old man calves (Like Roy). Well if old man calves give you a 3 round average of 136, well sign me up. Took a little while to get going at the start of the season but now appears to be in full flight and probably the cheapest he will be for the rest of the season. Let's hope the Bulldogs don't take a cotton wool approach and give him a game off if he gets some niggles along the way.
Joel Selwood $455,900 b/e 39 For the thrifty coach this week we have Joel Selwood. An absolute bargain compared to his potential output, I do get scared because he gets a hard tag every week due to his disposal efficiency. I say this, but  I have brought him in this week as I like their draw for the rest of the year, playing only 3 of the top 8 sides (I'm predicting port to not stay in the 8). Will get a Crowley tag this week, lets hope he doesn't get bruised too much and miss some game.  Despite getting a hard tag, I love the fact he goes the other way and is averaging 5.7 tackles (close to 24 points) a game which means he only needs 25 disposals for a DT ton.
Rucks
Not much happening in ruckland, will Roughead continue to kick bags of goals? Buddy who? let's move on.
Forwards
The most asked question of the week – to hold or fold Stevie J? 6% of trades involve Stevie J being hip and shouldered out of teams. Similar to Tbetta's view, I am hesitant to trade out a fit player if I have injured players sitting on the pine, and think that 2 weeks in the bigger picture can be dealt with. For once, I was happy to see a player in the 'out' column for the teams, and that was Joe Daniher. See you next week mate!
Travis Cloke ($443,200 b/e 47) I don't usually condone key position players but I think Cloke could be exception to the rule. Has Port Adelaide, Carlton, Adelaide, Gold Coast and GWS so can continue to his recent good form. A maximum of 147 and minimum of 54, hang on!
Jimmy Bartel is always a good option, but with his recent good form, you'll have to pay $500,000 now! Shouldn't lose too much if you want to sideways him to Stevie J.
Stubby's Holders and Folders
Brett Goodes – not too sure the severity of the wrist injury but a handy D7 for the rest of the season – HOLD
Stevie J – 2 weeks suspension is really annoying, but I still hate trading players out with a plan to bring them in later. Then again maybe I just need a better crystal ball – HOLD
Michael Barlow – was a chance to play this week and should be back next week. The form player of the competition and a cheek bone shouldn't stop him from losing too much fitness – HOLD
The Ty Vickery Award
 This one hurts a lot.  Brandon Ellis was likely brought into a lot of teams with the view as a new age  premium back. A back who plays out of position and is very far down the pecking order for a tag. With scores of  128, 155 and 112 coming into round 13, his score of 60 was a bit of a let down. The Richmond v Bulldogs game was a bit funny in general, with Richmond winning by 10 goals, yet only having one player eclipse the ton for the game. Obviously the week that I put the C on previous TVA recipient Dustin Martin. I was warned.
Running Review
despite a horror round 13 where I only scored 1563 thanks to lack of contributions from Ellis, Vlastuin, Hrovat, Webster, Birchall and Captain Martin, I managed to jump up about 1800 spots to 1700th overall over the bye rounds. This week I am dealing with the LTI's of Scooter and Birchall while holding Barlow and Stevie J and welcoming into my team Joel Selwood and Garrick Ibbotson. Really worried about Ibbotson, I now imagine that he will do this for the rest of the season. I'm  getting somewhere close to a finished team, now just looking to consolidate my bench cover, as I'm certain that we will have more carnage than 2 trades can cover on a regular basis, thus building a squad of players to minimise the impact.
Do you have a strategy for the back half of the season? Or you just going to wing it?
Discuss it all below!
As always give me a follow on Twitter @jimbobholder