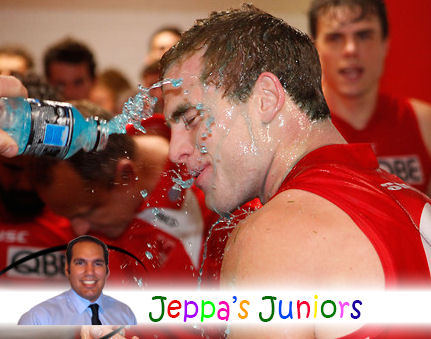 We are on the brink of the bye rounds and the performance of our players over the next three weeks will dictate the master coaches from the pretenders.
Vesting heavily in rookies this weekend will maximise your premo options in Rounds 12 & 13 so if you're still holding onto the odd dud or two then my advice is to cash in. There are a handful of very good ruck and midfield rooks that we can all downgrade to but who we bring in will be dependent on team structure. Plan carefully and let this article put you in the right direction!
Three-Or-More Gamers
KEEPERS
How good is Jaeger O'Meara (R13 Bye, MID, 82, $403,900 & BE 91)? Seriously, this kid is special. O'Meara didn't hit the ton last weekend but did prove how valuable he is to the Suns lineup after winning so much contested ball against the likes of James Kelly, Joel Selwood, Steve Johnson, etc. Only Brent Macaffer (R13 Bye, FWD, 105, $323,400 & BE 22) and Rory Laird (R13 Bye, DEF, 101, $266,100 & BE 12) scored 100+ last weekend. Laird played the game of his life against the Dockers and finished with 10 kicks, 14 handballs, 2 marks, 7 tackles and a goal in tough conditions and Macaffer is slowly becoming one of the best taggers in the AFL after restricting Hanley to just 10 possessions last Friday night.
It broke my heart to see Nick Vlastuin (R11 Bye, DEF/MID, 90, $370,700 & BE 71) absolutely tear it up against the Eagles on Monday night. This kid holds no fear and he continues to go from strength to strength. Mark Blicavs (R12 Bye, RUC/MID, 94, $272,300 & BE -3) performance in Round 10 was timely for coaches struck with injuries to Luey and others. His athletic background proved valuable in the last quarter where he out ran his opponents to score a whopping 42 DT points. I suspect that Blicavs will have a similar output against the Giants this weekend.
Both Josh Thomas (R13 Bye, MID, 97, $284,200 & BE 38) and Ben Kennedy (R13 Bye, FWD/MID, 87, $153,500 & BE -22) had very good games against the Lions and both should be given another full run at the Dees this weekend so expect 80+ scores from these two.
Brett Goodes (R11 Bye, DEF/MID, 86, $320,600 & BE 44) and Dean Terlich (R12 Bye, DEF, 78, $346,200 & BE 77) continue to be reliable types in defence and Jarryd Lyons (R13 Bye, FWD/MID, 81, $262,300 & BE 16) and Jaryd Cachia (R13 Bye, MID, 71, $257,400 & BE 11) are lesser likes that have had a very good couple of weeks.
Now for the debate! Mark Hutchings (R12 Bye, MID, 83, $185,600 & BE -61) is a keeper if he keeps getting a game. He's got a knack of finding the footy and he's a very hard worker but he can't kick to save his life and he was very poor in the second half against Richmond. If you took a punt on him, well done, enjoy the $80k profit but don't come crying to me if he's dropped this week.
DON'T PANIC
Brent Staker (R11 Bye, DEF/FWD, 55, $175,200 & BE -13) played as a deep key forward against the Pies and thus couldn't get into the thick of the action. He struggled to take marks in the greasy conditions and had poor supply from his teammates. With a bit of luck, Staker will be moved back into defence after the bye.
Rooks that were average last weekend but still have decent breakevens include Justin Clarke (R11 Bye, DEF, 55, $205,700 & BE 41), Marco Paparone (R11 Bye, FWD/MID, 63, $162,300 & BE 9), Sam Docherty (R11 Bye, DEF, 46, $151,800 & BE -5), Jackson Macrae (R11 Bye, MID, 71, $279,400 & BE 40), Sam Kerridge (R13 Bye, FWD/MID, 47, $323,700 & BE 35), Jack Hutchins (R13 Bye, DEF, $209,800 & BE 30), Nathan Wright (R12 Bye, DEF, 43, $169,100 & BE 24), Sebastian Ross (R12 Bye, MID, 58, $281,500 & BE 36), Jimmy Webster (R12 Bye, DEF, 51, $150,000 & BE 21), Mitch Morton (R12 Bye, FWD, 46, $199,100 & BE 18), Hayden Crozier (R11 Bye, FWD, 70, $257,400 & BE 17) and Dane Rampe (R12 Bye, MID, 64, $208,500 & BE 17). Keep these rooks for the short term only!
The Collingwood Football Club confirmed yesterday that Sam Dwyer (R13 Bye, FWD/MID, $318,400 & BE 36) is available for selection this week (source) after overcoming groin soreness which is great news for those that kept him and bad luck for those that got rid of him.
TRADE, TRADE, TRADE            
If you haven't read a three-or-more gamers name within 'Keepers' or 'Don't Panic' then trade them out ASAP.
Two Gamers
He didn't set the scores alight but Nathan Hrovat (R11 Bye, MID, 52, $107,200 & BE -66) did a couple of nice things against the Power on the weekend. He played as a running half forward, pushing up the ground to link up with his teammates but only managed 13 possessions for the game. When Hrovat's got the footy, he uses it very well but if he continues to be used at half forward then I suspect he won't average higher than 70. The impressive debuts of Tom Mitchell and Kyle Martin throw a spanner in the works on whether or not to trade in Hrovat. It's likely that I will still trade him in but I'll definitely be taking the extra week to make my decision.
Unlike his first game against the Hawks, Daniel Gorringe (R13 Bye, RUC, 52, $129,800 & BE -35) started forward against the Cats in Round 10 and was used sparingly in the ruck. He finished with 11 touches and 10 hitouts and was far from convincing. Debutant Tom Nicholls is hands down a better ruckman than Gorringe and Charlie Dixon is not far away from returning to the Suns forward line. I suspect that Gorringe will be squeezed out of the seniors when Dixon returns so I wouldn't trade him in. Sam Grimley (R11 Bye, RUC, 64, $108,500 & BE -75) also has job security issues even though he's performed admirably thus far. Max Bailey was listed as 'omitted' for Round 10 but omitted these days means rest. Bailey and Hale are the preferred ruck duo at Hawthorn, therefore I think Grimley is at long odds to play another 5+ games this year. Pass.
Troy Menzel (R13 Bye, FWD/MID, 63, $138,700 & BE 18) came in at the eleventh hour for the game against the Giants. He played a full match and finished with 8 kicks, 4 handballs, 4 marks and 2 goals. In Menzel's two games this year, he's been a late inclusion and green vest recipient. George Burbury (R12 Bye, FWD, 59, $108,500 & BE -38) was again used as a stay home forward and played reasonably well but his DT scores have been average. Job security issues are a real concern for Menzel and Burbury and the last thing we all need during the bye rounds is a fringe player!
Stay well away from Tommy Walsh (R12 Bye, FWD, 9, $194,100 & BE 86) and Sam Michael (R11 Bye, RUC, 23, $108,500 & BE 35). Walsh is out for the rest of the year with a serve hamstring injury and Michael from the Lions struggles to get his hands on the footy.
One Gamers
Get excited coaches, sandgroper Tom Mitchell (R12 Bye, MID, 98, $108,500 & BE -126) has arrived! As predicted by most, Mitchell started as the sub but came on at the 13-minute mark of the second quarter for Tommy Walsh. He played as a high half forward and was hard at the contests and very, very clean in the wet.  The most notable aspect of Mitchell's game, in my opinion, was his footy smarts. For such a young player, he knows when to go, when to stay back and he always put the ball to the advantage of his teammates. He finished with 12 kicks, 6 handballs, 6 tackles and a goal in just over two and a half quarters and John Longmire couldn't be happier (source). After the Round 12 bye, the Swans play Port, Carlton, Melbourne and GWS so I suspect that Mitchell will rack up the possessions in at least three of these games. Even with his vest risk and injury history, you have to bring in Mitchell either this week or in Round 13…the consequences will be too great if you don't!
Kyle Martin (R13 Bye, MID, 92, $103,300 & BE -118) was another debutant to really impress. He played the majority of the game as a forward but did rotate through the midfield at some point every quarter. Martin finished with 19 possessions (11 contested & 6 clearances), 5 marks, 6 tackles and 2 goals for the game.  He never looked out of place and was that good that he was named in the bests for Collingwood! The Pies face the Dees and Dogs before their Round 13 bye so I think its fair to assume that Martin will have a similar output in these games to what he had against the Lions. I am very likely to trade in Martin this week.
Tom Nicholls' (R13 Bye, RUC, 76, $108,500 & BE -82) performance on Saturday night was so good that I am certain that he'll be playing senior footy for the rest of the season. He's a great tap ruckman and a far better option than Gorringe but needs to work on his strength in the marking contest so he can become a threat when he rests up forward. Nicholls has the Round 13 bye, which is handy considering popular ruck choices in Cox, Goldy, Nic Nat, Roughy, Daw, Blicavs, etc all have the R11 & 12 byes. Feel comfortable picking Nicholls this week for bye cover if you have to.
Hip problems have held back the potential of Nathan Vardy (R12 Bye, RUC, 71, $209,200 & BE -8) to date but on Saturday night against the Suns, we got a glimpse of how good this kid can be. Vardy was a threat up forward, arguably more so than the Tomahawk and he finished the game with 4 majors. He's rated highly by Chris Scott and the Geelong fraternity but will be managed throughout the second half of the season, which means a week off at some point (source). Vardy's injury woes and hefty price tag means it's a NO from me, especially with Nicholls potential at half the price.
Cameron Hitchcock (R11 Bye, FWD, 61, $132,600 & BE -37), Jack Fitzpatrick (R12 Bye, RUC, 59, $146,800 & BE -24), Tim Sumner (R13 Bye, FWD, 41, $102,700 & BE -16) and Nathan Wilson (R13 Bye, FWD, 42, $177,500 & BE 30) were all reasonable in their matches but are nowhere near as good as Mitchell, Martin and Nicholls.
Jackson Fergurson (R12 Bye, DEF/FWD, -6, $108,500 & BE 82) and Will Hams (R13 Bye, DEF/MID, 10, $102,700 & BE 46) had games to forget after failing to gather more than five possessions each during their time on the ground so stay well away from these two. Fergurson's score of -6 is the lowest ever by a rookie in DT!
Keep Your Eye On
Six teams have the bye this week so there aint many rooks to look out for. Don't be surprised if son of a gun, Joe Daniher makes his long awaited debut against the Blues on Friday night. With Hurley no certainty and Gumby out of form, Daniher could be given a crack at the big time however, it's more likely he'll be eased into senior action against the likes of Gold Coast (Round 12) and/or GWS (Round 17).
Got a question? Ask me on Twitter @JeppaDT