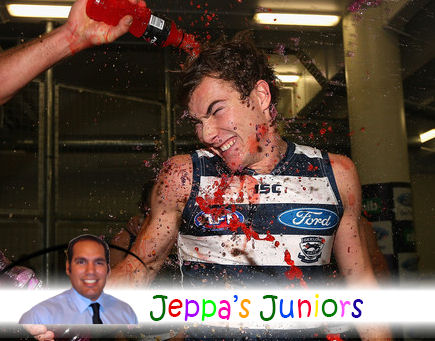 Geez it's handy when your rooks rack up 100+ scores, it's even better when they are your defenders. The performances of Terlich and Vlastuin on the weekend gave coaches a reason to smile and forget about some recent back pain. Unfortunately, it wasn't all smooth sailing. Rooks and vests continue to be a common theme and in Round 8 it was Mayes and Whitfield that caused coaches the most angst.
At this stage of the game, coaches need to trade aggressively and make those early upgrades. Many rookies have topped out (Whitfield, Jones, Wines) and there are a heap of under-priced premiums available (Watson, Deledio, J.Selwood), so don't miss the opportunity to make an upgrade this weekend!
Three-Or-More Gamers
KEEPERS
Nick Vlastuin's (DEF/MID, 131, $282,300 & BE -56) amazing effort against the Dees saw him finish with 19 kicks, 6 handballs, 16 marks, 2 tackles and a goal. He currently is the 8th highest averaging defender and Richmond's possession game will see him push the ton week in week out. Not far behind Vlastuin was no nonsense defender Dean Terlich (DEF, 120, $289,800 & BE -13). I can't remember the last time a defender, let alone a rookie defender finished with 10 tackles in a game! Vlastuin and Terlich have established themselves as important players for their respective sides, so hold on to them because both will prove invaluable during the bye rounds.
Other players to impress on the footy field in Round 8 include Jaeger O'Meara (MID, 99, $389,000 & BE 56), Jesse Lonergan (MID, 77, $171,500 & BE -23), Jackson Macrae (MID, 97, $209,500 & BE -24) and Sam Dwyer (FWD/MID, 104, $283,400 & BE -22). These first year players were all named in the bests for their respective sides and all look accomplished at senior level. Set and forget.
Jaryd Cachia (MID, 91, $156,200 & BE -51) was the surprise of the round after he avoided the green vest and instead given a full time midfielder role. If you're one of the 1,209 coaches that currently own Cachia, enjoy the healthy prices rises because he should hold his place in the seniors for a few weeks yet.
Please do not write off Brett Goodes (DEF/MID, 66, $304,000 & BE 63)! Goodes is an important member of the Bulldogs backline and even though he currently has a breakeven of 63, he will score consistently and continue to steadily rise in value.
Brent Macaffer (FWD, 70, $273,500 & BE 25), Rory Laird (DEF, 67, $209,100 & BE -5), Jarryd Lyons (FWD/MID, 64, $207,500 & BE 3) and Michael Evans (MID, 72, $289,200 & BE 49) are scoring reasonably well and all have a few of decent price rises left in them so don't trade them out just yet.
DON'T PANIC
I'm putting Sam Mayes (FWD/MID, 31, $285,300 & BE 93) in the don't panic category because I believe his Round 8 green vest was only to manage his workload. In my opinion, Mayes is still in the best 18 at the Lions so ride the rollercoaster and stick with him. Ben Kennedy (FWD/MID, 19, $117,000 & BE 2) also started in the green vest but it was for the second time in his short career. Kennedy only has a breakeven of 2, so you'd be crazy to trade him out before seeing what he produces this weekend.
As expected, Majak Daw (RUC, 35, $230,300 & BE -19) was outplayed by the Eagles' talls on Friday night. Fortunately, his score of 123 is still in his 3-game rolling average so expect a healthy price rise at rounds end. Justin Clarke (DEF, 36, $178,900 & BE -12) accepted his one match ban for charging and will come back straight into the Lions line-up in Round 10. Hold on to Clarke.
Kane Mitchell (MID, 46, $173,700 & BE 3), Mark Blicavs (RUC/MID, 49, $216,400 & BE 19), Max Gawn (RUC, 43, $188,200 & BE 23), Josh Thomas (MID, 48, $243,800 & BE -4), Luke Brown (DEF, 55, $210,700 & BE 1), George Horlin-Smith (MID, 51, $232,700 & BE 19), Jack Hutchins (DEF, 43, $199,300 & BE 34), Sam Kerridge (FWD/MID, 55, $254,900 & BE -14) and Sebastian Ross (MID, 58, $230,100 & BE -8) all scored below 60 but all still have healthy break evens. Stick with these rooks as reserves in the short term.
TRADE, TRADE, TRADE            
Jack Viney (MID, $208,800 & BE -11) and Jasper Pittard (DEF, $213,200 & BE 9) are both out for the next 3 weeks due to injury. With the bye rounds approaching, I think it is prudent to part ways with your injured players before considering any other trades.
My opinion hasn't changed on any of the Port kids so continue to trade them out in order of Jake Neade (FWD/MID, 42, $228,200 & BE 77), Campbell Heath (DEF, $247,000 & BE 81), Lewis Stevenson (DEF, 53, $237,500 & BE 49), Ollie Wines (MID, 69, $344,600 & BE 92) even though he was named in the bests for Port, and Cameron O'Shea (DEF, 70, $298,200 & BE 51).
Lachie Whitfield (MID, 36, $291,900 & BE 73) and Matt Jones (MID, 72, $342,600 & BE 75) look to have topped out with breakevens above 70. Whitfield is still being managed through games and copping red vests as a result. As for Jones, well he faces a hard tackling Freo side this weekend and I can't see him scoring above 70. It's time to part ways with these two if you can.
Dane Rampe (MID, 50, $176,800 & BE 20), Aidan Corr (DEF, 20, $120,500 & BE 34) and Jack Hannath (RUC, 35, $149,400 & BE 8) are not hitting the big scores so if you can afford to offload these blokes then do it asap.
Two Gamers
The most traded in player so far this week is Jackson Thurlow (DEF, 55, $116,200 & BE -56) and with good reason. Thurlow is quick, attacks the footy well and always gives 110% He didn't have a massive impact on the field against the Pies last weekend but don't let that put you off. No other rook on the bubble has looked anywhere near as convincing so if you're looking for a downgrade option, Thurlow is your man!
Jimmy Webster (DEF, 56, $108,500 & BE -29) is the next best downgrade target this week. In his first two games, Webster has proved he's got what it takes to match it at AFL level. He's a great kick and the Saints are desperate for someone who can run and deliver from the backline (ala Goddard). If you picked up Thurlow a week early and need another cheap defender, consider Webster.
Notable mentions to Elliott Kavanagh (MID, 75, $165,900 & BE -10), Jarrod Witts (RUC, 42, $108,500 & BE -8), Mitch Morton (FWD, 49, $164,900 & BE 23) and Jordan Schroder (MID, 54, $127,800 & BE -18) who are risky propositions given the fact that they have seen a vest in most of the games that they have played. It's a definite no to these four.
One Gamers
Brent Staker (DEF/FWD, 61, $132,600 & BE -39) kicked the sealer with less than a minute to go against the Bombers to reassert himself at AFL level. Staker started like a premo and was on 45 at half time but struggled in the second half and finished with 61. With some more match fitness gained, I'm pretty confident that Staker will run out games better in the coming weeks and thus his scores should improve. He was used between wing and half back last weekend but I suspect that he'll be thrown into a key position role for the next couple of weeks to cover for Merrett and Clarke who are both out with suspension. If Staker is used as a key defender, expect his scores to suffer a little.
Journeyman Matt Spangher (FWD, 71, $132,600 & BE -59) got a run against GWS after Josh Gibson was given the week off. Spangher appeared a little lost out on the ground but did his job none-the-less. Even if he's named this week, his job security is too shaky for my liking. I'd only consider Spangher if Lake and/or Gibson was out for a decent period. Troy Menzel (FWD/MID, 8, $138,700 & BE 71) started the game in the green vest and was only unleashed at the start of the last quarter. He played at half forward and managed just 1 kick and 1 very good tackle but I can see why he was taken at pick 11 in last year's draft. Menzel is a very skillful, smooth mover who will most likely end up playing on a wing for Carlton. Keep an eye on him this week because if he avoids the green vest and plays half decent he could be a very handy pickup given his DPP eligibility.
Tim Golds (DEF, 40, $152,000 & BE 15), Mark Whiley (DEF, 29, $171,900 & BE 49) and Tommy Walsh (FWD, 30, $194,100 & BE 61) are not value picks. All three are expensive, likely to average around the 50 mark and have very poor job security. Stay away!
Keep Your Eye On
Tom Nicholls – With Zac Smith out for the rest of the season, Nicholls appears to be a suitable downgrade option for Blicavs or Daw in the coming weeks. McKenna said during the week that Nicholls is likely to come in (source) after showing very good form in the NEAFL including a BOG performance last weekend. I wouldn't expect massive scores from him though. Daniel Gorringe should also be named this week as a replacement for Charlie Dixon who is expected to miss just one match with an ankle injury.
George Burbury – Yesterday Chris Scott announced that Burbury would make his debut for the Cats this weekend against the Power (source). Burbury is a medium sized forward who has improved dramatically over the past 12 months including a noteworthy performance in last year's VFL grand final. When it comes to dreamteam, I'm a bit of a skeptic against medium sized forwards especially developing ones at Geelong but let's see what the kid can do.
For the coaches that kept Brad Crouch (MID, $171,300 & BE -44) and/or Hayden Crozier (FWD, $204,100 & BE 1), relief is on the way because both are very likely to be named for Round 9.
Got a question? Ask me on Twitter @JeppaDT