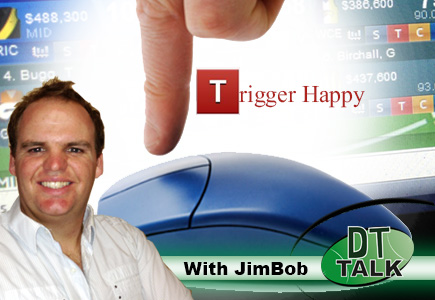 It's time to start culling those players who did their service for the first seven weeks. Those players who looked like a Rolls Royce after Round 3 but now run like a diesel with unleaded in it. Some of them won us games, some of them lost us games and now we can't stand the sight of them. Yes, it's time to start culling those rookies and they all seem to be from Port Adelaide, with seven out of the top 10 players from Port. Yes, I am including Hoff in this group too!

Defenders
Gibbs continues to tell us porky pies in regards to his return and is probably due to come back after the byes, while the Portlets of Heath, Stevenson and Pittard have done all their fattening and are ready to be put out to pasture. Meanwhile, many can't stand the sight of Hartlett in their team anymore!
Jackson Thurlow $116,200 – Not much of an audition needed for this bloke! Made his debut last Friday night and played out of his skin for 74 points first up. Job security and vests are always a worry for players with a few  games under their belt. Is  currently the most traded-in player for this week but I would wait another week before jumping on.
Brett Goodes $274,100 b/e – 5 While many people held him for the two weeks, other people had to bid him farewell to keep their season alive. If I could have held him, I would and I think he is a genuine trade in option. Doesn't need much money to upgrade from a Portlet and makes money from a Hartlett. Has rock solid JS and could be a good D6/7 for the rest of the season.
Pearce Hanley $456,300 b/e 60 Seems to have taken the next step as an elite backman this year and is now a must have. Averaging 103 points in his last five. Now running free on a wing and a magnificent reader of the play, get him in this week for pocket change from Hartlett before he rockets up in price and Hartlett falls quicker than Felix Baumgartner.
Garrick Ibbotson $405,200 b/e 21 Looks to be another Cinderella story just screaming out to turn back into a pumpkin. Over his seven-year, 101 game career he has never averaged above 71 points per game. I don't think he will continue to get the freedom on half back that he has been getting and don't forget who he is coached by!
Midfielders
While Ollie Wines heads the players getting the flick this week, he's the only mid in the top 10. While Wines has reached his peak in value after a couple of games below his average, I would still prefer to keep him in my team for his potential of points generation than have to play a Lonergan/Evans. Yes, he is likely to lose money this week, but I think people get too scared of losing $10k here and there. Just remember that if trade in a bubble boy you will get that money back in spades.Trent Cotchin returns for those who were patient enough to hold him for a whole week and are now rewarded with a game against Melbourne. Welcome back, Cotch!
Jesse Lonergan $129,700 b/e -22 – While Lonergan hasn't set the world on fire yet, I still think he has the potential to get a good score once he gets a few games under his belt. Has pretty good job security and will get a few games which is one of the main reasons to get him in. Hopefully you won't have to play him on the ground and he can just sit on your bench and make money. Lonergan is also a round 13 bye, which will be super handy if he can hang around til then and then be traded out in rd 13 to cover donuts and naturally improve our team at such a vital time of the season   Interestingly enough, Lonergan is not in the top 10 traded in this week?
Matt Priddis $392,8000 b/e 41 In what feels like deja vu from last year, Priddis becomes very fantasy relevant again in 2013. A concussed score sent his price plummeting and this week he is ripe for the picking. Last year I picked up Priddis and used him as my 'premium sub'. That is, he only got games if a premium was injured/suspended, but that was later in the season when I had a full team. Priddis is easily good enough to have on your field until the after bye rounds and then maybe move him to that M9 spot to give you an option of benching a premo (eg Cotchin last week) instead of sideways trading without too much of a loss of points. It's a strategy I'm looking to employ again this year. Wines to Priddis is the most popular trade this week and only costs spare change.
Brett Deledio $480, 200 b/e 103. When Deledio had a couple of sub-par games in a row a couple of weeks ago, I was very pleased. He's now almost bottomed out and I'm backing him in to get back to his consistency of 2012. Plays Melbourne this week so should be in for a big score and is, more importantly, NOT a round 13 bye Mid. If I could get him in this week, I would.
Rucks
Well, no one saw that performance from Majak Daw coming! Six goals, four behinds and 128 points in his fourth game gets me very excited! Outside of DT, what is even more exciting is that tonight we get to maybe see a Daw vs Naitanui match-up, which I hope can go close to the Carey vs Jakovich rivalry of the 90s. Pretty exciting where the game is heading when two of the most exciting players in the AFL are from Fiji and Sudan…..
Majak Daw $188,500 b/e -64 Hmmm. While it's exciting someone of this price can score  128 points, I'm not sure he can do it every week. Other thing to consider is what is his role in your team? Are you going to play him? Is he there to make money on the bench? And who are you trading him in for? I personally can't see Daw fitting in with my current plans as it would cost me money to bring him in for Sinclair and only make me $1600 if I brought him in for Blicavs. While I agree he has a lot more cash generation potential that 'The Blitz', I don't think it's the best trade to be making at this time of the season.
Jack Hannath $126,700 b/e -19 This trade is a bit like Daw. While his job security went through the roof with Griffen going down last week, I think there are bigger fish to fry in our teams. Hannath should increase his average of 40 with more playing time in the ruck, but I can see him being another Blicavs personally.
Forwards
The knee injury epidemic continued last week with Chris Knights the latest victim to a season ending injury. My boy Westhoff has now only gained $5,600 for the season and continues to filter out of teams. With a b/e of 159 he's gonna be less than his initial value soon! Another Portlet in Jake Neade needs to be traded as he has started to lose money and him getting his b/e of 71 is rated an 11% chance.
Ben Kennedy $102,700 b/e -15. There is a lot of love for this boy around at the moment. Very well regarded at Collingwood and with his job security being pretty solid with Fasolo and Thomas being sidelined, he's at the top of my list this week for trade ins. Won't make you heaps of money from Neade, but will keep the cash generation going and is also a prized rd 13 bye rookie. If he can stay playing until then, the byes will become a whole lot easier. Jump on!
Dustin Martin $487,900 b/e 54 Is starting to do what he always threatened and that's be a jet. Obviously reads this article and took his Ty Vickery Award to heart and felt he needed to repay his owners. Since that award, he has averaged 116 and now faces Melbourne this week. Apart from that one week of 58, his lowest score is 78 and another five scores over 90. I really hope he can repay people who invest in him at top dollar.
Buddy Franklin $406,700 b/e 144 So let me get this straight: Buddy has a break even of 144 and has averaged 57 in his last three, and I'm recommending him as a trade in? As silly as it sounds, I think Buddy can get his b/e this week as he is playing the Giants. Last week Tom Lynch showed us what you can do against the Giants if you put your mind to it and I'm scared what Buddy can do. Has Gold Coast and Melbourne the two weeks after so this could be the start of a purple patch for Buddy. He's a better chance than the projected 0.2% probability to get his b/e!
Stubby's Holders and Folders
Ollie Wines – Yes he is the most traded out player this week but I think his potential to get points outweighs his potential to lose value. If he still makes you more than $150k overall, then I think that's a pretty good win – HOLD
Neade/Stevenson/Heath – These boys look like they are done and dusted for 2013 in most fantasy teams, with sub par scores for the last few weeks. Thanks for the memories boys. FOLD
Daisy Thomas –  As he is not in the top 10 traded out players (yet) it looks like people are willing to hold him for what appears to be a two-week injury – good work! HOLD
Hamish Hartlett Tracking on a similar path to Westhoff, Hartlett is already below his starting price and looks set to plummet even further with a b/e of 187. Yes, he has had a couple of VERY average weeks and can't handle a tag very well, but I would stick with him and back him in to come out soon and get back to the scoring that made everyone bring him in. When faced with a situation like this, I personally still like to focus on the weakest player in my team before I start to worry about underperforming premiums. – HOLD
The Ty Vickery Award
There weren't too many candidates other than Shaun Burgoyne who has gone back to a more accountable role the last two weeks and Marc Murphy copped a heavy tag after a few outstanding weeks but I can't go past:
While I have just tried to go in to bat for him, there is no denying that Hartlett did suck these last two weeks and now has the nick name 'Hartless'. Still think he can respond and come back well.
Running review
Had my first below par week last week with 1992 and some bad luck with Chris Knights going down the week I brought him in. Marc Murphy put a halt to my 2000 aspirations and slipped to 811 overall. This week I'm looking to consolidate by bringing in Kennedy and Lonergan  for Knights and Neade which gives me $350k in the bank to go on a upgrading blitz the next few weeks. If Rowe gets a game this week, I will only have 2 players (Sinclair and Gibbs) not playing this week which means plenty of cash generation going on for future weeks.
How you looking this week?
Discuss it all below!
As always give me a follow on Twitter @jimbobholder