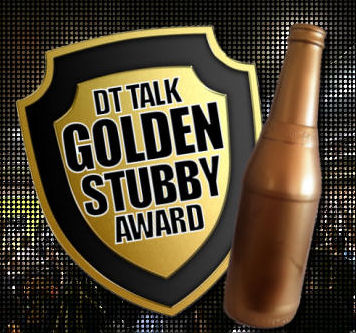 Golden Stubby – Round 7
Every round I'll be asking for your nominations on twitter for the player most deserving of this prestigious accolade. This isn't necessarily the highest scoring players of the round. But the players who stepped up in a fantasy scoring aspect when you most needed them to. Whether it's a highly paid premium who put in a massive effort to drag your team over the line in a head to head battle or a rookie priced player who stepped up and scored well above his expected average.
Lets have a looks at a few players who narrowly missed out.
Brett Delidio – 134 – The Richmond boys churned out quite a DT performance, Lids being the unlucky one to miss out here.
Majak Daw – 128 – Probably would of made the nominations easily if anyone actually had him on their field.
Gary Ablett Jnr – 134 – GAJ vs Melbourne wearing your captaincy? Enough said.
Garrick Ibbotson – 136 – Got quite a few nominations but all from the same person, sorry @MarkFromBacchus, it was a solid performance and will make you plenty of cash but wont get him a stubby nom just yet…
The Nominations are in!
Nick Vlastuin – 101 – Raising the bat for the first time in just his 3rd game, Vlastuin rewarded all coaches who brought him in on the bubble with a very handy score. With scores of 51, 78 and 101, lets hope this rising trend continues this week against Melbourne!
Patrick Dangerfield – 141 – Danger is continuing to punish all those who dropped him after his first 3 below par scores. Pumping out a massive score, has he become a POD for you?
Dustin Martin – 144 – Has Martin found his tank or not? This is his second 144 score for the year which rightly so deserves a nomination! He never took the foot off against Port and coaches will be hoping for a repeat this week against Melbourne.
Nick Riewoldt – 123 – It's the NRoo of old! Using that massive tank to run his opponent up and down the ground whilst helping himself to 3 goals and a massive 13 marks. How long can we keep ignoring him?
Brandon Ellis – 128 – Really guys? Three Richmond players? This is one who I personally couldn't leave out though having brought him in for a shade over $200k a couple of weeks ago. Has since averaged 99 points per game, included this weeks score which made him a lot of coaches highest scoring def for the round!
Cast your vote below for the player most deserving of this rounds Golden Stubby.
Loading ...
Tune in to the boys live webshow during the week to see the winner!
Was there a player you felt was more deserving? Don't forget to get your nomination in during the round next week by tweeting me at @AnthonyDSmith86 and including the hashtag #GoldenStubby